There is No Formula to Keep Your Family from Sin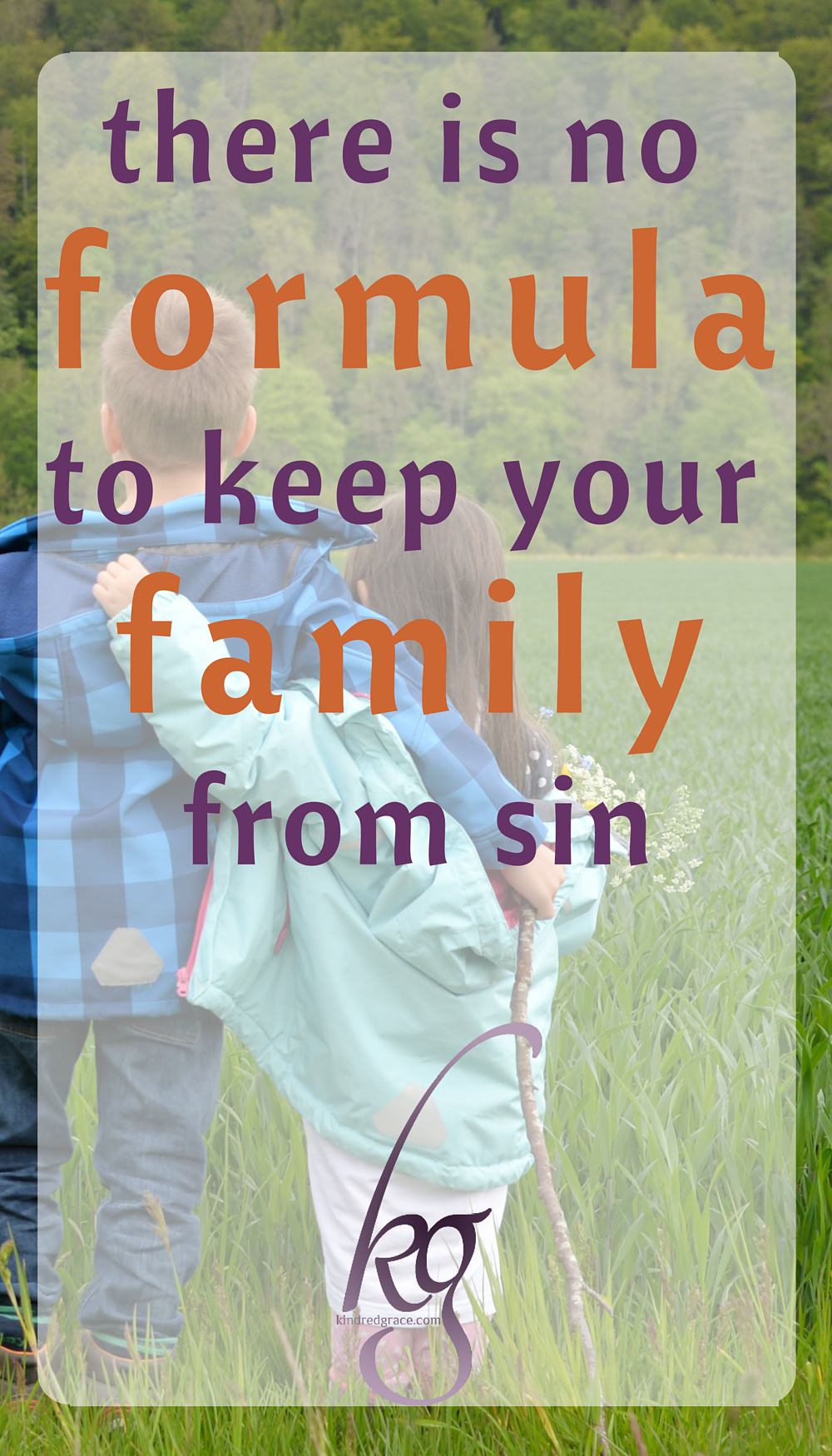 I don't remember when homeschooling became known as the "cure-all" for children gone astray, but I do know the idea of making rules to keep ourselves on the straight and narrow is as old as the church itself.
The Apostle Paul wrote an entire book on the subject. Well, actually, it was a letter. One to the Galatian church, but obviously meant for us as well.
He started the letter by pointing out that the glory should be God's "forever and ever" (Galatians 1:5). And Paul spends the rest of the book basically saying: man cannot become "co-saviors" along with Christ by keeping the law.
In fact, if we "rebuild" the law (with rules on clothing, education, denominations, etc.) we will only prove ourselves to be transgressors (Galatians 2:18).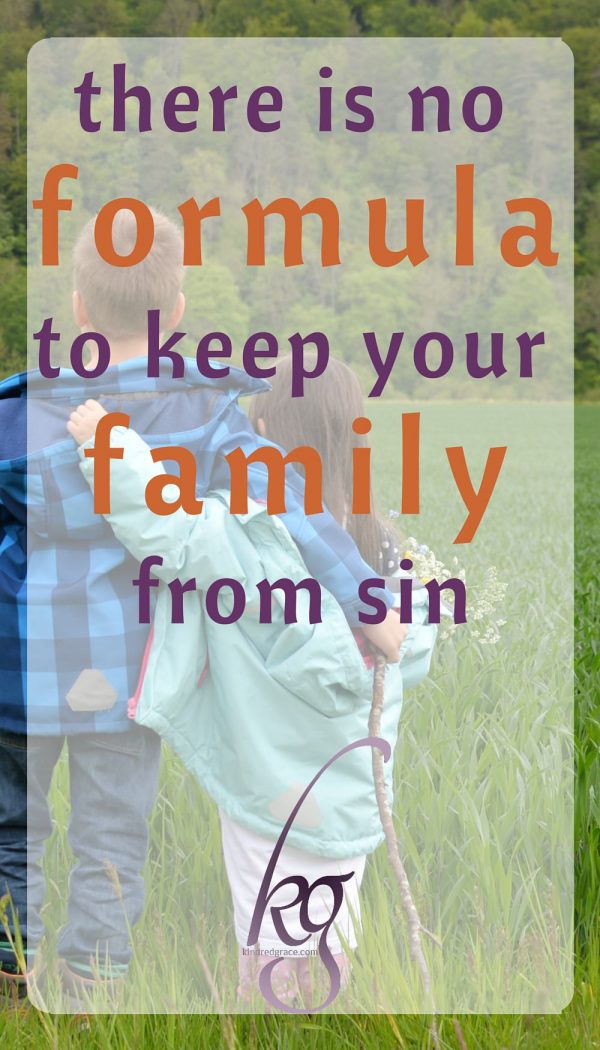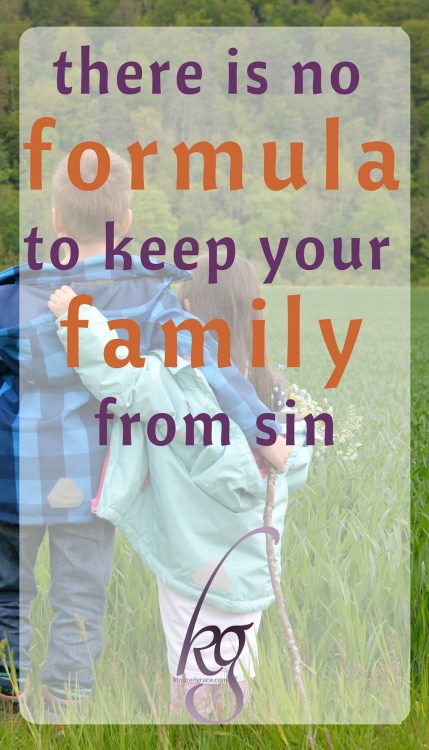 Do we truly understand what Paul is saying here?
Going back to the law will only leave us as sinners.
It takes away the entire hope of the gospel. It means that Jesus died for nothing (Galatians 2:21).
In Christ's death on the cross, we are offered something completely different than this. He does not offer us a new law. He offers us a new heart. And we are set free from the law of sin and death. Oh, glory.
Here, however, is where the confusion starts, because our freedom is not to be used as an opportunity for the flesh, but as an opportunity to serve one another in love (Galatians 5:13).
Yet, when the Holy Spirit convicts me of something–say, for instance, I realize I am watching movies more and more and am filling my life with things that are ungodly, so I choose to stop watching movies altogether–and it works, my sinful nature is destroyed and I grow closer to God… the natural response is to think "this is what everyone should do!"
But here we return to law. We chain ourselves back up.
And worse than that, as my friend, Devin, once said, "If we make a rule that you cannot ever break an external thing—we will never know what is going on internally."
Well, we won't know until it all blows up. We won't know until light filters into the dark places. And it always will. So then we are left with the crumbled pieces of a destroyed life… again. Because, when we rebuild the law, we will only find that we are left as sinners.
In fact, as scary as this sounds: when we add to the gospel of Jesus, we, ourselves, become anti-christs.
Do we realize that this is where "Christian" cults come from? They may not have been rooted in evil, but when they add to the gospel, they become anti Jesus. And instead of growing in love and good deeds, they grow in hidden sin and darkness.
We need new hearts.
In Ezekiel 18 God tells the Israelite people (and us!) this same thing. First He explains that we are each responsible for our own sin. There are no victims here. We all answer for our own actions. Then He tells us to "get a new heart and a new spirit." And He even tells us how: through repentance.
Repentance does not mean creating new laws.
Repentance means turning and living a new life.
My job is not to look around at the outside of other people and determine if they are Believers or not. My job is to look inside myself and determine if I have a heart of stone or a living, beating heart of flesh. Am I made alive in Christ? Or am I still dead and rotting in sin?
And here is where it gets the hardest: I am still responsible for what I allow in my home. As the wife, the mother, I am the "keeper" of my home and I do have personal convictions. I do not feel that God wants my home filled with violence, so for our family that means not allowing the majority of video games. I believe that God would have me live modestly, so I don't buy a lot of toys for my children, nor wear excessive jewelry (and while my daughter may wear rings or necklaces, I request that she choose one or two, not ten), nor dress, act, or speak in a way that is flamboyant or flashy.
But they are convictions of my changed heart–not my salvation, nor my children's salvation.
In fact, if I do them all but my heart is dead, I am without hope.
I want my children to follow God. I pray, daily, that they will give their lives to Him. But there is no formula to guarantee it.
My daughter may grow up and dress, talk, and live completely different than the way she was raised. She may have none of the lifestyle convictions that I do. But it doesn't matter. All that matters is her heart.
And friend? All that matters is your heart.
It doesn't matter if you wear a purity ring and believe in courtship and save your first kiss for your wedding day. It doesn't matter if you don't drink alcohol and never cheat on your tests at school. It doesn't matter if you pay your taxes on time and always drive under the speed limit. It doesn't matter.
Not if your heart is still stone. Not if you think those things will make you good. Not if you think those things prove you're a Christian. Not if you think everyone who doesn't do those things is wrong. Not if you are trusting in those things to give you a good and happy life.
There are two kingdoms in this world. And some think they are following the true King, but they are just stumbling around, still slaves to sin, with painted signs on their chests that say, "I serve the King!" And they tell others to come get a sign and they will be on the King's side too. But that is just foolishness. Because the evidence that you are the King's warrior is not in an outward sign–the evidence of belonging to the King is that you are no longer chained to sin.