Disclosure: This post contains affiliate links which won't change your price.
Math was never my favorite subject, but sometimes I seek symmetry in dates. I can remember the date I graduated high school (June 5th), the date I graduated college (May 3rd), and the date my debut novel released (June 15th). I wish friends and family members "Happy Birthday Eve" the day before their actual birthdays, and at least silently to myself commemorate my Half Birthday (December 7th).
Now January 1st, that all-important date for those wanting a fresh start and a new beginning has come and gone in a burst of fireworks that drove my dogs mad. New Year's Day arrived in its usual horn-blowing, confetti-throwing, NYC-ball-dropping style. Although, just between you and me, I was reading Emily P. Freeman's A Million Little Ways and trying to comfort my doggy friends and almost missed midnight's strike of the New Year.
But January 1st is important to me. Because the day before, on New Year's Eve, I have a little tradition. I get in my truck and go four exits down the highway to a used bookstore I love to visit. And I peruse shelves and maybe buy books and just take in the promise of paper. No, math will never be my favorite subject. Writing always wins.
And on January 1st, the day after Bookstore Day, I combine them both. It's Day One of the New Year, and all opportunity for shiny newness stands before me. So what do I do? I pick a word.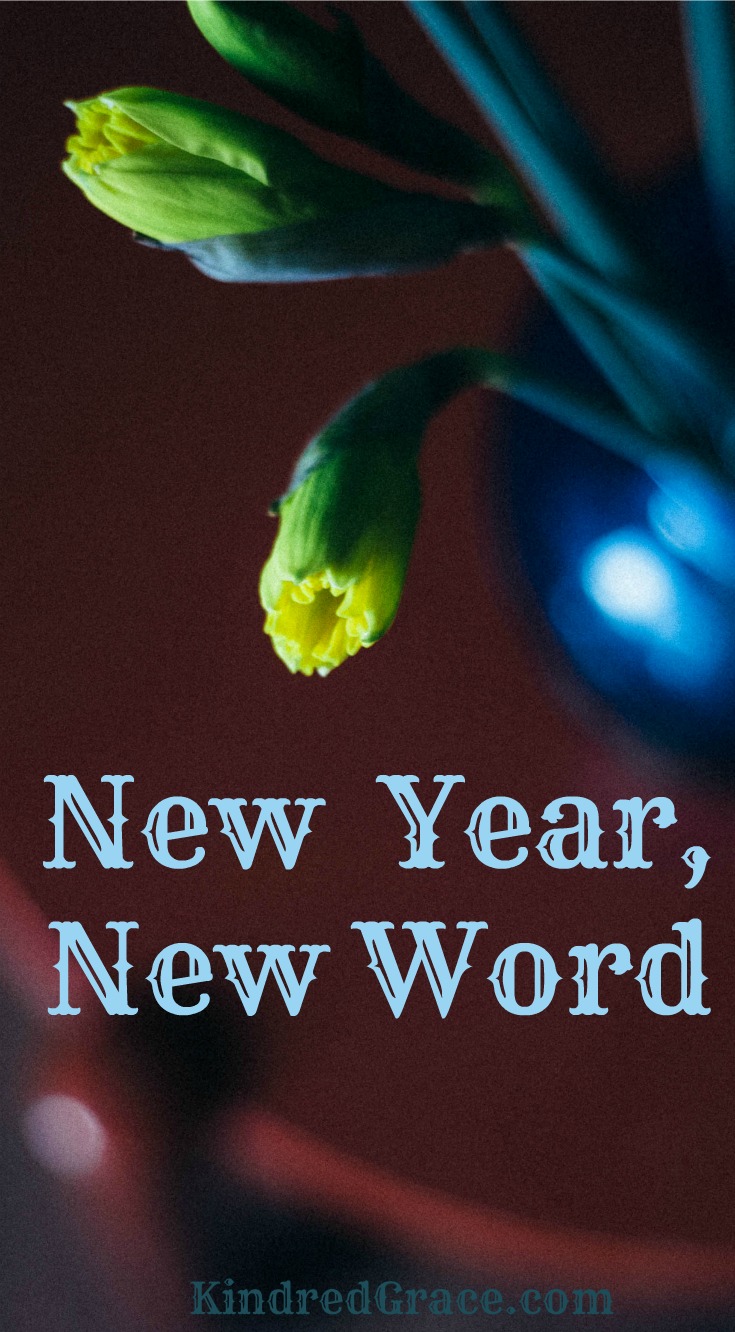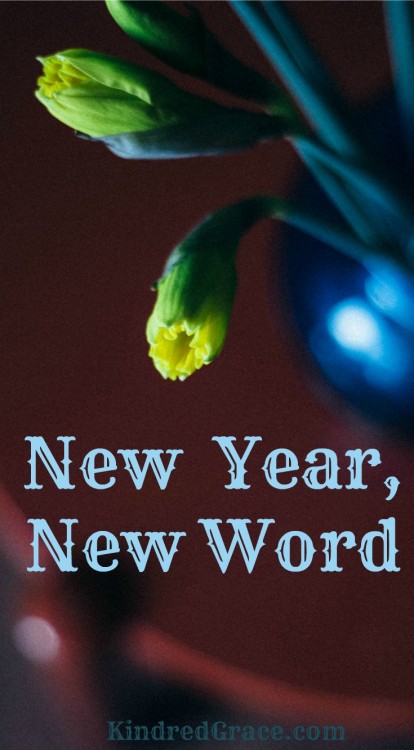 Why I Don't Do Resolutions Anymore
I was never the type to write out that I'd like to laugh more, pray more, exercise more, read more, write more…all those mores overwhelmed me, so for years I've refused to put my goals to paper and hope they stick. Instead, I put mental post-its on the bulletin board of my brain, preening my perfectionist tendencies.
I don't remember how I heard about the One Word movement. I do, however, know that I latched onto it with both hands, like a woman in a pit of perfectionism who finally finds a rope to pull herself out. Every year since, I've ditched the resolutions. They may work for some, but something else works for me…
What My One Word Means to Me
I think the real allure of choosing just one word at the beginning of each year is in what it is not. My one word is not a resolution, a goal, or a promise to myself that I'm changing. Instead it's an acknowledgment that I'm changing–because in Christ I am being sanctified (Philippians 1:6). And my word is also a hope that I'm changing to be more like Him Whom I love most (John 3:30).
One year I picked the word Rise, and I learned a lot about how college graduation and contract-signing can feel similar to flying. I also learned that sometimes I need to pick myself up after a mistake, or a hurt, or a hard day.
In 2015, I picked the word Embrace, although I like to think that it instead picked me because at first I didn't really want it. I thought Embrace might mean I might need to hug a cactus of hard stuff last year. What it really meant was a whole lot of brave that I had to thrust myself into, trusting God had me, would lead the way, and never fails (nope, never). Even when the numbers didn't add up, I chose to Embrace things last year I didn't think I'd have to–or get to. It was gritty and it was grand.
Happy New Year, Kindred Grace
In 2016…well, I've shared that word with the world here, letting my mind mull over all that this coming year could come to be. But let's talk about you for a second. Will you consider wrapping your heart around one word this year?
If so, what will that word be?
Photo: JenniMarie Photography