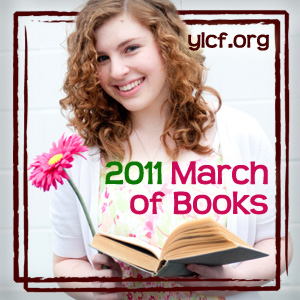 It's here! Our second annual March of Books.
Last year, we decided that since March is the time to "read the books you've always meant to", we'd dedicate the entire month to sharing our mutual love of books — on our own blogs and here on ylcf.org.
We talked about Kindles, we reviewed Bible study books and books on mother-daughter relationships. We peeked into each other's homes and saw books on shelves and talked about decorating with books. We heard about little-known treasures, famous classics, and ever-popular children's books. Not to mention all the reviews you shared on your own blogs!
This year, we have a whole slate of reviews, some fun posts on books and reading, more giveaways than ever — and some fun new link carnivals as well!
So here's the drill: All month long, post book reviews to your own blog (the more the merrier!). Then, at the end of the month, share the links to each of your book reviews in the Book Review Carnival (see below)! But in between, look for lots of book giveaways and more special link-up carnivals coming to YLCF throughout all of March, including:
March 7 – Snapshots of Favorite Books – Do you have a favorite copy of a favorite book? Maybe it's dog-eared and underlined and well-read. Maybe it's a precious antique volume you found somewhere. Maybe it's special because of who gave it to you. Share a photo of the book with us–and though a picture may be worth a thousand words, please tell us about the book in a few words or more, as well!
March 21 – Books About Books – Have a great reading guide, book of book lists, or book about books? Be prepared to share all the details about it in this link-up!
March 28 – Book Reviews Carnival – We'll wrap it all up by sharing the links to all the books we've been reviewing on our blogs this month. Please keep each book review in a separate post on your blog and use the book title in the link-up. (Duplication is fine — we'd love to see your reviews of the books we review at YLCF this month, and reviews of the ones your friends are reading and reviewing, too!)
Planning on joining us? Want to spread the word? Grab the code in the sidebar at right to put the March of Books button on your blog! (Please use only the specified button sizes.) Many thanks to Jennifer Pinkerton and Abigail Westbrook for their combined talent in this year's button!
Tweeting your posts? Use the #MarchOfBooks hash tag!
Now that you're in the know, I'm going to get back to the books I'm reading. But stay tuned for some great book reviews. And keep checking back all month for giveaways you won't want to miss!