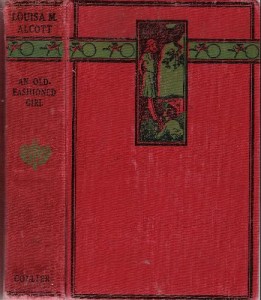 I'm super picky about the kind of fiction I read. Fiction is important, don't get me wrong. But the vast majority of the titles on the shelf have no place in my reading diet. And others just aren't good enough to read more than once.
But there are a few authors who are an exception for me. A few favorites by Louisa May Alcott are read and reread and always enjoyed just as much as the first time I opened the covers.
I discovered a site a few years ago that offers a variety of LMA books for online reading for free. Thanks to them, my LMA horizons were broadened by a treasure chest of new books that my library didn't bother to carry. I was delighted to read my old favorite, Little Women again, as always finding treasures for my own life tucked into the pages.
I skimmed all of the titles, and settled on Louisa May Alcott's An Old Fashioned Girl as the next book in my LMA journey. I was not disappointed because An Old Fashioned Girl lived up to my expectations after loving Little Women for so long. In fact, it probably tied up the spot for my favorite book.
I love that Polly (like the March girls of Little Women) is a real life girl. She has real life struggles. She makes mistakes. She learns lessons the hard way sometimes.
I love that Polly's challenges that she faces in the pages of the book aren't so different from the ones that a girl today might face. In fact, some of them reminded me of some of my own challenges.
This is my favorite thing about Louisa Allcott's works: the heroines aren't perfect. They aren't the most beautiful. The stories show imperfections, strengths and weaknesses. But in the end, the heroines are the ones who rise to meet the challenges. Who learn from their mistakes. And who go one to be better for them.
As for Polly, she is the sort of friend that every one should have. She had strengths that are the kinds of things I want to be my strengths. She is cheerful even in hardship, but in a realistic way. She is resourceful, hard working, consistent. And she has a sweet, unselfish love that helped her keep her head on straight. I found her life inspiring in a very encouraging sort of way. Tucked into the story, there were so many little gems worth remembering. And…who doesn't enjoy watching a sweet love story blossom? It's the best kind of ending.
I've fondly tucked my copy of An Old Fashioned Girl on the shelf next to my copy of Little Women. I know that both of them haven't been read for the last time yet. And I look forward to sharing them with my own little girl as she gets older.
Do you have a favorite book by Louisa May Allcott? Share the title with me so I can decide which one to read next!
Speaking of beautiful, old books, I've seen some real treasures slip through the bookshop of our own dear Lanier.
If you are like us, you may find it near impossible to pull yourself away from the long lines of beautiful titles that absolutely need to be on your own bookshelves. I can assure you it is well worth the time to look even if you manage to resist a purchase, just because it is wonderful to imagine so many amazing books all in one place. So indulge in a leisurely stroll through the titles, just because you really must do it!