lions, beavers and over-achievers (an interview with Mandy Hoffman)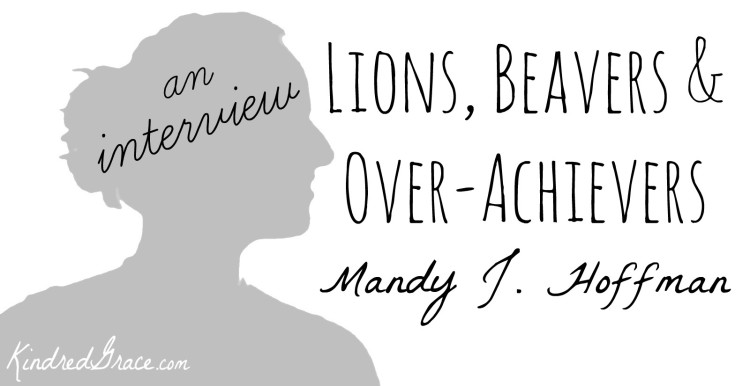 Everly: Hi Mandy! Welcome to Kindred Grace! Please introduce yourself and tell us what roles you play in this season.
Mandy: Thank you! First of all I am a wretched sinner who has been saved by extravagant grace. Then I am wife to my best friend, Justin. I am mother to three adorable blondies. I also play the roles of Friend, Family Member, Counselor, Discipler, Librarian, Blogger, and Writer.
Would you consider yourself and introvert or an extrovert?
Introvert, for sure. I get my energy from spending great amounts of time alone. However, I do not think that's how people see me. When I am with people I am comfortable with I can very extroverted. And because I am a pastor's wife I have had to learn how to more extroverted than I even want to be.
Have you ever taken a personality test? What did you think about your results?
Yes, I have taken Gary Smalley's test that uses the four personalities called Lion, Beaver, Otter, and Retriever. (You can download the free test here.) Since I was about 10-years-old, I have taken it every few years and it continues to be accurate for who I am. And it has also been fun to see how little things change through maturity.
What were turning points in your character and personality?
Ever since 2002, when Justin and I got married, God has used Justin to be iron that sharpens iron for my personality. And then a few years ago God brought a very painful trial into my life that He used to refine my character and mature my personality a lot. It was not something I ever want to go through again, and I even still struggle with some of the "war wounds" from that situation, but I am at a point today where I can echo Joseph's words when he said: "They meant it for evil, but God meant it for good."
Do you ever wish you could change something about your personality? Have you ever tried to use personality as an excuse?
Oh my, yes!! I am a "Beaver/Lion" which means I am very analytical, organized, detailed, scheduled, as well as being a natural-born leader who is bold and quick to think through things and in turn speak my opinions about those things. Being a female, that personality combination can be very abrasive to people – particularly to men. I have spent many nights crying in my husband's arms as I lament to him that I wish we could swap personalities and I be the more laid-back one.
And yes, I have used my personality as an excuse. Who of us has not? But that trial I went through really taught me a lot and now I am much more aware of my strengths and weaknesses and doing what I need to so that I don't put myself into a place where I revert to using "that's who God made me" as an excuse for bad behavior.
You are a blogger. Do you ever struggle with being the "same Mandy" online and off?
Yes and no. I am much more comfortable in a small group or one-on-one and since blogging makes me feel like I'm just chatting with a friend over coffee it's easy to be me. However, since I am a pastor's wife there is a great deal of my life that is "off limits" to blog about and that makes it hard to be me online.
Have you ever tried to change your personality for someone else's? What did you learn?
Yes. If you haven't tried this, let me save you some trouble – it doesn't work! Oh there are little things that you can tweak here and there, but trying to be someone you are not has only ever gotten me in worse situations than just simply being who God created me to be. Now, this does not mean that we just sit back and do nothing to work on our weak areas. I firmly believe that there is no perfect personality and that each of us has a sin-cursed personality. So as God shows me my failures, sinful tendencies, and weaknesses, I repent of my desires and allow His gospel grace to change me.
A couple of weeks ago I came across Mark 1:17 which says: "Jesus said to them, follow Me, and I will make you to become fishers of men." I quickly did a word study on "become" and found that just like I thought, it was referring to a process, something that would take time. This verse is comforting to me because it gives us hope in Christ's own words that refining our personalities is a process. We can't change overnight or just because we want to please a certain person. It's Christ changing us.
How does our freedom in Christ change how you view personality?
Oh wow! It means that I can be me without fear of His condemnation. It means that when I do sin and allow my personality to rule my life rather than Christ, that I have the promise of His forgiveness and grace. It means that when my personality clashes with another personality that Christ loves us both and I can apologize for my offense without being afraid of the consequences.
What's your favorite thing about your personality? What comes easily to you?
Organization. Growing up I kind of thought it was just the way we all were because my mom is very organized, too. But I have come to realize that not everyone is or can be organized automatically and that's one thing that I just really enjoy and am thankful for it coming easy to me.
Do you and your husband have complimentary personalities or did "opposites attract"?
Both! He is the extrovert – the "Retriever/Otter" – and so we are very opposite and yet through God's grace have learned to complement each other. It hasn't always been easy or come natural to us, but after 11 years of marriage we are truly at a place where we don't know where one stops and the other starts. We have learned and continue to grow, making up for each other's weaknesses and displaying the other's strengths.
As a mom, have you seen any of your personality traits in your kids? Does that change the way you view yourself?
Do I have to admit to this one? One of my children exhibits my extreme caution and my fear. Another one of my kids frequently displays my lack of self-discipline. And the last child is obsessively organized and detailed like me. Very rarely when I see these traits in my children do I feel good about myself. God usually uses them to convict me of the areas in my life that need His tender hand of redemption.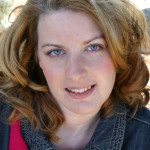 Mandy Hoffman is married to her soul mate and favorite pastor – Justin. God has graced them with two girls and one boy – all blonde hair and blue-eyed. If Mandy isn't cleaning the house, baking cookies, or helping her kids pass the next level of Angry Birds, she can be found cozied up studying theology or counseling teens and women.
You can hear more from Mandy at MandyJHoffman.com