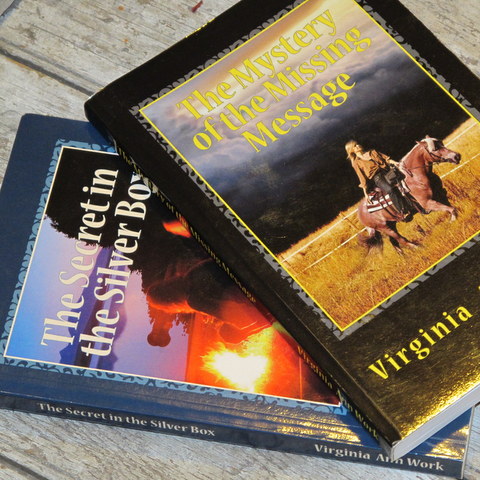 Mystery books have always held a special place in my heart. I spent many enjoyable hours with the Hardy Boys, Boxcar Children, and Happy Hollisters during the first years of my reading life. But my book list has lacked titles from the mystery genre in my teen years, stemming from a desire to read more classic literature. Also, detectives like Frank and Joe Hardy are hard to replace.
However, I recently revisited the detective world through the first two books of the Jodi Series, written by Virginia Ann Work. The Mystery of the Missing Message and The Secret in the Silver Box describe the summer adventures of Jodi Fischer and Lexi Marshal, two teenage Christian girls. The first book describes the discovery of a wallet and a baby sock in the woods, leading them on a confusing and dangerous adventure. The second book tells the story of an old man's silver box, and the mysterious intrigue it holds for those seeking its contents.
Dealing with friendship, obedience, and creativity, the books target the audience of girls ages 12-14. The storyline is entertaining and wholesome, with exciting action and often unpredictable twists. The series provides fun reading material for young girls, combining mystery with spiritual truths. Although a modern-day mystery may not have the same flavor as a 1950s' thriller, who wouldn't enjoy reading about a Christian Nancy Drew and Bess Marvin?
Virginia Work is giving the first two books in the Jodi Series to one of our readers! To enter the giveaway, comment and tell us about your favorite mystery book or series. (Giveaway ends March 26. Congratulations to commenter #4, Joelle, for winning the Jodi books!)
(Be sure to check out Gretchen's review of Virginia's latest mystery, Deadlocked, as well as her Medieval Christian Fiction series.)