On Receiving from God: an interview with Christine Hoover
Disclosure: This post contains affiliate links which won't change your price.
Growing up in a large, lively church has many advantages, one of which is getting to see folks in leadership move on to lead elsewhere and in new ways. Before Christine was The Church Planting Wife, she was The College Pastor's Wife at my home church. When she came back to Texas for a speaking event, I snagged a moment of her time and the opportunity to interview her. I'm delighted to introduce y'all to Christine Hoover and invite y'all to tune into the message God has put on her heart.
Christine Hoover (@christinehoover) is the author of The Church Planting Wife and From Good to Grace: Letting Go of the Goodness Gospel. She is a recovering perfectionist, the wife of a pastor, and a mom of three boys. Christine writes online at her blog, Grace Covers Me, and has contributed to Desiring God, The Gospel Coalition, Send Network, and iBelieve.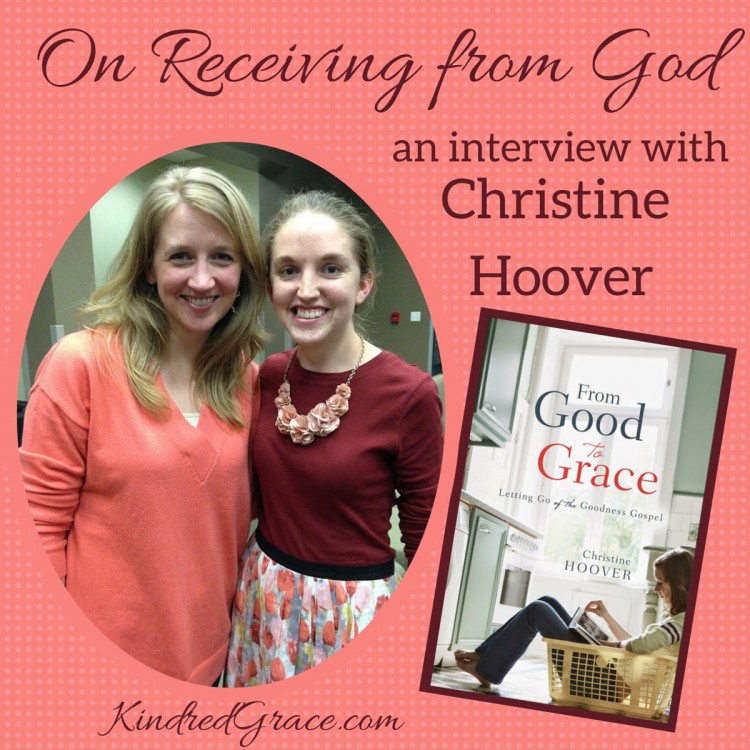 Everly: Tell me a bit about yourself!
Christine: I am married to Kyle, who is the pastor of a church we started almost seven years ago in our living room in Charlottesville, VA. We have three boys, who are 11, 9, and 7. When I'm not pastor's wife-ing, I'm reading or writing. I blog, write articles for online sites such as Desiring God and The Gospel Coalition, and I have the wonderful privilege of authoring books.
Tell us about your books!
The first book I authored is The Church Planting Wife: Help and Hope for Her Heart. Birthed out of my own struggles and my passion for encouraging women in ministry, it speaks to the heart issues many church planting wives face, such as discouragement, people-pleasing, and relational isolation.
My latest book, From Good to Grace: Letting Go of the Goodness Gospel, was written on my heart through many years of wrestling with spiritual perfectionism. For so long I attempted to be good for God—which is what I term the "goodness gospel"—but then He taught me about His grace and that changed everything. The premise of the book, after debunking the goodness gospel of course, is that the Christian life is received from start to finish. Just as we receive our salvation by faith, we grow and are sanctified by faith, not through self-effort. We receive God's love and grace and it compels us to respond.
How did you start writing?
I started writing 15 years ago, holed up in a back room, typing away, and with very little to say. I didn't ever expect I'd actually write anything anyone would read, and I don't think I even named my desire to write out loud for many years after. I set it aside when I had my babies but eventually that little something inside always drawing me to write spilled out. With the persistent encouragement of my husband, I began to intentionally set aside time to write about 7 years ago. I spent several years writing things that will never see the light of day, but I learned how to write, and I learned my writing voice, and I learned how to wrestle with all the other voices telling me that I was wasting my time.
Do you have any advice for budding writers?
If you want to write words that people will read, just start writing. No one is ever going to ask for your words, and no one is going to give you permission. Just start writing. Dedicate a certain part of your day or week or month–whatever you can give–and when that time comes, sit down and write something, anything. By disciplining yourself to do it, you'll learn how to write on demand and how to develop ideas. You'll begin noticing patterns–what you're passionate about and what genre you most enjoy writing.
If you want to write for publication, study the industry. Read books or blogs on the process of writing book proposals or querying magazines. Find out how it works and follow the advice you read from people in the industry.
What books inspire you?
I enjoy reading biographies and narrative nonfiction, especially if the book details one life in the context of historical events. In addition, I absolutely love when I discover the rare Christian book that's written in a beautiful or poetic way. I aspire to be that kind of writer, though I know I have so far to go.
In the past few years, my favorites that fit these categories are Notes from the Tilt-a-Whirl by N.D. Wilson, Every Bitter Thing is Sweet by Sara Hagerty, The Warmth of Other Suns by Isabel Wilkerson, Unbroken by Laura Hillenbrand, and The Insanity of God by Nik Ripken.
If you could have coffee with any writer, dead or alive, who would you choose?
I'd love to sit down with Laura Hillenbrand and pick her brain about her writing process.
How do you balance being a church-planter's wife, a mommy, a writer, speaker and child of God?
My days are structured so that I can give proper attention to everything God's called me to do. Every morning, I get up before my kids so that I can read my Bible and journal. That's the most important thing I do, because it affects all my roles. After getting my kids off to school on weekdays, I spend my morning hours on writing. I often meet women from church or my community for a late lunch or for coffee. My kids get my afternoon hours and evening hours are for family or for ministry opportunities. It's a busy life, and cleaning is not happening these days, but I love where God has me.
Why is the message of From Good to Grace so important for today's woman?
I've found that many Christian women are deeply entangled in the bondage of "not good enough". They live their lives solely based upon what others are saying and the loud voices of expectation in their heads. These voices correspond closely with cultural messages of "do more, try harder" and "be the change you want to see". They've infiltrated our churches and have confused the simplicity and beauty of the gospel of Jesus. I wrote this book for those women, the ones who don't even know they are living by the goodness gospel but feel the effects of it: the comparison, competition, division, people-pleasing, isolation, self-condemnation, and guilt. They are the ones who felt like I did: unloved by God and certain that they'll never be enough or do enough for Him. I wrote this for them.
Giveaway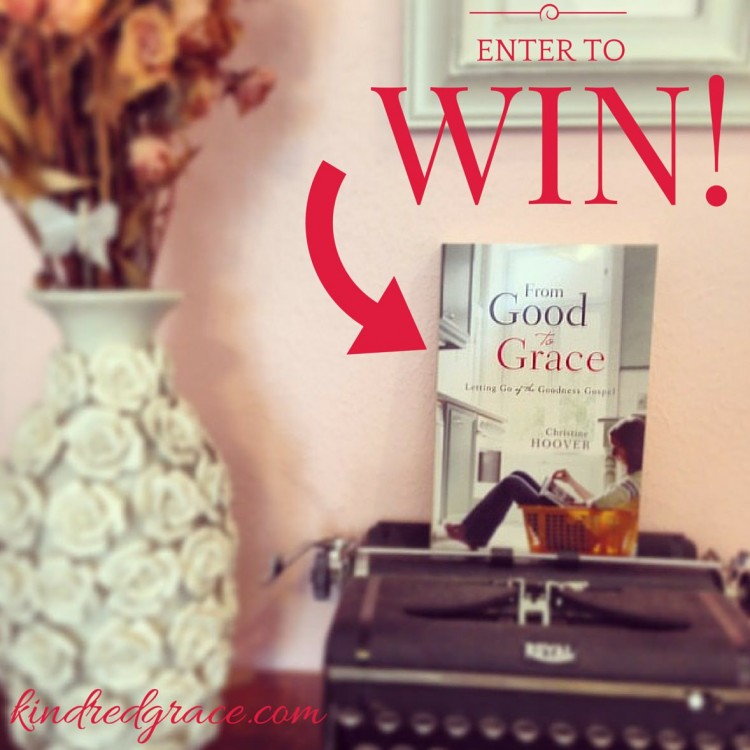 Baker Books is offering 5 giveaway copies of Laura's book From Good to Grace! (US or Canadian addresses, non-P.O. boxes, please.)