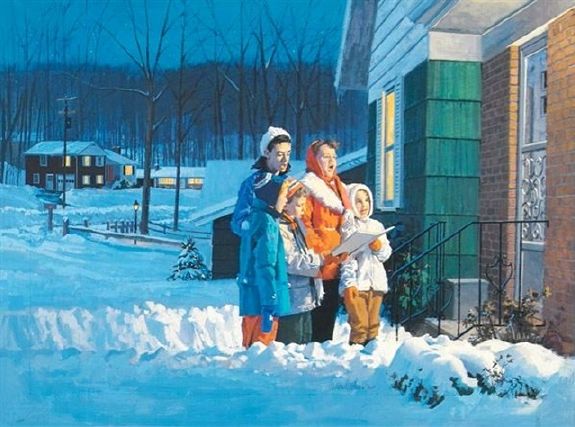 I grew up in the most wintery of wonderlands of perhaps anywhere in this nation. Winters were dark and cold and sometimes felt almost endless, and I never really had to dream about whether or not our Christmases would be white or not up there.
Winter was not my favorite of the seasons, but my family and I eagerly looked forward to the days after Thanksgiving when we would fill our long evenings with baking banana bread and packing up little bags of cheer to share with our neighbors near and far at Christmas time.
The nights were often windy and the cold was good at finding any little crack to creep into, even if you dressed up like a snowman with parkas and mittens and scarves. Trudging through deep snow with heavy boots on was exhausting sometimes. But there was nothing that compared to the expression on those faces as we sang words of hope and good cheer to the lonely people who lived tucked away in the mountainside around our country home. Seeing tears come to hardened eyes, and smiles light up faces that had looked weary and sad made the cold seem insignificant and the boots feel lighter as we went out night after night to go caroling.
I treasure the many memories made while going a-caroling to those who hadn't had any Christmas joy for a very long time. Most of these people did not claim to know Jesus. Most of them had long, bitter lives that had hardened them and made them try to forget.
I may have never been able to go to their house and ask to pray with them. We may not have been able to go and tell them that there is Someone who still loves them, no matter what they have done. But at Christmastime, we could go and sing songs of Bethlehem. We could share love and a little glimpse of Jesus that we could have never shared with these rough men and women at any other time or place.
I can't tell you if any of those neighbors found Jesus because of the carols we sang them or the love we shared with them on those cold nights. I don't know if they think of the tidings of joy that we sang to them, of the story of One who was born to die so that we could live. I don't know if any of it made a difference in the long run or if with the last slice of banana bread and the last fading of winter, it was all a forgotten memory.
But the one thing that I do know is that on those cold nights, I felt that this was my corner and my chance to share good news. I felt that God was smiling on us as we sang with a prayer in our hearts and that it was not wasted time. I know that these were some of the happiest nights of the season. They are evenings I will always think of with fondness, no matter how many Christmases I am blessed to enjoy.
And this year, though it may be rain we trudge through instead of snow, with so many people sad and alone and discouraged, hurt or out of work, and with my own heart longing for home, I think it is time to go a-caroling once more. I can't wait.