When I was young, my mom used to take us to art shows. This may sound like a crazy idea to you — venturing out with five kids, age 12 and under, to a tent-city full of pottery, original paintings, fine glass and one-of-a-kind treasures. But she'd started when we were young — cultivating an appreciation for beauty and training us to keep our hands to ourselves — and we loved art show days.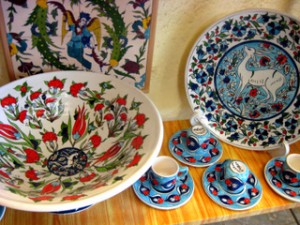 We loved the novelty of walking down the middle of a road blocked off for an art show, casually taking our time through any stall that interested us. But the real treat was when we came upon the booth of an artist we knew. Mom especially loved pottery and had taken classes and formed relationships with several local potters. So when we saw the gleam of sun on glaze, we left off flipping through watercolor prints or trying on funky sliver rings and hurried to the tent of one of our friends.
Mr. Givens was big, hairy, loud, and fun, yet with the unmistakable flair of a true artist in his every move and word. We admired his work, but when we were at his booth, we spent most of our time with him — watching him slap a hunk of clay on his demo wheel to form something graceful out of a slimy, muddy mess while we giggled at his jokes or heard about his latest technique.
Then there was Mrs. Redman — tall and thin, full of artistic angles and a wild mane of curly, red hair. As much as we loved her affordable seconds bin and adorable clay Christmas ornaments, we loved her voice, her smile, her sparkly, kind eyes, and the way she would converse with us kids as individuals even more.
Yes, our favorite parts of the art shows were the artists.
And that's why it's odd when, in the middle of the night, when all is quiet and I have a chance for thoughts of my own, I choose to admire and caress the various blessings in my life, rather than turning my heart toward the Creator of these gifts.
He's the God of the universe, yet we can call Him friend. We can sit with Him and listen and share and watch His artistic hands at work, and get to know Him better…
…or we can keep our distance and just admire the gifts. The depth of our enjoyment depends on a choice for fellowship over mere acquaintance.
This Christmas, when you have a moment to pause and reflect in the gentle light of the tree, will you choose to revel in the gifts, or the great Giver?
Photos taken by Elisabeth at an Armenian pottery shop in the Old City of Jerusalem.