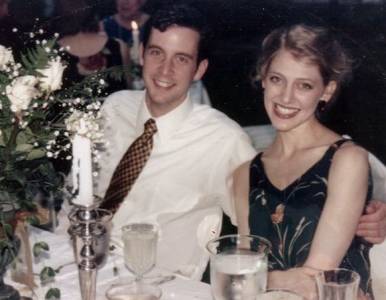 My husband and I were having a lively discussion with friends the other night over the observance of Valentines Day. The consensus of the guys rested heavily on the notion that they dislike the compulsion of this so-called 'Hallmark Holiday' and that women just enjoy any excuse for getting presents. The wives of said gentlemen emphatically protested—at least on the commercialism front, not one of us willing to admit an indifference to gifts. (One of my friends' husbands informed me that his wife even expects presents on Father's Day!)
Though the tenor of our banter was playful, my husband and I exchanged a couple of understanding looks. He knows how much it all means to me, and I know that he enjoys surprising me with tokens of his affection whether it's Valentine's or not. But the differences inherent in our generalizations were telling. I think it's fairly safe to say—and I have my husband to back me up on this—that guys don't sit around moping on Valentine's Day over the lack of a little scrap of paper glued to a doily. They don't sigh into a starry night with their arms propped on an open windowsill over future hopes of hearts and flowers. A lot of girls–I would venture to say most girls–do. That's the bottom line. We ladies are sentimental creatures.
My husband has almost daily evidence of this. I literally burst into tears over the first little handmade card he gave me. And the tiniest wildflower garnered on a walk across the pasture is met with the most ecstatic bliss I sometimes wonder that he ever bothers to bring me whole bouquets! But when he does—why I'm floating for days…
Perhaps it's because I waited so long for him to come along, and that, now that he's here, I'm keenly aware of how little I deserve him. But the memory of all those Valentine's Days without him, when I was the one dreaming on the windowsill and wondering if he'd ever 'stroll over the horizon', is still so fresh that its sweet pain is a very present reality, a living part of my happiness now.
Valentine's Day, that towering tribute to the glories of Love, usually has one of two likely effects upon us: we revel in its emphasis upon our joy, or we endure it—wondering, perchance, if one can perish of sheer loneliness. I certainly did my share of the latter during my single years. But God was so kind. He never looks with disdain upon the things that hurt us, howsoever others may trivialize them. He never asks us to keep a stiff upper lip in the secret of His presence. In Jane Eyre,Mr. Rochester tenderly remonstrates with his love over her solitary grief: "I was prepared for the hot rain of tears, but I wanted them on my breast!" How much more does the Lord long to comfort us, to be Himself the balm upon the wounds of waiting He has lovingly allowed!
Yes, I shed my share of tears over the plight of love—or the lack of it, rather! I used to laugh that if God indeed kept my tears in His bottle, as the Psalms promise, that mine would have to be more of the bushel-barrel variety than any ordinary-sized vessel. But He added to His inward comfort the outward solace of some very simple joys. Pleasures which, with a little time and thought made of a potentially lonely day a very sweet diversion instead.
My sister and I always made much of Valentine's Day. Every year we hosted a tea party for our girlfriends, varying the theme as our fancy dictated. One year it was 'Little Women', and we set up vignettes all over the living room as if the March girls had only just left their various pursuits. Another year we celebrated Jane Austen: all the girls made Regency dresses and ragged their hair and we sang old English love songs around the piano. But the very best part to me was always the perfect frenzy of Valentine-making in the days leading up to the party which left my room in a chaos of scraps and stickers and bits of lace. We had such fun, chatting gaily as we crafted these little bits of ephemera for our friends. And it was certainly a lot harder to feel sorry for oneself with a lapful of like tokens at the end of the party. When all of our friends had gone home and the dishes were done, Liz and I would have a lovely candlelit dinner for ourselves that was quite 'ro-tic' indeed. (And what would that be, of course, but 'romantic without the man'? ;))
I had my very first Valentine the year I was newly engaged. But I wouldn't have it any other way. It was worth every moment of waiting, every tear, every little secret sigh. And this year, as I look forward to my seventh Valentine date with my own dear husband it is with an amazed and grateful heart towards the One Who does 'immeasurably more than all we ask or imagine'.
Dear God, I prayed, all unafraid,
(as we're inclined to do)
I do not need a handsome man
But let him be like You;
I do not need one big and tall
Nor need he be some genius
Or wealthy, Lord, at all;
But let his head be high, dear God,
And let his eye be clear,
His shoulders straight,
Whate'er his state
Whate'er his earthly sphere;
And let his face have character,
A ruggedness of soul,
And let his whole life show,
Dear God,
A singleness of goal;
That when he comes
(as he will come)
With quiet eyes aglow
I'll understand that he's the man
I prayed for long ago.
Ruth Bell, written in 1939 before she met Billy
published in Never Let it End: Poems of a Lifelong Love