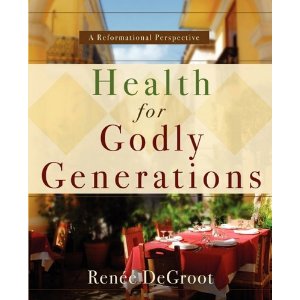 Many of us — myself included — desire to eat healthfully. Renee DeGroot, in her book Health for Godly Generations, addressed the theory behind healthy eating and helps our generation know why it's such an essential choice.
Written in a very textbook-like style, this book asks some vital questions: How can we be good stewards of the bodies God has given us? What food did He create for us to eat? How can we eat to the glory of God?
The subtitle, "A Reformational Perspective", refers to having the view of the Reformers. As she puts it: "These men were passionate about submitting to and applying the whole and authoritative counsel Scripture in every are of life." Renee builds her book on that premise: We can't compartmentalize our lives. We need to seek God's will for our health and eating just as much as we need His will for our attitudes or our plans. She elaborates,
"Jesus is Lord of our physical bodies and our diets just as he is Lord spiritually over our souls and broadly over the whole universe. To divide any aspects of life into a neutral or secular realm is to say that Jesus is not Lord over some realms and that we do not care whether we obey Him there."
Renee shares little-known definitions of buzz phrases like "organic agriculture", "sugar-free", "all-natural", and "natural flavors". She also includes "Charts for Comparison" (Chapter 21), in which she compares the conventional and organic manufacturing. She reviews several food items and how they compare under those two manufacturing styles. She also compares different sugars and sugar substitutes and reveals shocking information about strawberry flavoring.
I've always seen myself as something of a health nut, but this book certainly challenged even my standards. As I read it, I started to look with opened eyes at my cupboard. Started to wonder just what that ingredient would do to my body. Started to applaud myself when I made a salad with veggies from my own garden. I think this book was a good eye-opener for me, as the family "hunter and gatherer". I personally think she sets the standard a little unattainably high, but it certainly is a good goal.
Health for Godly Generations also really sparked discussion between my husband and myself. To me, that's the sign of a good book…when you're thinking about it in between reads, talking about it, and acting it out.
Renee is giving away a copy of Health for Godly Generations to one of you! To enter the giveaway, comment and tell us one step you've taken to help improve the health of your family's eating habits. (Giveaway ends March 23. Open to U.S. and Canadian mailing addresses only, please. Congratulations to our winner, commenter #14, selected by random.org: Lydia!)