I will never forget the first sight of her itty bitty wiggly body, or hearing the sound of her dainty feminine cry!
At long last, my baby was here!
The doctor scooped her up and laid her on my chest. As we snuggled on our living room couch, skin-to-skin, full of tears, joy, relief, and thanksgiving, I remember greeting her with the only words I could say, "I love you so much!"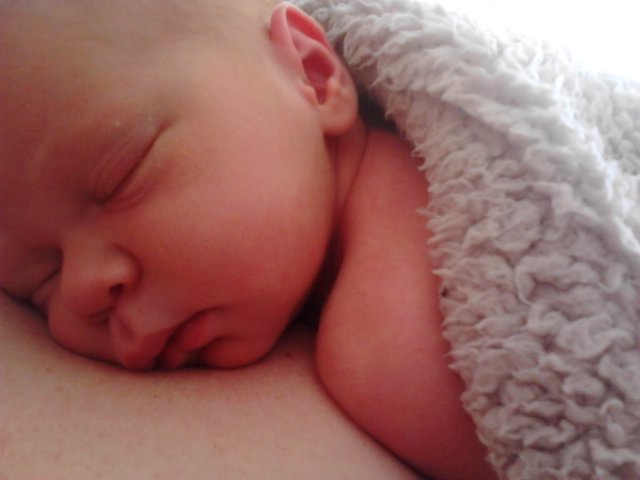 Of course, that was my favorite moment of 2014, the November day we met our daughter, Lydia Yael.
With wavy red hair, blue eyes and her Abba's smile, my tiny girl is the fruit of tremendous prayer and the Lord's glorious ability to heal secondary infertility. We learned we were expecting her six months after a surgery to removed a tumor from my pituitary gland that caused a rare condition called Cushing's Disease. The tumor was a beauty thief, causing all sorts of embarrassing changes to my body, and worst of all, stealing away all ability to conceive and carry a child.
While active labor was only 4 1/2 hours on the day of her birth, my husband, Devin, our son, Aviel, and I, labored as a family for our little lady for several grueling years of medical procedures and testing before we found the cause of my closed womb and learned of the solution.
My surgery, which took place in September 2013, had been a success. The doctor was able to remove the full tumor and took only 3% of my pituitary gland for margin. After three months of recovery, my body began functioning completely normally, and all tests indicated that it would be safe for us to try to grow our family, and without further medical assistance. Still, we waited month after month to hear from the Lord that we would have a new little one on the way.
On a day of utter discouragement over news of another month without new life, the Lord gave us hope during our pastor's teaching. In Hebrew, he read through Acts 16, the passage about Lydia, the first to believe in Messiah Yeshua, Jesus, in Europe, who brought the word of salvation to her household. At the first mention of her name, I thought:
Lydia… Our daughter! I need to tell Devin!
No sooner than the idea had entered my heart, Devin leaned over and whispered in my ear:
Lydia
And I knew, together, we had heard from the Lord!
Devin sort of chuckled as he then showed me the spelling of this sweet name in his Hebrew translation. I looked and saw L'yad, meaning "next to" or "close to" and Yah, a name for God, thus Lydia is "Noble" in the Greek, and "Close to God" in Hebrew.
Just over four weeks later, when that blessed second line appeared on the pregnancy test, Devin and I both believed that the child I was carrying was surely a girl, named by the Lord before her conception! The Lord was truly her God from her mother's womb (Psalm 22:9-11)! We were delighted to share the news with Aviel, on his fourth birthday, encouraging him that the Lord had heard his prayers and put a baby in my belly as a birthday present!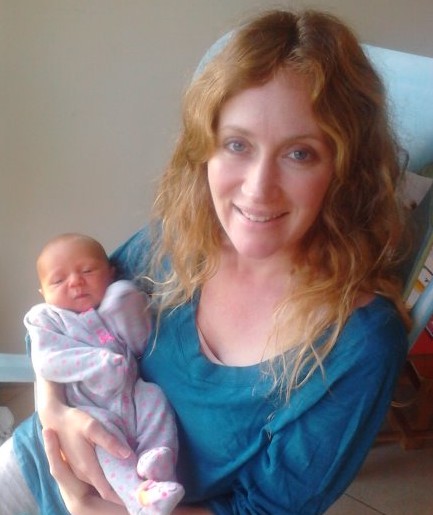 Even with the miracles, signs, and wonders, the pregnancy was not without challenges. I suffered from Hyperemesis Gravidarum, which is understated by being described as severe nausea and vomiting. It lasted the entire pregnancy, and was probably aggravated by the anxiety that comes with living in Israel during a time of war. I was also diagnosed with gestational diabetes in the third trimester, and had a baby still presenting breech at full term! She was easily moved in to the correct position with the help of a doctor, and stayed rather happily for two more weeks before she was born. The pregnancy was a battle, during a literal war — and that inspired her middle name, Yael, after a great heroine of war in Judges 4 whose courage helped to save her nation from a deadly attack.
Although I had birthed Aviel naturally, I was concerned about how this birth might progress after a major surgery on the gland that regulates the hormones that keep labor moving smoothly. Besides that, having dealt with so many trials in my body during the pregnancy, accomplishing natural birth, seeing my body do what God designed it to do, was a victory in itself! Scripture speaks of women being saved through childbearing (1 Tim 2:14). The Greek word for saved in that passage, sozo, means to save from perishing and to make well, heal, and restore to health. I have come away from the birth full of confidence in the overall healing work the Lord has done in my body, truly putting that pesky tumor and disease to death!
It certainly was not something I could have accomplished without the support of my sweet Devin, my doula Sarah, who flew all the to Israel from California to "love on me" while I labored, as she says it best; my friend Natalia who played worship music, reminding me of the multitudes of prayer we had received from our friends and family; my mom's constant encouragement and care for Aviel, and our excellent doctor.
The greatest reward, however, was finally holding my tiny girl in my arms, knowing without question that every minute of suffering – the brain surgery, the vomiting and despair – was worth it to bring her sweet life into the world.
After my doctor laid her on my chest, he allowed her to stay uninterrupted until she had nursed well. I smooched her strawberry blond head and breathed in her newborn sweetness, but mostly, I praised the Lord as I held her during that first hour. The thanksgiving has continued to flow from the wellspring of my heart ever since! He remembered me, and He gave me Lydia Yael.
May she have a courage that only comes from remaining close to You, and may she bring forth Your word of salvation to the nations! Thank You, Father! You are good!