I've lived through as many spiritual seasons as I have these earthy ones. Some of the seasons looked and felt like winter to me. Long and cold, with limited light and a feeling of loneliness on the side. It was constant work to keep the fires burning provided warmth to the soul. Other seasons held the breathtaking beauty of autumn, the warmth and light of summer, and the freshness and joy of spring. And over time, I've learned not to dread these seasonal changes of my life, because the grace of God has done more than just find me in each season of life; it has led me in and out of each one.
I used to think of grace as primarily a finding grace. Grace that found me in my messes and my seasons, the ones I created and the ones I was shoved into. And oh how I needed that finding grace in my young mothering days. I needed help right where I was, learning the art of mothering, friendship, and the ministry of a wife. The seasons could change daily. One day I knew my mission and had confidence. The next I doubted how this was all going to work out to God's glory and so sure I was going to fail. But grace always found me, even though I didn't always have the energy or the spiritual ability to seek Him like I needed to.
And in those pre-internet days, finding grace was not as simple as opening the smartphone and reading words of grace on blogs, apps, and social media status updates. Grace was often delivered through physical means. It relied on the saints to be intuitive, sensitive and more deliberate in ministering to each other. A card in the mail, a cup of tea, a hug, a kind word — the blessed ways of God sending His affection to the women in the hard seasons of life.
But wherever we are and whatever our age, there is a hope to rely on in those winter seasons. We can claim the promise that God will find us, and like a loving Father come to our aid.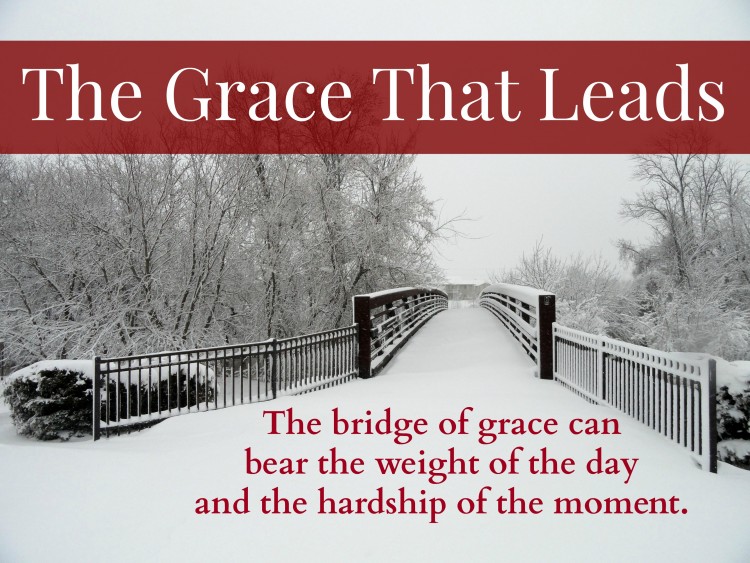 But lately, I've been thinking that grace is as much about leading as it is finding. The grace God shows us is like a bridge. This bridge of grace bears the weight of the day and the hardship of the moment. It's the unlikely favor of God, shown on us when our burdens feel too heavy. It finds us in our mess, yes. But it doesn't leave us there. We aren't just found: we will always be led out.
That leading grace often comes through the ministry of other women who have crossed a thousand bridges before us. For me, it was books, coffee talks, and letters from women intent on helping me see God when all I saw was chaos and carnage. I love that the grace bridges have such beautiful crossing guards.
Rest assured, these days of heavy burdens and weighty obligations won't unwind you. His grace will find you in your messes, but He won't leave you there. There in the middle of mud and the muck, if you listen you will hear His voice, and that will be your bridge out of that place. Every single time you kneel in prayer you move forward, advancing by every step of faith you take. And one day, you will see the bridge of grace behind you as you walk into a new place, a new season. And He will be there, as well.
You'll find you aren't the same woman at thirty that you were at twenty. The forties hold all kinds of glories with God. And the fifties, I hear, have their own treasures. But know this: grace has brought us safe thus far, and grace will lead us home. One bridge after another.