When I stood at the end of the church service that morning, I didn't expect to find her waiting for me, but there she was. We had shared a class the semester before and knew each other from around campus, and I had seen her up front playing the piano with the worship team, but I didn't realize she knew I had just begun going to her church. We exchanged pleasantries and then she asked out of the blue if I was part of a Bible study.
Sheepish, I said no. She said me, neither.
We decided on a day and so it began, a summer in I Peter. Meeting together once a week, we set out Bibles and journals and shared pens in a corner table of a local coffee shop, a mug beside her Bible, a smoothie beside mine. We talked about what it looks like to truly worship–she, with her experience playing and singing, me, just growing comfortable with lifting my hands. We talked about what it looks like to let true love grow–she, in the beginning of her blossoming love story, me, in my singleness.
We talked about the Gospel and what it looks like lived out, Spirit-led. We shared testimonies, anxieties, reasons to rejoice. A pile of journal pages and shared prayers later, we looked up at each other, a little amazed that we'd gotten through the whole book together, verse by verse, week after week. We had started with very little planning, just a motivation to get into the Word like we'd never done before.
Are you looking for this kind of gathering together in His name? Here are a few ideas to get you started: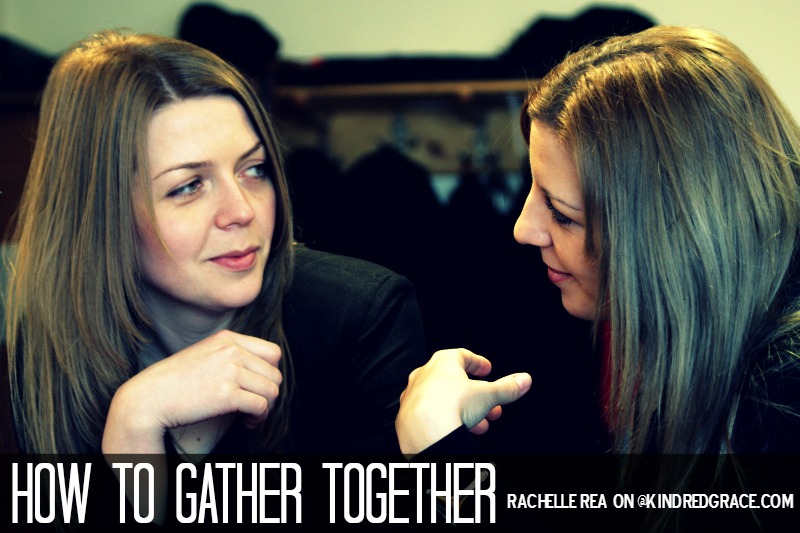 Ask Someone
If she had never come up to me and asked, I doubt this shy, introverted me–just getting used to a new church community–would have had the courage. But because she did, because she spoke up and asked me with a grin if I wanted to study the Word with her, I said yes and we did and we've forged a friendship over Peter's letter.
You may not know someone from church well enough to feel like you can ask them if they want to Bible study with you. Be encouraged: she and I didn't know each other very well, either. We've often bemoaned the fact that we took that one class together, but sat on opposite sides of the classroom for no particular reason and so didn't get to know each other earlier.
It sounds cliche, but you'll never know until you ask. And even if they say no, they may know someone who is looking to meet weekly over coffee.
Invite Someone
Buoyed by the refreshment of meeting weekly in the Word, I found the courage to jump out of my comfort zone. Someone I'd never met sat in the row in front of me. I said hi. She said hi. We exchanged how are yous. We struck up a conversation, and then I asked out of the blue if she met with anyone for Bible study.
Suddenly we had a new girl in the group. Now we're all studying James together as the summer winds down, at that same corner coffee shop, with a mug, a smoothie, and now a latte.
Are you already gathering with someone for time talking about Jesus? Be on the look out just in case He brings someone new to the gathering.
Things to Remember
The best part is I've never done this before, sat with two someones on a regular basis with pen and Bible in front of me. I'm used to quiet times, but having others' voices brings it to a whole new level of community, one I didn't know I was missing before.
This isn't a class, only community.
At first, it was strange as we figured out no one is deciding for us how many verses to tackle in a day (good thing, too, because we sometimes plow through twenty–and other times we never make it past two). There is no professor offering a lecture and discussion points. There is just a Book in front of us that has changed all our lives. So we read a paragraph, discuss the differences in our translations, make observations and applications. It is delightfully refreshing and feels nothing like the homework we're used to.
There isn't a grade, only grace.
Perhaps it's the recovering college girl in me, but I remember pseudo-panicking the morning I got called in to work and knew I would be late to our gathering. I walked in to the coffee shop even later than I had anticipated, juggling my Bible and journal. The worst part was I was feeling guilty, too, for not studying throughout the week all of the verses we were discussing that day. Yet they welcomed me in, glad I could come at all, waving away my apologies for not getting through the rest of the chapter.
They offered me grace, and I'll never forget it.
I have no frame of reference for this, a gathering so small that I'm not too shy to speak up, where we talk honestly about hearts and hurts and Him.
I can only imagine that it might be a little like the first churches were, when the followers met and pored over letters like we read and laugh and hug and wonder over those very same letters…