Beginning the Adventure of Grace
Just before my senior year of high school, my family moved to Canada. It was a big adjustment, to go from lush green farmland to windswept wood; from a busy church family, to a tiny congregation, most of them elderly. We lived about twenty minutes from town, in either direction — so remote that the bookmobile came our way. It was too early for internet, and letters from my best friend in the US took ten days to arrive.
I'd spent my previous high school years at a tiny one-room school, but now, as a homeschooler, I bore a little more responsibility for my studies. Besides, I knew I'd be leaving home soon, and I put a lot of pressure on myself to grow up in a hurry, both academically and spiritually.
It was a lonely, anxious, beautiful time in my life, when I woke up to God's grace at a whole new level. Below (with just a little editing) is the parable I wrote that year:
Once upon a time there was a little girl who wanted to be good. When her walk along the path of life seemed hard, she would say, "Dear Jesus, please help me to be good." And Jesus, who walked beside her, would whisper, "Little girl, look at Me." But the little girl didn't hear because she was busy trying to be good.

Often the little girl would make a mistake, and down she'd fall into the dirt. "Oh, dear Jesus," she'd weep. "Why can't I be good?" Then Jesus, who walked beside her, would gently answer, "Little girl, look at Me." But the little girl couldn't hear because she was still crying.

One day, the little girl looked ahead and said, "Look where I'm going to be soon. Dear Jesus, please help me to be good when I get there." Jesus was still walking beside her, and He answered very softly, "Little girl, look at Me." But the little girl couldn't hear this time either, because she was too busy planning how to be good.

The little girl tried and tried to be good, but she just couldn't do it. She worried and fretted so much that she became sick. "Dear Jesus," she cried, "Why am I sick?" Jesus was right there beside her, and He answered gently, "You have been worrying and fretting. Little girl, look at Me." Then the little girl did look at Jesus, and He held out His arms to her. The little girl held up her arms to Jesus and He picked her up. "Little girl," said Jesus, "I have you, and now you are good." She sighed a deep sigh of relief and laid her head down on Jesus' shoulder.

The little girl and Jesus kept on walking along the path. Sometimes Jesus carried her, and sometimes He held her hand as she walked beside Him, but sometimes she forgot to let Jesus hold her. One day, she looked ahead and saw a big mountain. "Dear Jesus!" she cried out in dismay. "I can't climb this mountain. It looks too tall and too rough and too hard. I wish I could just give up." Jesus was there beside her, and He said, "Little girl, look at Me." The little girl looked up into His eyes. "Will you trust Me to take you over this? Do you believe I am able?" The little girl looked at Jesus and smiled. "Yes, Jesus!" she said, "Of course You can do it!" Then Jesus picked her up in His arms and strode on.
As an earnest, detail-oriented person, that beautiful simplicity did not come naturally; it was a gift from the Holy Spirit. And that gift helped launch me on my spiritual growth as a brand-new adult.
Later, I would read Brother Lawrence's Practice of the Presence of God, with its refreshingly simple approach to life, especially a devotional life. To put that tiny book into a nutshell: experiencing God's presence takes practice.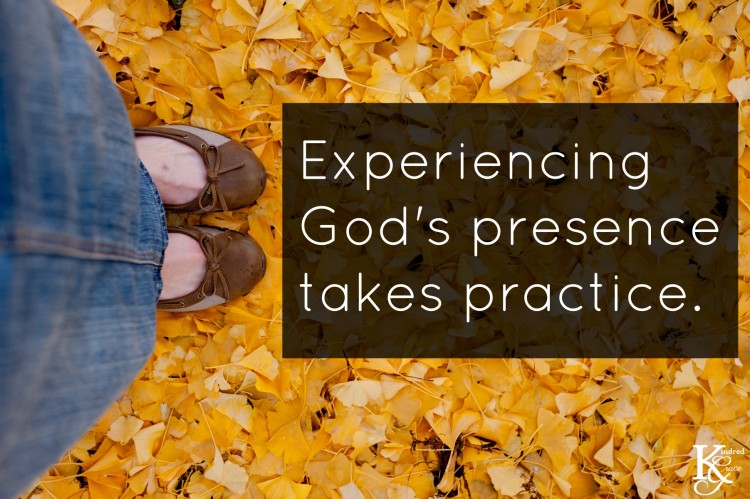 Here's what I learned from Brother Lawrence: God is just as much your companion while you're washing dishes, as when you are in your prayer closet. So talk to Him. I don't mean that you have to be serious and talk at Him all the time. Simply keep up a running thread of conversation, off and on throughout the day. With the eyes of your heart, simply glance His way from time to time. Exclaim over the things you see Him doing. Ask questions. Pick up clues about what He is like. And if you sin, or simply lose focus, don't panic! Simply turn to Him, and be matter-of-fact. "Lord, I was wrong. And I can never get it right until you help me. I'm Your responsibility. Please help me!" And continue practicing His presence.
Well over a decade later, I'm still practicing the same stunningly beautiful truths: I am God's child. He is responsible for me. He loves it when I walk with Him.
Sometimes it takes a crucible to launch us into the adventure of discovering God's grace as something very simple. But believe me, it's an adventure well worth discovering!
Photo Credit: JenniMarie Photography