fighting for faith, hope and love
I'm stitching a wedding sampler for a couple (literally) of family friends at the moment. The sampler features a classic verse that happens to be a personal favourite of mine too.
"But now faith, hope, love, abide these three; but the greatest of these is love." (1 Corinthians 13:13)
I think it's sad that this verse is so well associated with weddings that it's almost considered the property of brides and grooms alone. The truth beyond the associations, of course, is that the verse belongs to everyone.
The truth belongs to me, waiting for Prince Charming at thirty, as surely as it belonged to the bright-eyed, rosy-cheeked thirteen-year-old I used to be. Perhaps, in a way, the truth belongs to me more now that I've cried and laughed and fought for its reality in my life.
Sometimes disappointment and despair settles like a white mist over my soul. The words of God are like golden shafts of sunlight that slant through the mist and diamond drops of moisture that linger on flower petals and leaf tips, but I'm too busy, too tired, too depressed to chase them — and Him — beyond the mist.
At such times three things abide or "remain".
Faith.
Hope.
Love.
And sometimes these things, these three, need fighting for.
Faith
The antidote to despair is faith. Despair sees the impossible and the unlikely and it surrenders. Faith sees the impossible and the unlikely and it recognises them as such, but refuses to surrender, because God is bigger than any impossible and every unlikely.
"For we walk by faith, not by sight …" (2 Corinthians 5:7)
We fight for faith by choosing to believe that God can do anything (Luke 1:37), by asking God to give us faith and grace to help us with our unbelief (Mark 9:24), by building our lives on the rock of certainty that, whatever our circumstances whisper and our emotions scream, He is faithful (1 Corinthians 1:9, 2 Thessalonians 3:3, 1 Thessalonians 5:24).
"My faith rests not on what I am or shall be, or feel, or know, but in who Christ is, in what He has done and what He is now doing for me." -Charles Haddon Spurgeon
Hope
Choosing to hope amongst the ashes of disappointment and heartbreak is the scariest thing in the world. It feels like foolishness and mockery. And yet, God says, His foolishness is wise (1 Corinthians 1:25) and hope in Him is an anchor for our souls (Hebrews 6:19).
"And not only this, but we also exult in our tribulations, knowing that tribulation brings about perseverance; and perseverance, proven character; and proven character, hope; and hope does not disappoint, because the love of God has been poured out within our hearts through the Holy Spirit who was given to us." (Romans 5:3-5)
We fight for hope by resisting fear, by choosing to believe that the gifts of love and marriage and babies can come by the grace of God and that if they don't come then all is grace anyway, by embracing dreams of goodness to come.
We fight for hope by hoping not in a man or a future we want, but in God.
We fight for hope by gritting our teeth and clenching our fists and declaring with our words and our deeds and our lives that God, no matter what gifts He does or does not give, is good and wise and loving and faithful and generous.
"Don't you know that day dawns after night, showers displace drought and spring and summer follow winter? Then have hope! Hope forever, for God will not fail you!" -Charles Haddon Spurgeon
Love
Love is the greatest of the three. The easiest and the hardest of the three. The riskiest of the three. To love is to lose and hurt and cry. And yet we are loved and we love others.
"For I am convinced that neither death, nor life, nor angels, nor principalities, nor things present, nor things to come, nor powers, nor height, nor depth, nor any other created thing, will be able to separate us from the love of God, which is in Christ Jesus our Lord." (Romans 8:38-39)
Love – even when we lose and hurt and cry — is worth it. We can't — we mustn't — not love. We have to fight for love by putting our faith in God and hoping in Him and loving.
Love of any kind is an act of singing, dancing courage. We have to seize this kind of courage with both hands and then hold them out, full of love, to a hurting, needy world. We have to love guys we might marry, but don't, and children who aren't ours to protect and cherish and nurture into maturity.
I'm not advocating carelessness or tossing our hearts into the gutter. But I want to die knowing that I've lived fully and loved well and that my heart, broken and mended and battered and scarred and tired as it will be, has done what it was given to me to do and loved.
We can hold our hearts back — fearful of hurt or imperfection — or we can fight for love by, simply, loving.
"We shall not long have love [for] man if we do not first and chiefly cultivate love [for] God." –Charles Haddon Spurgeon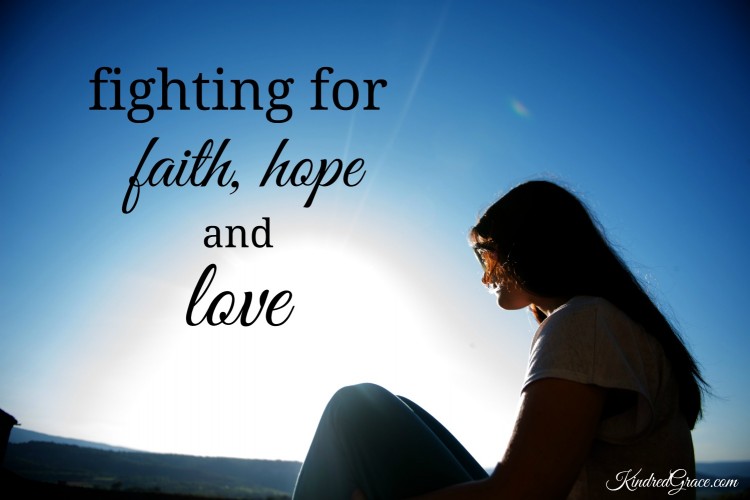 Some things are worth fighting for. Faith, hope and love are worth fighting for. So, dear sisters, don't give up in the midst of the mist, but fight for faith, fight for hope and fight for love.
"Faith goes up the stairs that love has built and looks out of the window which hope has opened."

(Charles Haddon Spurgeon)
Photo Credit: JenniMarie Photography