Elizabeth Gaskell: The Unsung Austen
Disclosure: This post contains affiliate links which won't change your price.
"..if a book is well written, I always find it too short." -Jane Austen
Jane Austen's life was far from blissful, but she is one of the few classic authoresses to gain recognition for her writing during her lifetime, and her fame has only escalated since. In the 2007 biographical film, Becoming Jane, during the end scene Anne Hathaway portrays the novelist as a graceful, esteemed celebrity, receiving an audience for a book signing. Today, every book store carries her novels, collections of her letters and biographies, not to mention mugs emblazoned with Austen quotes and totes with her picture printed on them.
However, Elizabeth Gaskell, whose life overlapped with that of Austen by a mere seven years, lived a longer and more modern life of which we know little! There is no blockbuster about her life, no mugs with her quotations on them or totes with her face on them. I have known about the great Austen all my life, but it wasn't until the BBC introduced me to Gaskell's works through a mini-series that I uncovered a quite "unsung Austen," and a new favorite writer.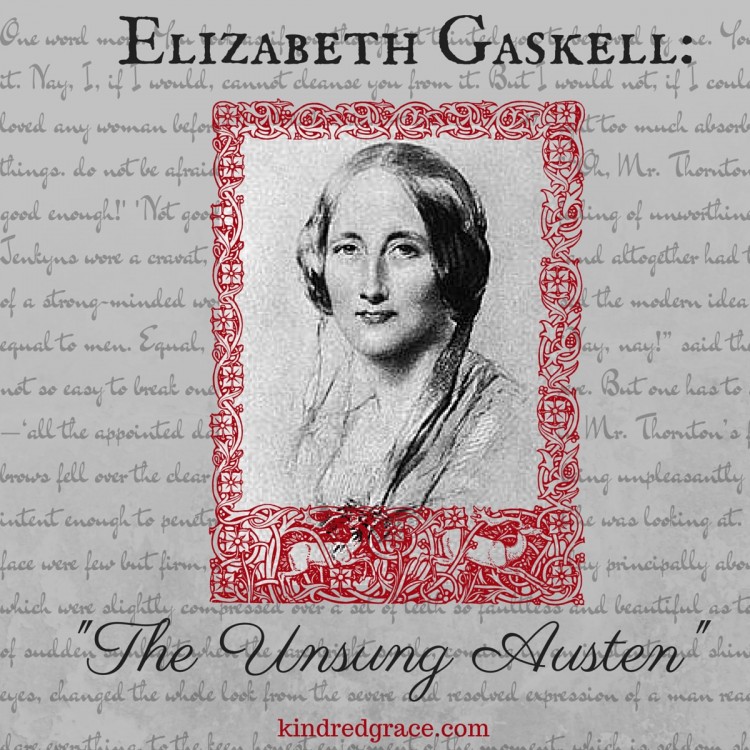 "Mommy bloggers" will love the story of Elizabeth finding her voice! After marrying a minister and starting a family, "…Mrs. Gaskell began a diary, documenting the development of her daughter Marianne, her views of herself and William as parents, the value she gave to her role as a mother, her religious faith, and, later, the relationship between Marianne and her sister, Meta."
Elizabeth was known to be good friends with fellow authoress, Charlotte Brontë, and entertained her at the Gaskell's Plymouth home on more than one occasion. Once, Charlotte is said to have hidden behind the curtains to avoid their other guests. I can just imagine Elizabeth attempting to coax her shy friend into the party! After Charlotte's untimely death, Elizabeth wrote her official biography at the request of Charlotte's father. The Life of Charlotte Brontë (1857) was the catalyst for her major career as an author. She chose to focus on Charlotte as a woman, rather than a romantic novelist, and it's that personal touch that really launched Elizabeth into her writing career.
She had spent much of her childhood living with aunts, who provided her with the classics as a supplementary education. Elizabeth left school at sixteen and married at twenty-two, having fallen in love with a minister in the same denomination her father pastored in. When they settled in Manchester, the industrial culture began to influence her writing, as we can acutely see in her most famous works.
Elizabeth and her husband William had five children, three of which survived infancy. The loss of her young children inspired her anonymous novel, Mary Barton (1848). Elizabeth's brother John went missing while with a fleet from The East India Trading Company during an 1827 expedition to India. This, no doubt, was the inspiration for the fate of Margaret's brother in North and South. Though Elizabeth's education at a girls' school was traditional and stodgy, John sent her modern books and accounts of life at sea from his voyages.
Like many authors of her time, Mrs. Gaskell (as she was commonly known) began with ghoulish Gothic stories, which were greatly promoted by her friend, Charles Dickens. These stories were much easier to sell than her "industrial" fiction for which she became known. Though her novels satiated the Victorian appetite for romance and English culture, they also always served as a critique of society and contemporary attitudes toward certain classes. Her support of gender equality was evidenced by her dynamic heroines and the roles they played in her stories, and though religion was hardly a dinner table topic in her day, her belief in God was rarely far below the surface of her words.
All in all, Mrs. Gaskell wrote six novels, four non-fiction books and many short stories. She is perhaps most famous for North and South and Wives and Daughters, both of which are wonderfully romantic, but meaty novels based in her native England. Cranford is also broadly read, especially since joining the others on the BBC in its own original series. Though I think it had more tragedy than the other two put together, Cranford is also more comedic. I find Gaskell's style to be fairly easy reading, entertaining and wise.
As someone who considers herself to be a writer, social activist, and lover of a good romance, I am so glad I found Mrs. Gaskell when I did! Maybe someday I'll have my own little home wherein fellow artists are entertained (or concealed, as was the case with Miss Brontë) and my own children will inspire my stories. Until then, I'll be right here in Texas with my nose in a good book…