Building Blocks of a Happy Marriage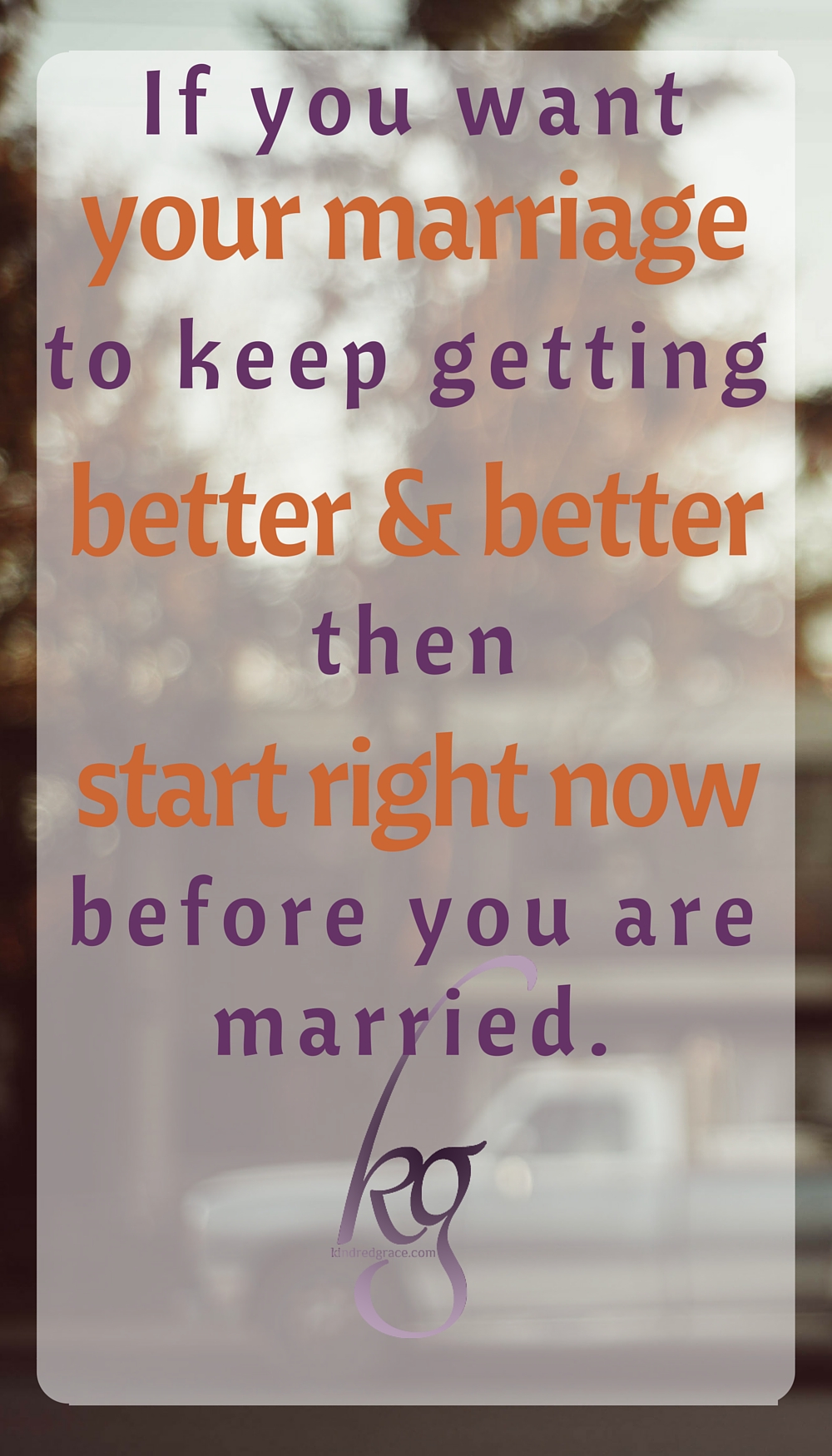 If you want to make your husband the happiest man in the world, then start right now.
When your boyfriend talks to you, listen with your eyes, not just your ears. When you are married, there will be many more distractions to get in the way, and fewer opportunities for good conversation–take advantage of them by being attentive to every word he speaks.
When he asks you to do some little task for him, make sure you remember it. When you are married, there will be a lot more things to remember–and oh how he will appreciate it if you actually do them.
When he seems to be down or discouraged, don't constantly ask him what is wrong (unless it is really something you need to talk about), but instead, smile at him, love on him, build him up. When you are married, there will be many days when the weight of the world is on his shoulders, and many days when he is stressing out over something related to work. Learn your man's moods, so you know whether you need to remind him of God's promises to take care of us, whether you need to tickle him and make him forget all his problems, or whether you just need to sit there quietly, rubbing his sore shoulders, and run your fingers through his hair without saying a word.
Make a habit of the tasks that he overlooks. Whether it is throwing away the trash that collects in his car, or picking up his dirty socks, he probably has some little thing he never bothers to do (perfect though he is). Learn to take care of those little things without even thinking–and definitely without making it obvious to him that you "had" to do them.
Learn to make him look his best. Don't contradict him in front of others (or in private!). Don't criticize him. Instead, tell everyone about this wonderful man you are in love with. Extol his good qualities until the whole world knows. When you are married, you will become more intimately acquainted with his bad qualities, but since you spent your entire courtship focusing on the good things about him, the bad ones will be easier to overlook.
Practice thriftiness. Save your money now so that you will have a little stockpile when you get married. Learn to shop the grocery sales, use coupons, visit garage sales, and view consignment shops as the ultimate clothing stores. Learn the difference between being a bargain hunter and buying something just because it is a bargain. And when you're shopping for clothes, consider whether he will think that shirt quite so cute if he knew how much it cost.
Find out what it is that really annoys your man, and make sure to the best of your ability to prevent him from ever being thus annoyed. If it's dirty dishes in the sink, you may not find out about it until he is the head of his own house, but if it's hair in the bathtub and he has sisters, you'll learn to clean your hair from the drain long before you ever get married.
Learn what spells "home" to him. Then, whether it is a clean floor, cookies in the cookie jar, his favorite CD or ball game playing, or candles burning in the evening, make your home that haven he desires. Then you'll never have to wonder if he's coming home at night.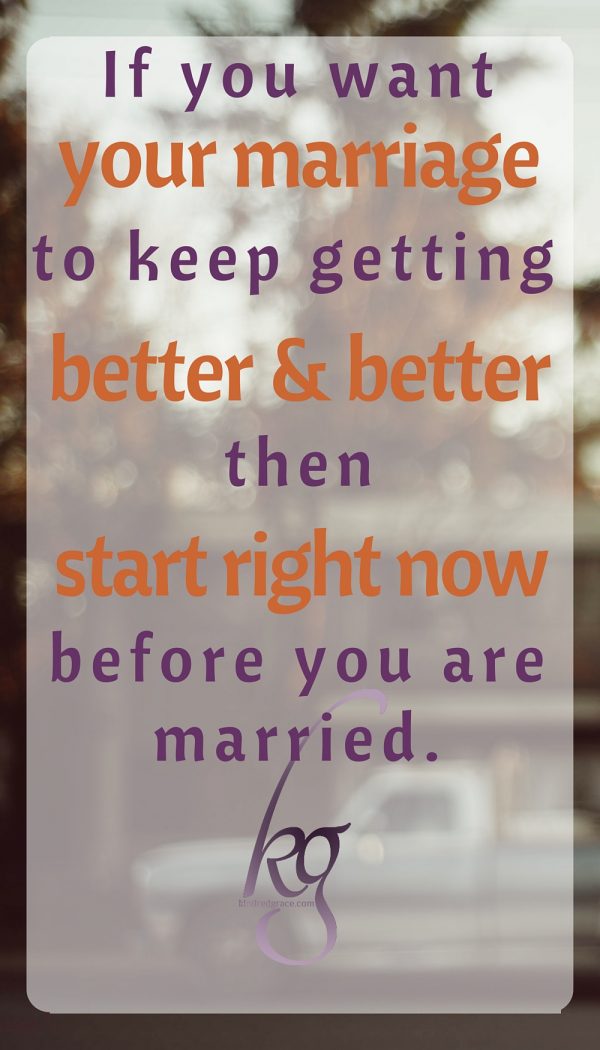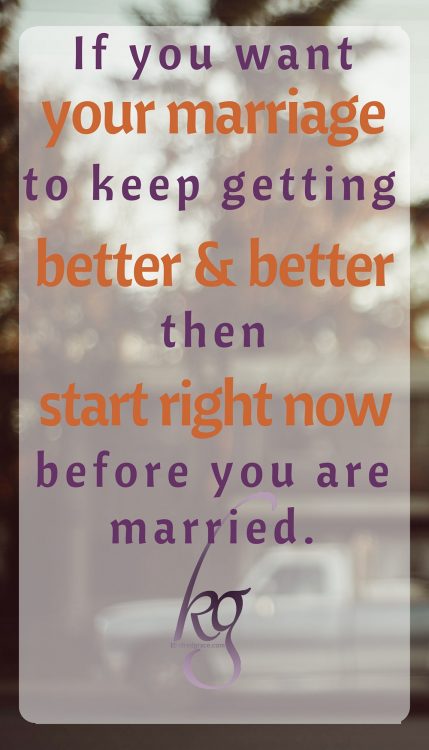 If you want your marriage to keep getting better and better, then
start right now

.

Become a student of your man. There is no more enjoyable class.

Become proficient in making the meals he likes best. As the saying goes, the way to a man's heart has always been through his stomach. Plan your menus around his favorites. Any future mother-in-law would be flattered to give you some of her recipes.

Write him love letters. It may be a quick email to his work address, or five pages of handwritten script. No matter your skill with a pen, he will read your sincere words of love and admiration over and over.

Enter his world once in a while. And learn to sense when he wants to be alone there. He will have fun if you join him for a tractor ride, but he cherishes his hours of solitude out in the fields. He will enjoy trying to explain his favorite sports game to you, but let him watch the game with "just the guys" once in a while, too. Whether it's his hobby or trade, whether it's mechanics or art, he will feel special if you ask for the honor of watching him as he works. Learn to anticipate his needs and hand him the tool he's looking for (this sometimes involves learning the difference between a pipe wrench and a socket). And learn when he'd rather you do your own thing.

Examine your pre-conceived notions about marriage. Observe other couples and learn from them–what you do and what you don't want your marriage to be like. Mentally plan and prepare to be the best, most loving wife possible. When you are married, you'll be glad you aimed high because you won't be a better wife than you planned on being.

He is the head of your household, and God placed him there for a reason. Learn when he wants you to give advice, and when he desperately needs someone to believe in his plan. Learn to be silent even when you disagree. Learn to just squeeze his hand or distract him with a kiss when he might be saying unkind words to someone else. There are times when you will need to speak up, humbly. Practice being a submissive wife so he will hear you at those times.

Show him your love. In public, and in private. For now, this may be just a squeeze of his hand or a whispered word. But when you are married, let it be your goal to make him so addicted to you that he will never look anywhere else. Make yourself desirable to him. Give him all the love you have, and then some. It has often been said that you should never go to bed angry; neither should you let your husband go to sleep still hungry.

Show others that you love him. Never will your man stand so tall as when the world can see that his wife respects him. Make it obvious, in word and in manner, to strangers and to your closest friends, that you count it the greatest privilege in the world to be married to your husband.

Be joyful. Never stop smiling, with a smile he knows is just for him, a smile made extra bright because he is there. When you are married and he comes home from work tired and stressed, your loving smile will be the most welcome sight he has seen all day. Always be sure to touch up your makeup and hair just before he is due home–maybe even a spritz of his favorite perfume. Run to him with a kiss. And don't tell him about the overflowing toilet, the overdue bills, or anything else unpleasant until he has had a chance to eat a good dinner and relax in his favorite chair.

Thank him. For loving you, for being your man, for taking out the trash, for providing the money for food and clothing, for working so hard, for helping you make the bed, for kissing you, for being the man you love so much. And thank God for him, when he is there to hear, and every other moment of the day when he is out working hard for you and of the night when he is sleeping right beside you.

Photography: JenniMarie Photography