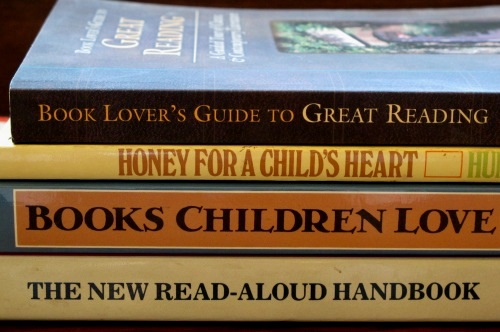 I have a special section for them on my bookshelves: books about books. As if I don't have enough books already, I have books full of more book titles to find!
There's Books Children Love: A Guide to the Best Children's Literature by Elizabeth Wilson. And of course, Jim Trelease's ever-popular The Read-Aloud Handbook, along with Terry Glaspey's Book Lover's Guide to Great Reading: A Guided Tour of Classic & Contemporary Literature.
Gladys Hunt authored one of the classics, now in its fourth edition since 1969: Honey for a Child's Heart: The Imaginative Use of Reading in Family Life. She's added Honey for a Woman's Heart: Growing Your World through Reading Great Books as well as Honey for a Teen's Heart: Using Books to Communicate with Teens to her collection of books devoted to books.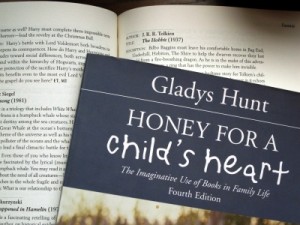 My cousin just told me about Sally Clarkson's daughter Sarah's Read for the Heart: Whole Books for WholeHearted Families, too. But I have yet to delve very far into the covers of the ones I do have, not to mention my grandmother's copy of Terry Glaspey's Great Books of the Christian Tradition.
There are books about how to read, too. The 1940 How to Read a Book: The Classic Guide to Intelligent Reading by Alder and Van Doren is a staple in many curriculum. And Gene Veith's Reading Between the Lines appears to be an excellent resource for every Christian wishing to read with balance and discernment.
Not only are there a plethora of books designed to help you teach your child to read, there are books about how to cultivate a love of reading in your children: How to Raise a Reader, How to Grow a Young Reader, and How to Hook Your Kids on Books were a few of the titles on my grandma's bookshelf. (Not to mention the fact that most classical education guides, such as The Well-Trained Mind, include extensive reading lists as well as direction on how to use them.)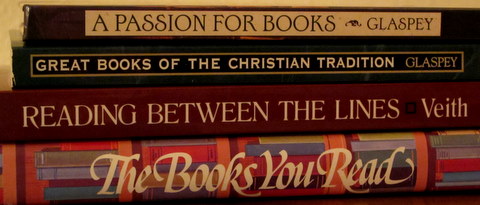 Of course, there are books in which so much of the storyline centers around books that it's nearly a suggested book list in and of itself (84, Charing Cross Road comes to mind). And let us not forget the books that are simply about books, and not so much a book list or guide as a luxurious feast to the eyes and heart of any book lover, like A Passion for Books.
Do you have a great reading guide, book of book lists, or book about books? Write a blog post telling us all about it, how you use it, and if you carry it to every book sale you attend. Do you attempt to collect them all? Or is it just how you decide what book to check out at the library next — and the makings of your PaperbackSwap wish list? (I'd really like to know, too, if you've actually read every single book it recommends!)
Of course, in these days of the internet, not all the great book lists are contained within the pages of books. If you've seen Ann Voskamp's list of books for the bookshelf, referenced Sonlight Curriculum's core book list, or browsed the Charlotte Mason booklists before, you know what I mean. So if your favorite book list is somewhere on the web, please share the link in the comments section!
Review a favorite book about books—or two or three.
Post the review(s) on your own blog.
Be sure to link to http://ylcf.org and mention the March of Books in your post (click here for button link code).
Copy the exact URL of each post (not just your blog address) and share it above.
The YLCF Team reserves the right to remove any links we deem inappropriate.
Multiple reviews and links are allowed (please share each one separately above) — or you can review all your favorite books about books in one post, it's up to you.
No blog? Tell us about your favorite books about books — or online book list — in the comments section.
Tweeting your posts? Use the #MarchOfBooks hash tag!