The Bait of Satan (book review)
Disclosure: This post contains affiliate links which won't change your price.
I couldn't believe my eyes! I gasped aloud at the incredulity of it. Someone was backing into my car — as I stood there and watched! Completely oblivious to the fact that I was watching, the man didn't even get out of his car to check the damage. My blood pressure soared – what was he thinking? He owed me the decency to at least get out of his car and apologize!
'Owed me'. I felt this man owed me a debt of decency, respect and apology. Ouch. The Holy Spirit arrested my thoughts as they raced ahead to my scratched bumper.
I was offended.
Mistakes happen, and I had grace for that, but what irked me to no end, was that the man was not going to apologize. That is what offended me.
In Matt 18, Jesus warns that offense will come. He says:
"It is impossible that no offenses should come, but woe to him through whom they do come! (Luke 17:1 NKJV)

Offense is a part of this broken, fallen world that we live in and believers are far from immune to it. It is one of the greatest pitfalls the Devil uses to trip us up with. As Christians we know the truth, and often have a high sense of justice, and what is right or correct — so when something is wrong, it's very, very, easy for us to become offended by it.
If forgiveness is a debt paid, then offense is a debt owed. When I feel like I am "owed" something, it's a sure sign I'm walking into offense. In Christ, I no longer have any "rights". I was bought with a price and gave my life (all of it!) to Him. Therefore, there is nothing that can be "owed" to me any longer.
In his book The Bait of Satan – Living Free From Offense, John Bevere takes a challenging look at offense and how it affects every area of our lives. He says,
"The focus of offended Christians is inward and introspective. We guard our rights and personal relationships carefully. Our energy is consumed with making sure no future injuries occur. If we don't risk being hurt, we cannot give unconditional love. Unconditional love gives others the right to hurt us."
and
"If you have given yourself totally to Jesus and are committed to his care, you cannot be offended because you are not your own. Those who are hurt and disappointed are those who have come to Jesus for what He can do for them, not because of who He is."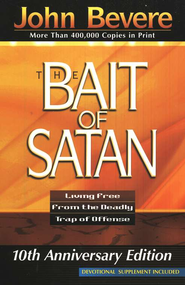 Freedom to love others as the Lord loves us, comes from letting go of our rights and offense. Reading The Bait of Satan radically helped change my life and relationships this past summer. I can't recommend it highly enough! Never one to hold a grudge, I didn't think I really needed to read it when my pastor talked about it. I was so wrong! Offense wears many faces. Personally, it can feel like someone owes me something, or if I start seeing people for what they are not, rather than who they are – chances are I'm offended.
The Bait of Satan is a recommended read for every Christian, and a must read for anyone in ministry or leadership in the church! Learn more from John Bevere in this short video:
Giveaway
I'd love to send someone a copy of this book. Enter the giveaway by commenting on this post and sharing the best advice you've heard or experience you've had in dealing with an offense. (Giveaway closed. Ended March 13 at midnight EST.)