Antelope in the Living Room
Disclosure: This post contains affiliate links which won't change your price.
"You want to know the secret to staying happily married?" grinned the wizened, white-haired man.
"What's that?" I asked with a laugh. This was going to be a good one, knowing him.
"A few fingers in the armpits every so often," he stated, with a twinkle in his eye.
I laughed. There's been more than one time in our marriage where one or the other of us has declared, "I think you just need a good tickle."
And there's something about being overcome by laughter that puts everything else into perspective. Even the areas in your marriage that require loving compromise.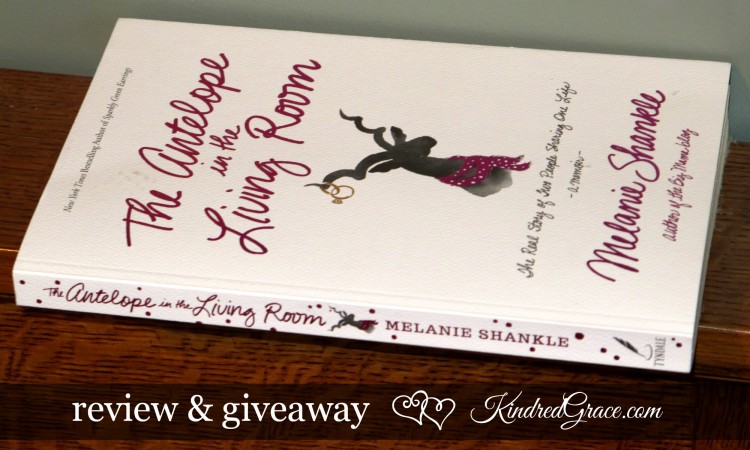 Melanie Shankle is hilarious. You really need to hear her tell the story of the antelope in their living room (and you can on these podcasts from Inspired to Action and God-Centered Mom), but it's become her metaphor for the "elephant in the room" of every marriage. The things you overlook because you love someone like crazy (and you know they have to put up with a lot from you, too). The way you submit to each other in love, putting another's interest ahead of your own (even if it's hunting for trophies to hang on the wall).
I loved the way Antelope in the Living Room painted a picture of what commitment looks like in a marriage of two very different people. My husband and I share a lot of the same interests. Old books, dark chocolate, retro colors, vintage decor–we agree on the important things in life. We even like shopping together (it's true–and it saves a lot of returns when I can find out what his favorite outfits are in the store rather than once I've gotten them home!). But there are those areas in which we are as different as night and day. Unfortunately, I've never had a problem going to bed while there were still dirty dishes in the sink. And he smiles and nods when I talk about a website coding issue just like I try to sound knowing when I say "mmm, hmmm" while he's describing a problem with an engine. But Melanie Shankle's tales make it clear that two people can honor a commitment "til death do us part" even when they don't share a single hobby. Because that's what love is all about.
I've long been a fan of adding a dose of humor to all the guy-girl differences we encounter in life. It's usually a whole lot better to laugh than to cry about it. (Though I've been known to do both simultaneously.) However, I feel that when we use humor we need to be careful not to thoughtlessly tear another down, even in fun. Some of Melanie's stories left a bad taste in my mouth from the way she talked about her husband. Much of the humor was lost on me because she references movie actors and TV shows as naturally as I would reference characters in a classic work of fiction, but other jokes and bits of innuendo seemed quite crass. That being said, Melanie does an amazing job at weaving theology and truth into her stories, making the book a great witnessing tool.
If your husband loves Cabela's and Pat MacManus, you'll love Antelope in the Living Room. If you need a good dose of laughter in your marriage (along with a good cry or two!), Melanie Shankle's new book is the perfect read. (And if you want a heart-warming and hilarious book about motherhood with less crass humor, check out Melanie's book Sparkly Green Earrings.)
Giveaway
Tyndale provided three giveaway copies of Antelope in the Living Room. Congratulations to Hannah, Krystle, and Marilyn for being selected by random.org as the winning comments! (Giveaway ended April 7, 2014.)
Comment and share the best marriage advice you've ever received!