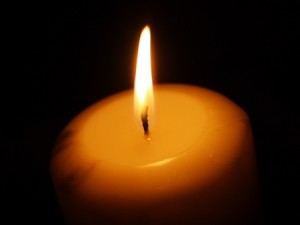 I was never afraid of the dark growing up, though the sticker of the fireman on my window (a notice in case of fire that this was a room where children slept) did give me a start a time or two when the moon made it look like a shadowy shape that I couldn't account for. I always loved the evenings when I could look out at the stars and feel how very small that I really am, and how very Great my God is.
But the fact is, I was afraid of the dark growing up. Not physical darkness, but the darkness that obstructed the future.
It seemed like just about everyone knew exactly what they were doing with their life, while I was busy today with little things and responsibilities, but my future life stretched out before me like a blank and empty canvass with no clues as what the picture was suppose to be, let alone how to paint it.
I thought I knew, of course, what I'd like to do. I had dreams of studying languages, of taking a double major- Nursing and History, perhaps. I supposed I would marry someday, perhaps have my own family, and maybe go overseas as a missionary. But more than anything else, I wanted to be and to do His will- the will of My Father, and while all my hopes and dreams were good ones, they lacked just one thing: I didn't know that this was my appointed path or just the one I was choosing for myself.
I knew that He would make His will known to me. The Bible promises it, He has for others, and I knew and I believed it with all of my heart, that so He would do for me. The future seemed far away, and I almost forgot for a while that I would ever grow up, that there would ever be a time when that distant darkness would become present reality. I thought it'd be figured out long before I ever really got there, but suddenly, reality hit.
I turned 17. I had less than six months before I would finish my "homeschool career", and all of my ideas were beginning to look like goals that could never be achieved, but I put my whole heart in to preparing myself for nursing. Up until now, I had always worked hard and gotten top grades. I loved to study and enjoyed the challenge of learning something new. I was accepted into a wonderful school in the south. My family was looking to move down to the area. I had scholarships. The door seemed to be cracking open, and yet, I was strangely without rest.
I walked out of the public education building with a diploma in hand. I'd gotten excellent grades, and I had tried to fit into many different molds over the months leading up to this point, only to find in my exhaustion and in the stress, that I couldn't make myself into something I wasn't meant to be. And now, here I was, ready to take the next step, but if it wasn't nursing…if it wasn't going overseas as a missionary…if it wasn't working in the publishing field… what was it? I had no idea. And then that darkness of not knowing was very real and I felt afraid.
I spent many hours and shed many tears seeking His will, but in the quietness I could only seem to hear: "Wait".
Perhaps, it wasn't the dark so much that I was afraid of as what was in that darkness that I couldn't see. I didn't mind waiting for a reason- but not knowing why I was waiting was incredibly hard sometimes, but I had to believe that somehow, someway this season was my training ground, and looking back I know now what I repeated to myself over and over again: God's way is perfect, and so is His timing.
In the end, it was waiting in the darkness that made the sunrise so beautiful. It was not knowing that made the answers so precious. It was the lessons of trust that I learned when I was afraid of the dark that were more valuable to me than following my dream of studying History.
In the darkness, I learned to see that God's plan isn't always revealed to us as the big picture that it is. He doesn't choose to give all of us our callings in the same way. Sometimes, He just wants us to wait on Him, and to take up the little work that is right in front of us today, and not worry about what might be in the darkness that night or in the days to come.
I never became a nurse, and I never studied history or languages. I never went abroad as a missionary. They were all good plans, and God called some of my friends to those things, but He called me to be content to stay home and do small things. I might never see much of the results behind the small things. Perhaps I'll never know if the little efforts have made a difference, and sometimes the future still looks rather dark with unknowns. But I'm learning that darkness and light are both alike to Him-and to me. As long as I keep seeking to walk in that perfect way however humble it may appear, I've got nothing to be afraid of.