"You have such beautiful hair."
I dip my head and laugh softly. "Oh, this is my rainy-day 'do."
The memory of her wide smile and genuine compliment rang in my ears for the rest of the day. She meant it. I knew she did. But I struggled to believe it because, instead of cascading curls, I saw frizzy strands seeking to escape the bobby pins. Instead of beauty, I saw barely controlled chaos. Instead of accepting her admiration and honest kindness, I doubted it.
When I realized what I was doing, I didn't like it. For if I doubted her, wasn't I calling her a liar?
It was then that I realized this was so much bigger than a hairstyle.
I started monitoring my conversations, observing them like an outsider even as I participated in them. Every time someone complimented me on my hair or my teeth or my grades, too often I heard the words slip past my lips: "Oh, this is…"
Oh, this is the cold weather releasing my hair from humidity. Oh, this is the result of years of braces. Oh, this is on account of a lot of studying... It wasn't even that the reasons were wrong. It's true that my curls behave a lot better in December than in June. It's true that I had braces — twice. It's true that I'm a perfectionist and want each of my assignments to be the best they can be. That is all true.
But the attitude I was displaying when someone complimented me wasn't true or good or gracious.
The truth is, it's a lot easier to give grace than to accept it. When I see someone new at church, I can tell them I love their scarf and really mean it (especially when that scarf is pink and frilly and feminine and I want one). When I step into the classroom and a friend has gotten a haircut, I can tell them I like it since it frames their face just so.
When that stranger visiting my church for the first time compliments me on my shoes, though, I smile and defer my white high heels to the status of old and worn out (they are the ones I wore at my high school graduation, after all). When that classmate surprises me by saying, "Thanks. And you always look nice," I laugh and shake my head.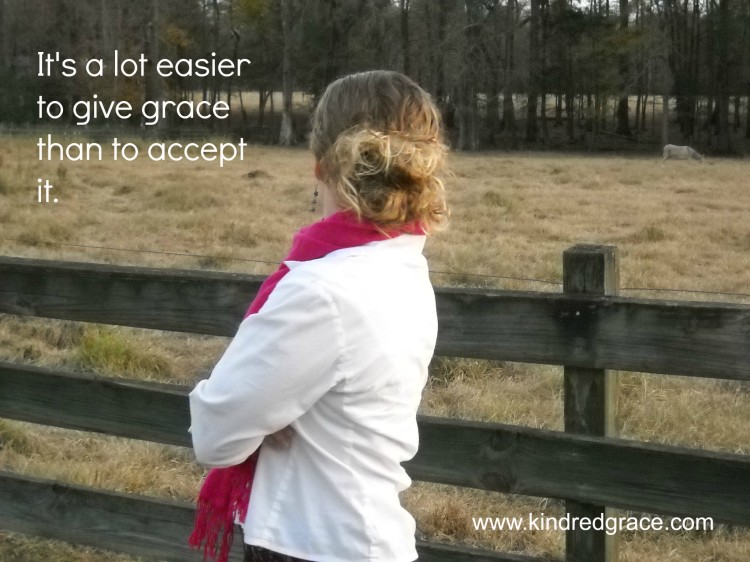 No, no, no. That is so wrong. After a week or two, the realization set in that I could compliment others all day long, but I had a serious problem with receiving compliments. I'm striving to do better in that area. After all, if all I do is seek to be gracious and never receive the gift of others being gracious to me, eventually I'm going to run out of grace.
Because God is the ultimate Giver of grace and if I'm not willing to receive grace from others, how can I expect to open myself up to receive it from Him?
Last Sunday, during those few moments of fellowship before the service began, a sweet lady leaned over the pew between us. "I meant to tell you this last week, but I didn't get the chance. I loved how you had your hair. Up and just…lovely."
Oh, that was…
"Thank you," I say and smile.