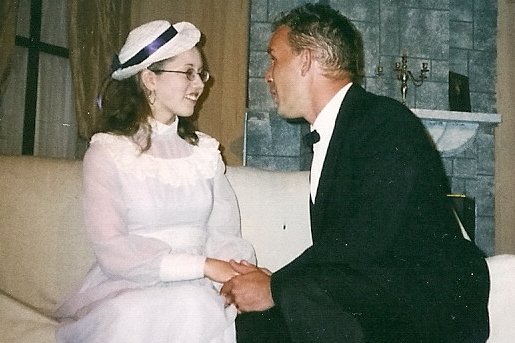 I have been enthralled by the performing arts for longer than my memory can reach into my past. As a toddler, I dressed-up in my mother's "old-fashioned" clothes, reveling in the long, flowing dresses, and jewelry that was antiquated but timeless. Of course, the dresses were so very long and flowing on my tiny frame that they had to be pinned and tied up all around, resulting in the impression of a dwarf in thrift store castoffs. That never mattered to me; I felt beautiful and sophisticated. I would entice my little sister with tempting images of fame and splendor until I gained her full cooperation, and she obediently trailed after me around the "stage" that was our bedroom, dutifully lisping the words with which I prompted her. After two or three rehearsals that inevitably turned out to all be completely different from each other, yet still wonderfully professional in my mind, I would run to my parents, beaming and announcing that we had a "play" to perform for them. They sat, bowed uncomfortably in half to fit onto the bottom bunk of our bunk beds, with an appearance of enjoyment as they watched our fumbled dialogue and attempts not to trip on our long skirts. They always offered up an enthusiastic round of applause and praise when we concluded with proud, sweeping bows. What can I say? They loved us!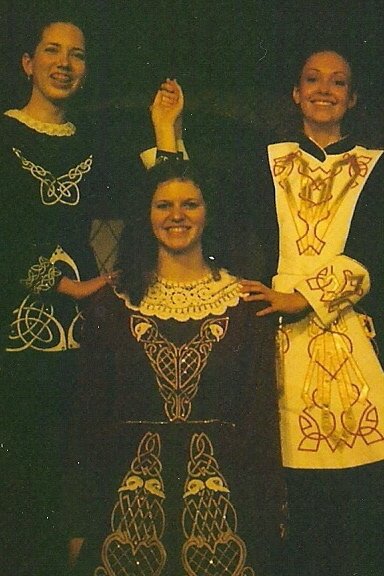 As I grew older, late nights were spent locked in the bathroom where one wall was covered by a large mirror, pacing back and forth and gesturing dramatically as I attempted to recreate scenes out of a movie I had just watched. I had long outgrown my dress-up days, and my mother could once again claim sole ownership of her wardrobe. Now my obsession was with the finer details of the craft. I devoured our small town library's entire selection of books on the performing arts. One week, stage make-up was my fixation, and my family charitably pretended not to notice the over eager application of powder and paint that made me look like more like an amateur clown than a stage diva. Another week I was trying to learn the art of fake crying for my dramatic endeavors, and spent anxious hours peering hopefully into the mirror for any sign of moistness around my stubbornly arid eyes while I fervently conjured up as many sad thoughts as I could. I knew I had mastered it the day that I stunned a hapless lady in the grocery store by successfully bursting into a torrent of tears at no more provocation than an innocent stand of green peppers.
When I was sixteen, my dad and my sister and I happened upon something that thrilled every theatrical bone in my body: a small community theatre in a town near us. It required more enthusiasm than talent, and thus was pleased to welcome me into the magical world that I had longingly worked toward for so many years. At last I would walk a real stage and feel the dizzying excitement of the bright lights shining right on me! It was almost the Christmas season, and as our theatre prepared a Christmas musical I drifted through my days in a happy haze, hardly believing that I was finally living a piece of my dream, but eagerly embracing every experience. I blissfully memorized lines, songs, and dances, practicing hours beyond what I needed to just because I was in love with the process of rehearsing. Costume selections brought an agony of decisions, and dozens of times I posed for the mirror in concoctions that made my mother's "old-fashioned" selections look stylish, considering everything that could possibly be impacted by my choice. Would this color look washed-out under the lights? Would that outfit be too constrictive of my movements when I danced? I learned so much about stage make-up from those who actually knew what they were doing, and my cheeks turned a very authentic pink under my applied blush when I examined the finished product in the mirror and remembered my ill educated attempts at home in previous years.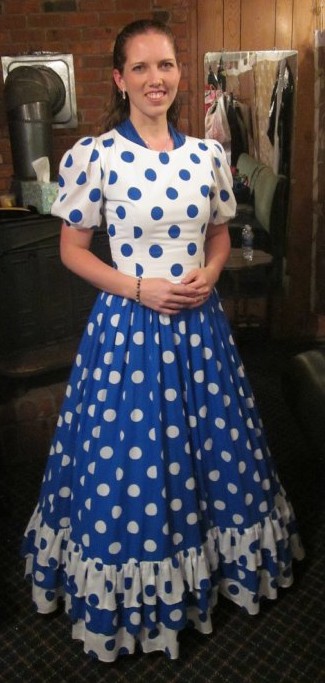 "Opening night." Those words still send a thrill shooting down my spine. The night that I experienced my very first opening I was enraptured by absolutely everything. I arrived at the theatre two full hours before curtain time, giddy with excitement over the prospect of performing before my first real audience. The backstage crew helped me into my first costume, and I sat with patient, restrained anticipation while my hair and make-up were painstakingly completed. I vaguely enjoyed the backstage chatter of the other performers during the final few minutes of preparations, but my mind was elsewhere, focused in on a little girl with a beaming smile who was all dressed up in clothes far too big for her, chirping out made-up conversations for her bunk bed audience. Moments later, as the lights blinked on and the heavy velvet curtain slowly rose, that little girl inside me rose as well, in joyful recognition that the moment she had been blindly reaching for all those years ago had finally arrived. The audience melded into one enormous pair of eyes for a brief moment as my heart skipped a beat or two with sudden nerves, then smoothed back out into multiple shadowy faces that actually weren't frightening at all as long as the blinding stage lights shone in my eyes. And quite miraculously, all those people were not crumpled into a bunk bed, but lounged comfortably in seats that they had purchased for the night, sitting on the other side of the lights and watching me! My fantasy took one giant leap that night and became fabulously real.
Ten years have passed since that night that thrilled me to my core; my passion for the performing arts has grown even stronger over the last decade, but my purpose behind it has been taken into Jesus' hands and completely transformed. You see, when I began acting, I dreamed of becoming a star. It was a self-centered dream, and it had to do with "being discovered" and going to Broadway…and applause. Lots and lots of applause, all for me.
As a few years passed and I gained experience in the theater, I began to see glimpses of the possibility of such things coming true. I entered into a very self-centered temporary relationship with another actor — a man who was extremely talented and experienced onstage, and who filled my ears with wildly inflated promises of the "success" I could achieve. I was offered a position teaching drama in a rising theatre school in town. I sang for a talent agent who told me to come back to Nashville with him, as he threw more promises of stardom my way. It was all terribly exciting. And it was terribly, horribly confusing and empty, not at all what the little girl version of myself had dreamed it would be.
My relationship with God dwindled rapidly, and I was confused and hurt that He seemed so distant while I was trying to figure out what to do with my life. Then one day I heard a song; I cannot tell you what song it was, or where I heard it, but a single line from that song wended its way into my heart and took root. It was so radical to the state of my heart at the time, and it changed my life. "I become less, You become more. And down in my heart, a star is born."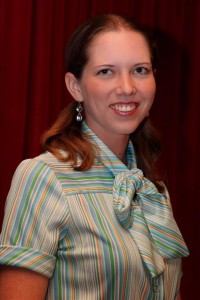 What?! How can I be a star if it is not all about ME?? I was stunned by the realization of the truth in that simple lyric, and my heart fell before my God as I began to realize how backward my perspective had been. I had been pursuing my passion of performing for the purpose of exalting myself, rather than pursuing God and allowing Him to use my passion for the purpose of glorifying Him.
Over the last several years God has been so lovingly active in my heart. He is changing my desires from self-serving dreams of "stardom" to an eager passion for melding my love for the performing arts with an increasing understanding of ways that it can be used for His glory. I wish that I could tell you that I am currently part of a church drama team, or taking missions trips that utilize drama, or volunteering with the Christian youth theatre in town. These are all new dreams of mine, but right now God is granting me patience as I wait on His timing. I went through a long "drama drought" that lasted for over five years, during which I dearly missed performing, but was lovingly taught many lessons by my Father of humility, sacrifice, patience, and submission.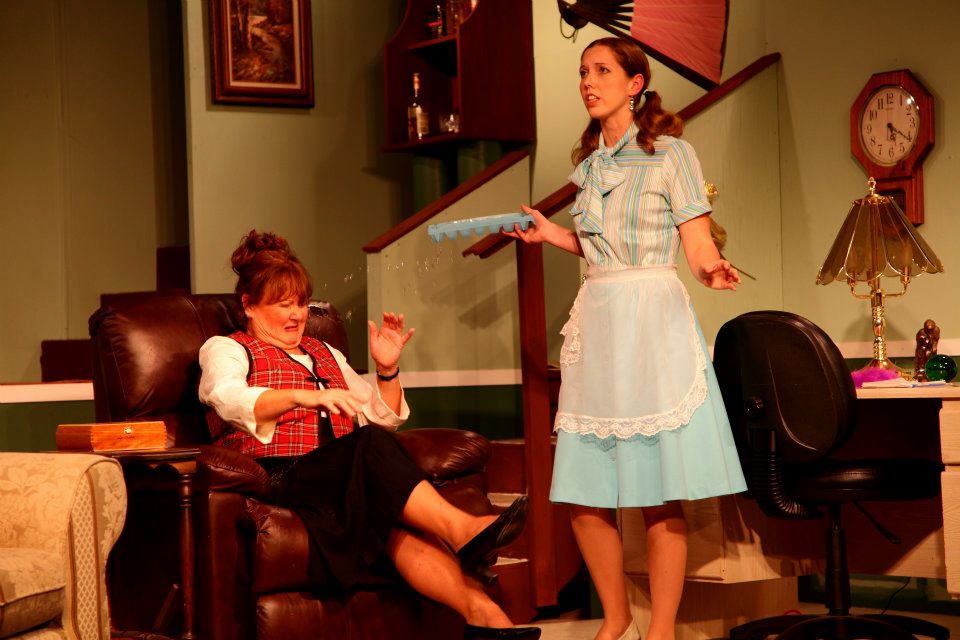 Recently I was given the opportunity to return to the small community theatre where I first stepped onto a real stage, and be part of a delightful comedy that was directed by my very first director.
My husband graciously enabled me to accept by agreeing to spend many evenings and Saturdays at home taking care of our girls without me. It has been a gift to my drama-starved heart (yes, I know that is melodramatic — I love to claim the title of "drama queen"!) to spend a couple of months rediscovering the simple fun that performing can be, free of the stress and pressure that results from the determination to achieve stardom. I seem to be heading into another waiting season now that the show is over, and this time I will wait with eager faith for God to reveal how He wants to use my passion for the performing arts to glorify Himself.
Throughout this journey of a decade, I have overwhelmingly felt God reminding me that He alone is the Author of our talents, the Giver of our gifts, and the brilliant Architect of the purposes behind our passions.
With this in mind, we constantly pray for you, that our God may count you worthy of his calling, and that by his power he may fulfill every good purpose of yours and every act prompted by your faith. We pray this so that the name of our Lord Jesus may be glorified in you, and you in him, according to the grace of our God and the Lord Jesus Christ.
–2 Thessalonians 1:11-12