Disclosure: This post contains affiliate links which won't change your price.
"I'm not an artist."
I've said that so many times. Usually I'm referring to my lack of drawing and painting abilities, and that statement does have some basis in fact. But if you pressed me – "What about writing? What about restoring furniture? Decorating? What about gardening?" I would either brush it off as "not really art," or insist I'm not good at those, either.
But deep down, I do believe that each of us is an artist. We create because we were made in the image of the Creator, and creativity is built into our very souls. I just forget, sometimes. Sometimes I hide my drive to create because of fear or pride. Sometimes I need a book like Emily Freeman's A Million Little Ways to brush off the dust and show me the truth again.
This was a timely read for me. I'm a stay-at-home mom with a toddler and another baby due in a few weeks. It's so easy to lose sight of anything beyond dishes, dinner, and diapers. And sometimes, in truth, those things are my art. That's because, as Emily explains, we are God's artwork, His poiema, a Greek word meaning "poem" that is usually translated "workmanship" in Ephesians 2:10:
"For we are his workmanship, created in Christ Jesus for good works, which God prepared beforehand, that we should walk in them."
Sometimes those good works look like faithfully doing the dishes for the thousandth time. Other times they look like performing music, programming a computer, painting a picture, mowing the grass, photographing a sunset. Emily says we live art because we are art.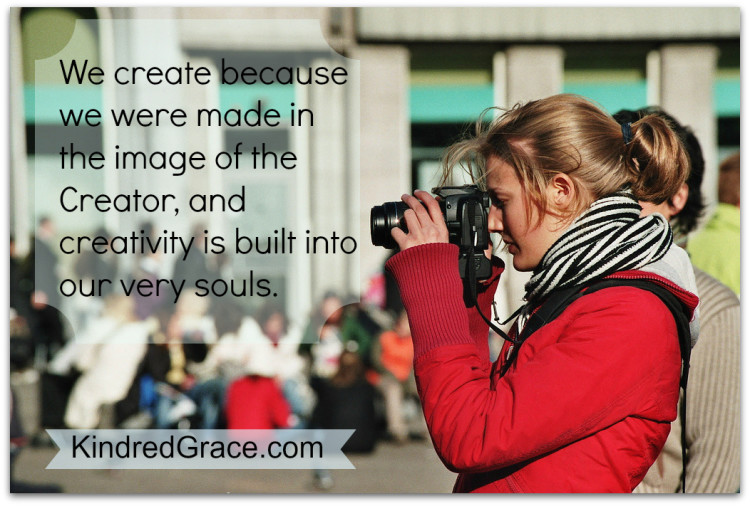 One chapter I found especially interesting was the one in which Emily explored why art speaks to us. I've always known that certain paintings, songs, and even the shapes of pitchers and bowls can stir something inside me. Why is that? Perhaps because art is created to express something deep in the person of the artist, something of their soul comes through and speaks to ours. The God who created us put these deep things in our beings, and art is a way to attempt to uncover and understand those things. I believe when we get to Heaven, we'll suddenly see that those indefinable things were shadows of truths we'll see in eternity.
A Million Little Ways is broken into three parts: Who Is The Artist (pointing us back to the glorious creativity of the Maker of all things), Uncover The Art You Were Born To Make (exploring our motives, fears, excuses, and the truths to combat them), and Release The Art You Were Made To Live (how to trust God with your work). I'm still pondering the themes of this book, and taking baby steps toward really seeing art – both God's and ours – in daily life.
Leave a comment telling about the art you are called to create!
Giveaway
We are blessed to be able to give away one copy of A Million Little Ways. Congratulations to Leah, selected by random.org as the winning commenter. (Giveaway ended April 7, 2014.)
Image credit: Ylja via stock.xchng