Disclosure:
This post may contain affiliate links which won't change your price but will share a commission.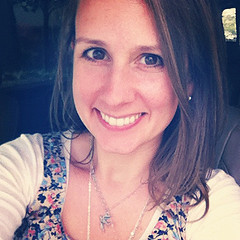 Everly: Hi Emily! Welcome to Kindred Grace. We are so happy to have you here to tell us a bit about your life as an author. But first, tell us a bit about yourself as a person. How would you describe yourself?
Emily: It's so great to be here! How would I describe myself? I'm an introvert, but most people wouldn't know it. I laugh way too loud and I have a double-jointed thumb. I'm a writer which I think is the best job on earth. It's also a little like doing homework for a living. But I always kind of liked homework, so that's not so bad.
I've been married to my husband for nearly 12 years and we have three kids — twin girls who are 9 and a son who is 6. We live in North Carolina and hope we never have to leave.
How long have you been writing? What made you pick up the pen originally? Did you ever foresee yourself as an authoress?
Okay, first of all, I'm forever going to refer to myself as an "authoress" now. What a great word. Kind of like "princess" except way better.
I've been writing all my life in journals. Then in 2006 when I heard about blogging, it seemed a natural kind of hobby for me. I always enjoyed writing but I didn't take my own writing very seriously. It wasn't until 2008 when I attended a writer's conference that I started to think about writing a book — not because I felt compelled to write a book just to have a book, but because there was a message growing inside of me and a book seemed the most obvious way to get it out. I wrote a book proposal and took it back to that same writer's conference in 2009 and that book proposal became what is now Grace for the Good Girl.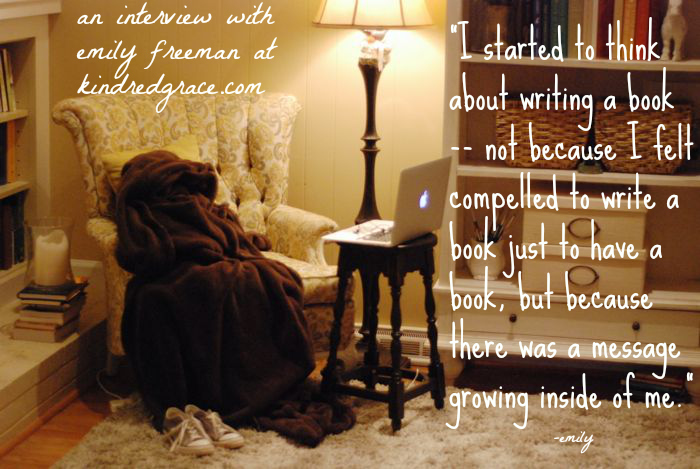 Tell us a bit about your books, Grace for the Good Girl and Graceful. How did they come about and who are they for?
I wrote these books because I couldn't not write them. I don't know how else to say it. Grace for the Good Girl is for women of any age and Graceful is for high school girls. However, they are both written for the girl or woman who thinks being a Christian is all about trying to please God — but her secret is she is kind of sick of doing that but doesn't know any alternative. She's afraid to give up, but knows she can't keep going on this way. The books are my story of living that way, but finally coming to realize that kind of life has nothing to do with the true Gospel.
Both of your books deal with the idea of "grace." What does grace mean to you?
Considering I wrote two whole books about grace, this could get a little long. Instead I'll just quote a prayer of one of my favorite thinkers, Major Ian Thomas (from his book, The Saving Life of Christ):
"Lord Jesus, I can't. You never said I could;

but You can, and always said You would.

That is all I need to know."
To put it simply, grace is I can't. He will.
What does a day in the life of an author really look like?
6 am — Wake up, drink coffee, remember my name, talk with my husband, make some kind of list
7 am — Wake up the kids, make lunches, brush tangles out of my oldest's hair, find coats.
7:45 — Walk kids to school.
8 am — Talk and pray with my husband, read, think of all I have to do that day, stare out the window, twirl my hair.
8:30 — Heat up coffee in the microwave, forget about it, check email even though I promised myself I wouldn't until after lunch.
8:45 — Answer three emails, write half a blog post, check in on Twitter, look for coffee.
8:46 — Remember coffee is still in the microwave. Heat it again. Resolve to close out email.
9 am — Finish blog post started yesterday. Publish by 10 am.
10 am — Open Word Doc with edits from my editor. Whimper. Breathe. Get to work.
10:30 — Reheat coffee again. Peek in at email. Consider burning laptop.
10:31 — Get to work again on edits for manuscript due next week.
12:15 pm– Uncross eyes. Do a ten minute radio interview on the phone. Take a lunch break away from the laptop. Read something. Call my sister. Anything to distract me from my work.
12:45 — Think about taking a shower. Decide against it. Work more on edits. Ideas run cold.
2 pm — Realize this is a shower emergency. Take one. Think of 40 ideas to put into chapter 10. Write them on the shower door with soap. Try to take a photo with my phone when I get out of the shower. Doesn't work. Speak them into my voice recorder thingy on my phone instead.
2:30 — Pick up kids from school.
2:45 — Help them with homework.
4 pm– Start dinner, check email while the chili simmers, instagram a pointless photo of something awesome.
5 pm — Eat dinner with my family
And the rest of the night belongs to them. Sometimes I work in the evening if I'm working toward a hard deadline, but mostly I try to stay away from the laptop at night unless it's for something fun. I can't think after seven anyway.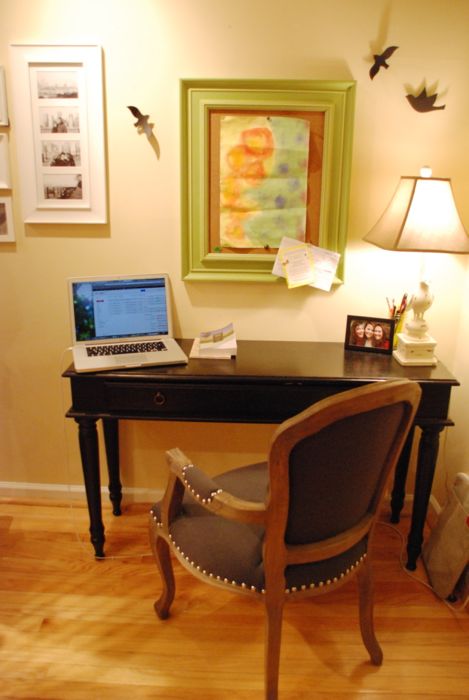 What did you learn from your publishing journeys? What was the best part of the process, for you?
The best part of the process for me is writing the first draft of the books — the possibilities feel so open and endless! It's fun. Until you get towards the deadline of turning it in when it becomes a nightmare.
I also really enjoy talking with and hearing from readers.
The hardest part I'm living now — promoting two books that are already released while writing and editing a third book. Book writing goes in waves of busyness, but when you have multiple books, the waves are closer together and overlapping. So while I'm writing one, I'm promoting another and planning to release another (in November). That's the most challenging part for me.
Who inspires you?
My husband.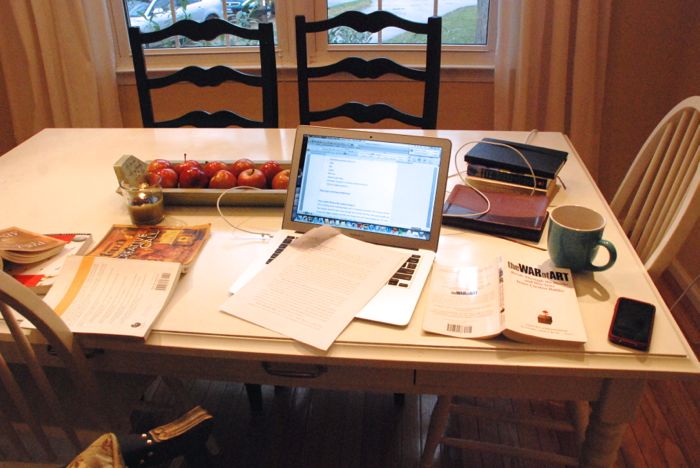 And lastly, what does an author read?! What are your favorite books (of any kind!) to recommend?
I've recently been reading Kate Morton fiction — The House at Riverton is my favorite of hers. I also like Susan Meisner's fiction — Lady in Waiting was a good one.
Others?
Writing Down the Bones by Natalie Goldberg
Walking on Water by Madeleine L'Engle
Notes from the Tilt-a-Whirl by N.D. Wilson (one of my favorite books)
Shattered Dreams by Dr. Larry Crabb
Let Your Life Speak by Parker Palmer
Invitation to Solitude and Silence by Ruth Haley Barton
One Thousand Gifts by Ann Voskamp
Emily Freeman is a writer who encourages girls of all ages to create space for their souls to breathe. She is the author of two books: Grace for the Good Girl and Graceful (on sale for only $5 at Lifeway!) and recently announced her third, up-and-coming book, A Million Little Ways. She and her husband live in North Carolina with their twin daughters and twinless son. She writes at her blog, Chatting at the Sky, and also contributes to (In)Courage. Be sure to watch for a give-away of one of Emily's books tomorrow, here at Kindred Grace!