Curled up on the couch across from my dad, I bring up a nerve-wracking subject. My stomach twists as I slowly weave words, not about boys or privileges, but of books and pens put to paper. I ask him what he thinks I should do about it, about my writing. I talk about it as if it was something between a terminal illness and an upcoming coronation. What do I do about this inevitable, undying, powerfully pending thing?
The type of encouragement I receive from my dad is the type that keeps me typing, yet that is the very reason why I become anxious when I know I am about to receive it. His advice is always to move forward, keep it up, work harder, and honestly, I don't always like that advice. I am a natural at few things. My parents tell me it's writing, I tell them that it's quitting. The handful of times that I've actually finished something, my family has paraded me around the house singing "she's a jolly good fellow." It doesn't happen often.
"When God gives you a gift," my dad says, neglecting his mug of coffee. "It is your responsibility to cultivate it."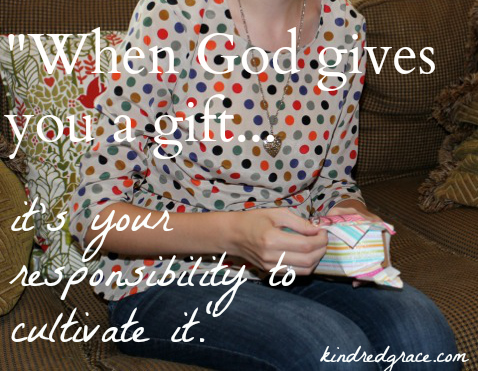 I feel like blushing. It isn't that I don't believe in The Giver of Good Gifts. It isn't that I don't think I am supposed to write. I guess it is the way I prefer to think of it as an order from a higher rank rather than a priceless trinket given to me from an endearing father. My writing is a mission I may choose to accept. It is something that comes in a business envelope, not a velvet box. Or so I tell myself.
My eyes drop and I nod, knowing he's right again and my mind wanders to a December day several years ago. The gray weather had clouded my mind and I was tromping around and talking to myself. I remember specifically, halfway up a hill, hearing God say to me, "You don't just write because you like it. I've asked you to write. From now on, you write for Me."
It was much like singing to oneself and stopping when someone entered the room. You blink away from their gaze and apologize, but they gently coax you to go on. "I liked it" they say. And, if you're a girl in an old book, you begin to sing again and the two of you fall madly in love.
So I choose to accept the mission. I keep writing, here and there, over the years. I write on stationary and something called a blog. I write on post-it notes and too many journal pages, smudged with ink and drama. I write on the table in invisible ink and in the fog on the shower door. I write in a constant trickle of whatever comes to mind, but I never work. Why would I? Work is hard and not at all fun. Writing is just something I do, ya know?
And then I remember, writing is more than something I do to express myself. Writing is more than a hobby and it is even more than a duty. Writing is a gift from Someone who loves me and wants to give me a purpose. I write for Him.
Sometimes when I'm writing (and nearly always when I'm showing my writing to anyone,) I feel a sudden constriction in my throat. "Why am I doing this?!" I ask myself. "Why am I writing as if my opinion is worthy of paper and why am I showing my writing as if my writing was worthy of their time?"
But I read what He's written, in His book and on my heart and I remind myself for the thousandth time. I am not writing because I'm good at it, I'm writing because He made me a writer. When I was clay in the Potter's hands, this was His plan for me. I write to fulfill an unwritten prophesy. Who am I to say, "Oh my Lord, I am not eloquent"? Does a pot complain to the Potter that it is not capable of holding oil? Does it say, "choose some other clay to mold for this purpose"?
When I say, "Oh, my Lord, please send someone else." My Father looks down at me and says, "Who has made man's mouth? Who makes him mute or deaf or seeing or blind? Who has made your fingers? Who makes them tap dance over keyboards and make sentences appear on screens? Is it not I, the LORD?"
And I see, for brief moments, why I write. I write for Him and only through His grace.