When Holidays Don't Follow the Recipe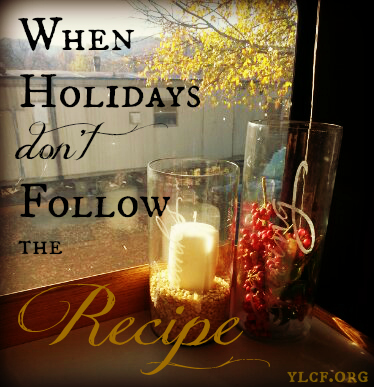 We're celebrating Thanksgiving in Alabama.
Even though we live in upstate New York.
We will celebrate Christmas in New York, but without Grandma and Grandpa.
They'll be in Alabama.
See, my husband's family is managing two businesses right now — one in Alabama, one in New York. Someone needs to be present in both places, so we've been taking turns all year.
Let me tell you — this kinda messes with one's traditional family plans for the holidays. And birthdays. And, the rhythm of a rather close-knit family.
Now, before you get all weepy for me, let me assure you, God's grace has been abundant. In all the traveling back and forth, instead of feeling displaced, I've begun to feel like we have two homes, and this is a rich feeling. We have met lovely friends down in Alabama (even a family who have invited us to join them for Thanksgiving dinner, which is great 'cause I could never cook all the fixin's for Thanksgiving dinner in the tiny kitchen on our bus!), and my kids seem to be thriving despite our nomadic lifestyle this year.
But as the holidays approached, I realized I'd have to be sure to set my mind on something other than the usual expectations for treasured family time and familiar surroundings. Because those are gonna be in short supply.
Maybe your holidays aren't going to be the way you'd wish them either. I imagine some of you are none too excited that you'll celebrate Christmas without a significant other again this year. Some of you face the holidays with a feeling of emptiness, because what is Christmas without children in the home? The holidays are so focused on warm family get-togethers…but what if you don't have either family or that kind of warmth in your life?
I think when faced with celebrating a holiday in a way that doesn't fit our expectations, we need to go back to the essence of the holiday. What are we really celebrating? Why do we have this day?
Thanksgiving is a day to give thanks for what we have. Even if you don't have a ring on your finger, or a child's giggles to wake you, or a crackling fireplace to cozy up to, the list should still be pretty long…the bed we got a few extra minutes to sleep in that morning, the food we will eat (even if it's not your traditional family recipe, it will fill your stomach!), the country we live in, and the fellowship we can have on any given day with our Heavenly Father.
Christmas, too, is so often centered around family get-togethers, but once again, we ought to boil it down to its essence, and from there add in what we do have to create a recipe for Christmas cheer.
We have Christ. Hello — the whole point of Christmas is that He came.
The rest is just gravy, people!
How will your holidays be different than you expected this year? Anybody else livin' in a bus? Away from family? Anybody else still find themselves filled with gratitude for what we DO have to celebrate? Share in the comments? I need to know I'm not alone, okay?