When I graduated from high school, decided to study Communications in college, and people asked me what I wanted to do with that degree, I answered, "I want to work for a magazine or a newspaper." Then in my junior year, I took an internship that had me writing for the university magazine and newspaper. Suddenly I needed a new answer.
That's when fear first came to call.
Four years is a long, shaping time, but eventually time runs out. About the time I was doing a happy dance because I was halfway through, I realized I was halfway through. With no answer for that What next? question. The hourglass laughed at me as it quickly swallowed sand and I gulped, thinking I needed a solid plan for life post-degree. Having none must mean I was failing.
In the marathon of running from class to work, fear chased me. When I finally dropped into bed at night, anxiety shouted so loudly I couldn't sleep. During the busyness of life at the time, the urgency to pin down the unknown crept into every corner. The unknown, though, refused to be pinned down.
All my life, school had defined my identity. I'm in high school. I'm in community college. I'm at university. My goals were defined by two and four year blocks. Graduate homeschool, get my Associate's, make it into the university I dreamed of, graduate with a 4.0. This to-do list with a rigid timeline measured my success.
But God delights in taking white-out to my to-do lists and flipping my timeline upside down.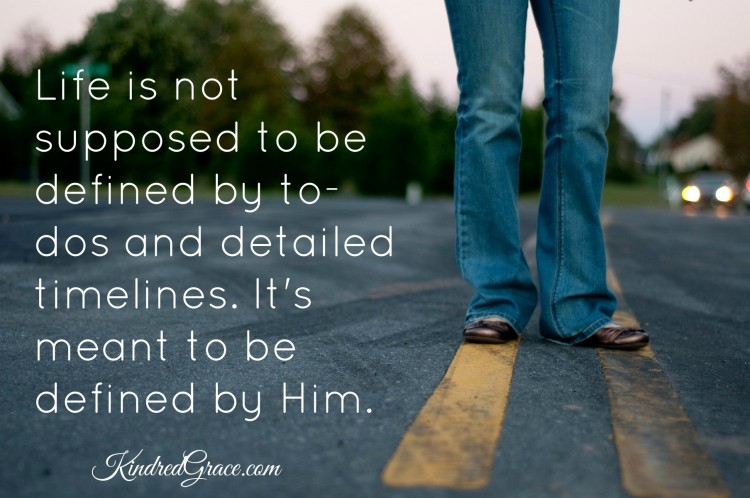 So there I was junior year, freaking out mentally because I didn't know what I wanted two years down the road.
That sounded more intelligent in my head. But it's true: I had come to the last bullet point on my to-do list, the last mark on my timeline, and suddenly two years down the road looked frightening because there was no plan.
Courage conquers fear when we let Christ work in warring hearts, and I did. Songs, sermons, messages, blog posts all breathed Spirit into me. Until the first time someone asked me my post-grad plan. I grinned big and said I wasn't waiting until I graduated to get on with a new dream He had given me. I started my own business (inspired by fellow Kindred Grace writer, Chantel, who began her business around the same time).
Graduates, that what next? question can be intimidating. Know that most people who ask are looking for a quick summary (something along the lines of I want to work in my chosen field), not an outline signed in blood. They probably won't remember a year from now what your answer was. This means good and bad news. Good news: you can be flexible and not feel pinned down. Remember, the unknown doesn't like to pinned down. Neither does God. The bad news: they will ask again. As you wade through what can seem like a tumultuous sea of what next? listen to His call for courage rather than fear's shouts. Freedom from fear of the unknown is possible. Just not on your own.
Life is not supposed to be defined by to-dos and detailed timelines. It's just not. It's meant to be defined by Him.
Photo Credit: JenniMarie Photography