Tell me what you read and I'll tell you who you are is true enough, but I'd know you better if you told me what you reread.
-François Mauriac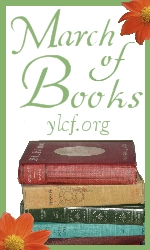 The month of March is here. And we here at ylcf.org are celebrating March with a March of Books!
I'm celebrating, too, because our remodel is nearly finished, and we are moved into our bedrooms now. Which means my husband and I can turn in to bed and turn on the bedside lamps. It's so fun to be able to read awhile together—perusing our own separate titles, reading aloud, or looking over the other's shoulder—without keeping the girls awake!
I just finished reading Mother-Daughter Duet and Dancing with My Father (both of which you'll have a chance to win this week). Then I got Creative Correction from the library, and Don't Make Me Count to Three back from a friend I'd loaned it to. But last night I was too tired for parenting how-to's, so I picked up a precious little book called A Promise Kept.
What are you reading today?
If we encounter a man of rare intellect, we should ask him what books he reads.
-Ralph Waldo Emerson
Head over to Chantel's blog to hear about how much she loves books. Also, Ashleigh has a book giveaway for military families over at Heart & Home. Come back to ylcf.org tomorrow for the first book giveaway! And remember, when you order books through in-post links and the search boxes at left, you help keep ylcf.org online–thank you for your support!