the miracle of the picnic table
Disclosure: This post contains affiliate links which won't change your price.
I really thought I was going to die under the weight of our Father's Day gift.
No, really. I had one end of the table and the other end was up on our deck and it was sliding toward me at an uncomfortable rate. My brothers had crafted the table out of solid, treated pine. "Heavy-duty" was a great understatement. In the nick of time, my older brother hoisted the end of the table up and we, by some miracle, slid it onto our deck. I still don't know how my siblings and I got it up there or how our deck didn't, and doesn't, crumble under the pressure. When my dad walked out onto our old, weathered porch, he saw the works of our hands in the huge table and benches and the color of our cheeks. "Happy Father's Day!"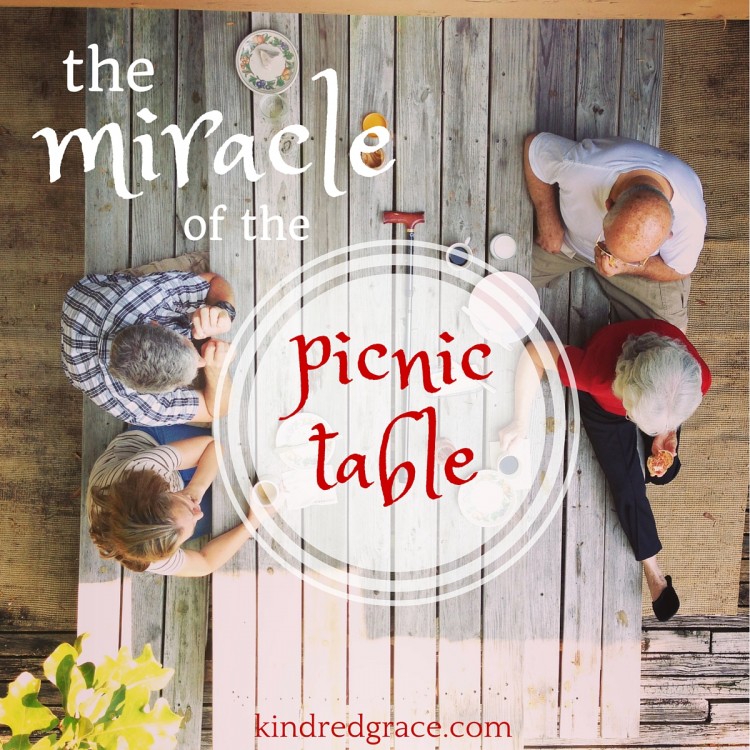 That was 2012.
I remember my dad's delight, our laughter over the whole process, the ridiculous size and the less perfect points. I remember my mom bemoaning the fact that we don't live in a more temperate climate where we could eat out of doors more often. I remember how the next day we loaded up a rented RV and took off for California, leaving the picnic table unoccupied for much of June. And then we came home, and we slid down the big benches and ate at the big table with the oak trees leaning in for a peek and we loved it. And then we did it again. And again. And again.
Most days while we're cooking, we slide open the back door and poke our heads out into the Central Texas air. "Do ya think it's too hot to eat outside?" we holler over a shoulder. "I've felt hotter," someone says. We pick up the plates and the forks and the glasses of ice, we carry the pitcher of cold black tea and the salt and pepper grinders and we pass out the napkins that just love to blow away and the milk for the kids who could really use their own dairy cow and we slide down those big, rough benches one more time.
Eating outside does something to our spirits. I love the deafening cicada song, the hot breeze that provokes the chime, the whizz of a passing hummingbird on his way to the trumpet vine. I love the bright light on my skin during the day and the shadowy evening that is finally welcomed with a symphony of a thousand frogs.
I can't tell you how many times we've eaten at that picnic table since we built it. Really, it's been another miracle how much nice weather we've discovered since then. We didn't know there were so many pockets of the year in which "al fresca" is doable. Early morning coffee is shady and cool, lunch can be weathered most days, especially on the house-end of the table under the shade of the balcony. "Fika" (afternoon coffee and dessert) is lovely out of doors, especially if the trees are giving shade or there's a breeze. Early dinners work fine if the mosquitos aren't bad, and even if the bugs show up or the sun goes down, candles can help that.
We've had birthday party after birthday party at that table, we've had coffee and wine, popsicles and gooey cookies, fancy entrees and everything in between. The guests that have graced the picnic table are the best part. Somehow there always seems to be room for one more.
Our humble picnic table seems the perfect spot for sandwiches on a spring afternoon, but could we have imagined late night talks over cocoa in the winter? What about board games on a summer evening? Or coffee and lesson planning as the leaves fall? Could we have predicted grandparents with canes making their way to the table, as well as babies in bouncers? Could we have predicted big pots of soup for college boys whose cupboards are bare and lemonade for kids who've been helping us in the yard? The miracle of the picnic table is this: the conversation that happens when we cram together and enjoy a meal together, the variety of people it has attracted and the sheer number of times we run into each other there. Family dinners aren't just a cultural tradition, they're an almost miraculous opportunity for bonding, communicating and learning together. Family breakfasts, lunches, desserts and parties are all more of the same!
When I read a study that said 67% of teenagers want not more friends, more freedom or more fun, but more family time, I was a bit floored. Parents seem to feel they are begging their teens to come to the dinner table, and yet teens are really begging their parents. Invite me, want me, engage me. (Study found in The Family Dinner: Ways to Connect with Your Kids, One Meal at a Time by Laurie David.)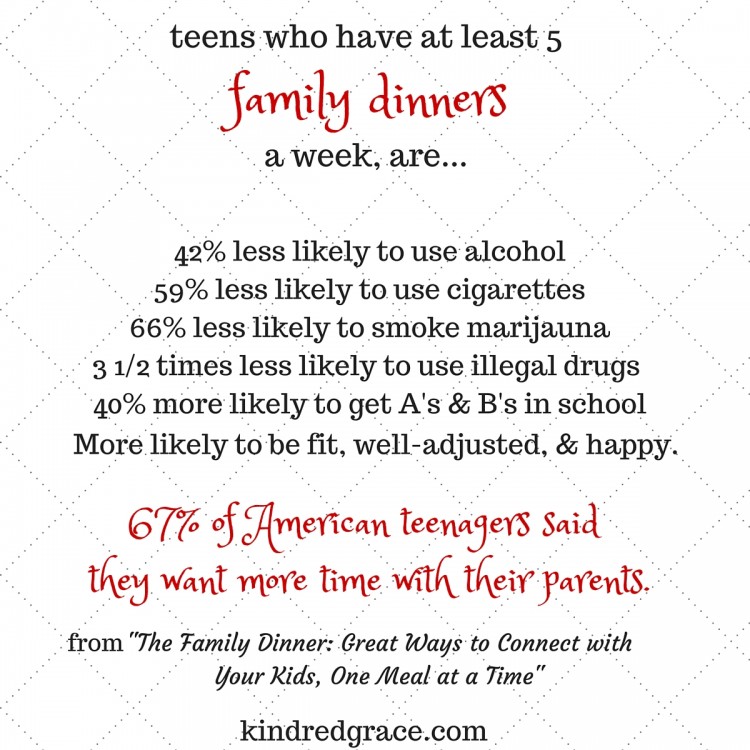 I came across a quote from Ellen Weiss, the director of NPR news where she said, "you basically had to have a note from your doctor not to show up for dinner!" and I nodded my head in happy agreement. In the book, The Surprising Power of Family Meals, Miriam Weinstein says, "Eating together teaches manners both trivial and momentous, putting you in touch with the deeper springs of human relations."
Is it any surprise that the word "companion" dates back to Ancient Rome and meant, literally, "one who breaks bread with you"? Food connects us (we all need it!) and helps us bond. Science aside, we become friends with those we eat with. It's just human nature. I have become better friends with my family thanks to the miracle of the picnic table. I have been able to introduce my friends to my family at the picnic table. It doesn't matter where you live or what kind of weather you have–maybe you don't have a deck or even a yard of your own. Add a leaf to your table, put a blanket on the floor…do something! Get your people together, pass out the forks or the spoons or the chopsticks and eat together.
In a world of fast food, we need not fast from family time. We need not sacrifice our in-home friendships on the altar of busy schedules. So what if there's no table cloth, no Julia Child's recipes or anything "pinnable" involved? So what if the kids are sassing and the wind is blowing and the pizza is a little burned on the bottom? Eat together today and it will be a habit to eat together tomorrow. And then enjoy the miracle of the picnic table.