The Beginning of Real Love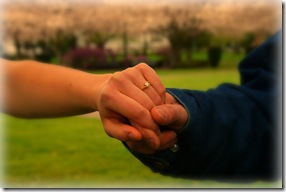 I'm not his wife yet, but now is a precious time of "playing wife" before it really matters. I do these little things and laugh inside knowing that these are dim, small things in comparison to the opportunities I'll have when we're married, living life day in and day out on the easy days and the hard days. The Lord is using this time to teach me the weaknesses in my love for him. I can start, with His power, working on them, whittling away at my selfish heart.
And let me tell you, there's nothing more special in the entire world than seeing him modeling this for me.
It's neat to see the Lord begin to establish a foundation for us. He'll carefully build the foundation, and as our years together go by, build the walls, the roof, and furnishings. These days are just the beginning of something huge, something that is in God's plan, something that will, I hope, bring great, great glory to Him.
And may I never, ever stop taking great pleasure in loving this man with my actions.
Photo by Laura J. Wright