Tea Time Sweets and Savories
Here are some simple ideas for making the ceremony of afternoon tea a special occasion.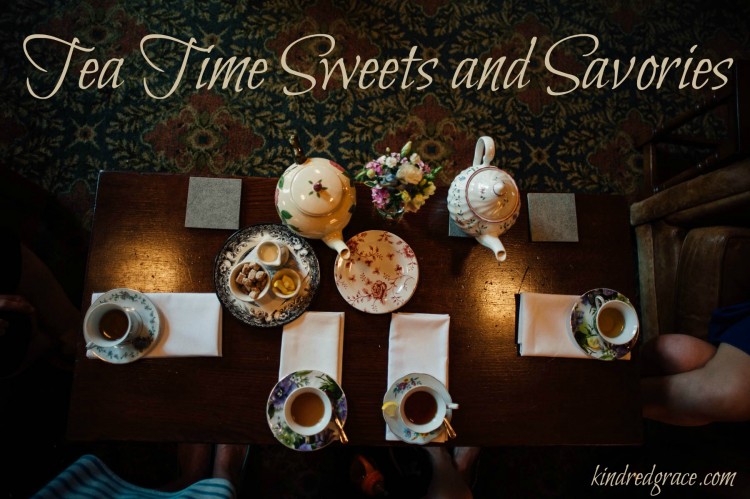 Homemade scones, or ones from the bakery, are delicious served with fresh strawberry jam and a dollop or two of this decadent cream.
Mock Devonshire Cream:
Whip ½ cup heavy cream with 2 Tablespoons powdered sugar till stiff peaks form. Then gently fold in ½ cup sour cream. Serve generously with warm scones or tea biscuits.
Tea Sandwiches
Tea sandwiches are the ultimate finger food. The bread should be sliced as thinly as possible (I like to use Pepperidge Farm) and the sandwiches can be made either open-faced or closed. Cut your sandwiches into interesting shapes using cookie cutters, if you wish, or slice them into tiny triangles with a knife. Here are some of my favorites:
Salmon:
Layer finely-sliced smoked salmon atop brown bread points that have been spread with cream cheese. Top with a tiny sprig of dill.

Cucumber:
Peel the cucumber with a vegetable peeler and slice very thin. Place one slice on a circle of soft white bread that has been cut with a 2-inch biscuit cutter and spread with butter. Top with a dash of paprika.

Date-Nut:
Slice a loaf of canned date-nut bread into thin pieces and spread half with a mixture of cream cheese that has been sweetened with a little bit of powdered sugar. Top with the remaining slices and cut each round into four points.

Chicken Salad:
Cut the crusts off slices of whole wheat bread and spread half with chicken salad. Add a dash of poultry seasoning and a sprinkling of finely chopped parsley and top with another piece of bread. Cut into small triangles.

Tea sandwiches can be made up to an hour or two ahead of time and stored in the refrigerator covered with damp paper towels so that they won't dry out.
Look for crumpets in the frozen case at your grocery and serve them toasted with butter and raspberry jam.
Shortbread is a very traditional tea time cookie. Here is a recipe that makes my mouth water just thinking about it.
Ingredients
1 pound butter
6 cups flour
1 ½ cups sugar
½ cup cornstarch
Instructions
Soften butter and place in a large bowl.

Sift the dry ingredients over the butter and mix with your hands.

Work in thoroughly, until nothing sticks to the side of the bowl.

Pat the dough into pie plates at about ½ inch thick.

Prick with a fork in a pattern of small wedges and bake at 350 degrees until the edges start to brown.

Break on the pricked lines and sprinkle with sugar, if desired.

These Carrot Muffins make for a dainty bite of something sweet.
Ingredients
1 ½ cups all purpose flour
½ teaspoon baking powder
1 teaspoon cinnamon
1 teaspoon nutmeg
½ teaspoon salt
½ teaspoon baking soda
2/3 cup vegetable oil
1 cup sugar
2 eggs, beaten
1 cup grated carrots
Instructions
Preheat the oven to 350 degrees.
Sift together the dry ingredients and set aside.
Combine the oil, sugar and eggs in a large bowl and mix by hand until blended.
Gradually add the dry ingredients and mix well; stir in the grated carrots.
Spoon the batter into greased muffin tins and bake 20-25 minutes until a toothpick inserted in the center comes out clean.
Tea Etiquette
And, just for fun, here's some tea etiquette I've picked up along the way:
Tea should always be served sitting down. While a punch server is obliged to stand, a lady serving tea—even at a large event—should be seated before the tea tray with all the accouterments before her. (When my mother has a party, she positions either my sister or me at one end of the dining room table with the tea while the other stands at the opposite end before the punch bowl.)
If hats and gloves are the order of the day, then ladies should keep their hats on for the duration of the party. But gloves should be removed before coming to the tea table. And, if you want to be a stickler, it's never truly proper for the hostess to wear a hat.
At a small tea, a well-appointed tray should contain the following: cups and saucers for everyone present, napkins and tea spoons, cream and sugar, and small slices of lemon. The hostess should ask each person in turn what they take in their tea and serve it as soon as it is poured.
Photo: JenniMarie Photography