There are some books that you just can't read in the summer. Last winter, Philip and I whiled away the better part of the January and February evenings with Dickens' Our Mutual Friend, settling in by the fireside at the end of a long day and losing ourselves amid the intrigues and adventures of a whole host of new-found companions. But I can no more imagine curling up with that book on a sultry summer afternoon than I can Tolstoy's frost-haunted Anna Karenina, with which I was mesmerized back in a still-chilly March.
Summer reading, in my book, at least, calls for a whole different criterion. Not necessarily 'lighter' or less thought-provoking, but certainly requiring less effort in the uptake. When it's too hot to think, I need something that is going to lift me into another plane rather than a book to sink my teeth into. I need substance, but of a more delicate variety than is called for in the quieter days and longer nights of winter. I still want to be challenged…I just don't want to be quite as aware that it's happening.
I've found some titles this summer that have just fit the bill, and I feel richer for having made their acquaintance. They have indeed made the summer a memorable one. Allow me to pass a few introductions: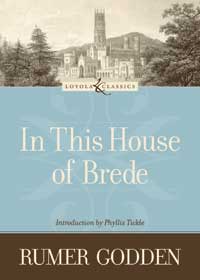 In This House of Brede by Rumer Godden
This is a book that I had wanted to read for some time. I had already come to love Godden's graceful style, her mastery of language and nuance, her almost shimmering touch with words that reminded me in many ways of my beloved Elizabeth Goudge, but from the very first pages of Brede I knew that this book was like nothing I had read before. It is the story of a wealthy and successful career woman who enters a Benedictine monastery in England in the 1950's, and much of the detail of cloistered life was taken from Godden's own experience of living in the gatehouse of an English Abbey for three years. Philippa Talbot's story is woven amid that of the threads of the other nuns and novices in a tapestry as complex and beautiful as the richly-colored ceremonial vestments made with loving skill in the workrooms of Brede Abbey. It is a tale that is strangely gripping for its quiet setting of shaded cloisters and flowering parkland. But the real venue is the hearts of the women who inhabit the monastery, and the true drama lies in the choices they make whether or not to give Christ full sway in their lives. It is an absolutely gorgeous book, radiant with spiritual truth and written with a lovely starkness that only emphasizes the renunciations these courageous women have made. But it is a starkness that glows beneath with warmth and fire and godly love, and it rings with what Phyllis Tickle in her introduction calls a 'bright sadness'.
Lark Rise to Candleford by Flora Thompson
What a jewel! Loosely masquerading as fiction, this trilogy (Lark Rise, Over to Candleford, Candleford Green) comprises the memoirs of a lower class childhood in the Oxfordshire of the 1880's and '90's. It doesn't take long to be convinced that Thompson's narrator 'Laura' is none other than the author herself, as the richness of detail and candor of expression attest to a first-hand experience. The reader is taken with Laura through her small world, a world rarely glimpsed in the somewhat 'prettier' accounts of period novels, and it's an admittedly gritty journey at times. But an enchanting one for that, and there's not the slightest taste of bitterness over the hardships of the poor but rather a straightforward account of their ingenuity and determination in the face of great deprivation. Laura's childhood straddles the worlds of the old and the new, the one with its country manners and gentle ways giving place to the relative improvements of the Industrial Revolution—but not without a sigh for the loved customs and pace of life that were lost along the way. It is tender without being sentimental; forthright without condescension. Thompson has preserved for us the last generation of a world that is gone forever, and with it, an appeal to what makes for real human happiness.
Walking on Water: Reflections on Faith and Art by Madeleine L'Engle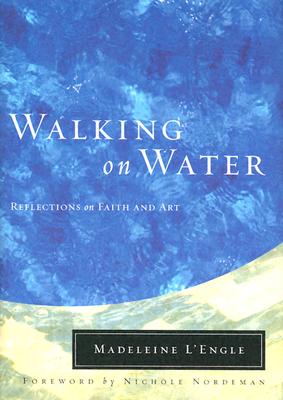 I feel like I always need to be dipping into something by Madeleine L'Engle. My books of hers have pages folded and passages underlined and whole sections starred to be read and read again. I think that she was a genius—and a true Christian artist in the greatest sense of the words—and I can hardly recount how many times she has hauled me out of a writer's funk with her honest appraisals of what real creativity is all about. Walking on Water is a fascinating and inspiring exploration of what it means to be a Christian and an artist, and what mighty verities are implied in 'Christian art'. She leaves little excuse for degrees of talent or gift, and places the whole lot of our inborn creative desires at the door of obedience. "Created in the image of a Creator."
We live under the illusion that if we can acquire complete control, we can understand God or we can write the great American novel. But the only way we can brush against the hem of the Lord or hope to be part of the creative process, is to have the courage, the faith, to abandon control.
A stirring, stream of consciousness read, like a peek at the journals of a great artist and a great saint.
So, what have you been reading this summer?