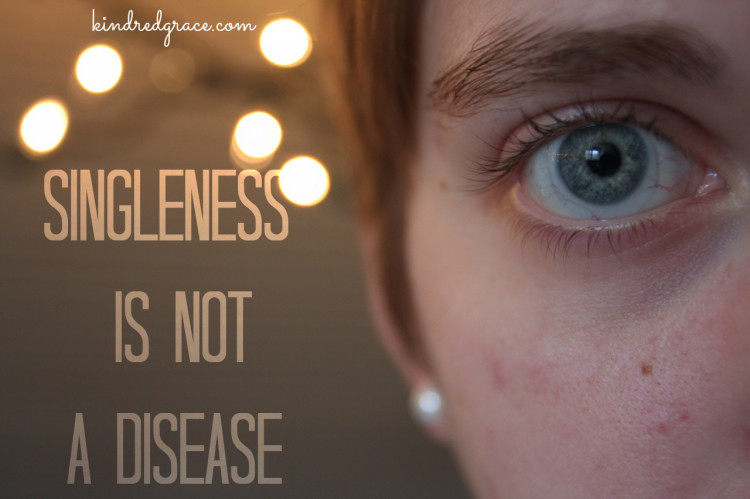 I am waiting for someone who's worth waiting for or no one at all, and that about sums up my thoughts on singleness.
At least, that's the simple version of my philosophy. I am twenty-one years old and waiting. Waiting passively in one sense, actively in another. I am passive in the sense that I am not seeking a boyfriend. I am not doing anything with the sole purpose of finding a spouse (no singles Bible studies, no e-Harmony, and I don't even know how to begin flirting, so that's off the list!). But just because my "love life" is dormant, doesn't mean I don't love life. This is not another article telling you to be happy about being single. Rather, I want to tell you to be happy. Period.
I am single, but that's not keeping me from living my life. As a matter of fact, and I don't just say this to make you and I feel better, singleness enables a more active life. Even if I'm not actively in the dating game, I'm active in many areas. My last year has been a full one. I've been able to work, volunteer, pitch a book, attend conferences, create personal challenges and reach personal goals and spend a lot of time and energy on my family and friends. It's been rich and I didn't need a boyfriend or husband to make it so.
Does that mean I don't want a boyfriend? No. Well, actually, I'd prefer a husband! I've never hidden the fact that I want to get married. I have always wanted to be a wife and a mom and I think I always will. When and how and even if that dream comes true, is in God's hands. Sometimes I go for long periods of time hardly thinking of my singleness and other times I feel a loneliness I think I can only be filled by a husband.
But the point isn't that singleness is "so much fun" or that singleness is a curse. The point is, I'm single, but I'm still alive. You see, singleness is not a disease. I'm not "suffering from singleness". I don't have to find ways to keep myself busy while I'm trying to recover from singleness. (Sending flowers and crossword puzzles is unnecessary!) And I am not going to start a Singleness 5K. Really, I'm going to survive! Singleness isn't terminal, it's just life. There is nothing about marriage that could increase my joy or complete my soul. I am whole as I am. I am a girl who happens to be single. Is there really anything so ominous about that?
But what if I never marry?
Sometimes the question strikes me like a bolt of lightning. Yikes. You know what bothers me about this thought? It's not the fact that I'll be alone, but the fact that I'll have to find something to do with myself that isn't the norm. If I get married in three years and have three kids three years after that, I'll be good to go. But if I don't marry and I end up doing something completely different, I'll be a freak.
That's what scares us, isn't it? That we're single because we're weird. That nobody wants to go out with me because there's something different, something wrong with me. That, even though they seem nice enough, my friends are whispering behind my back about how I'll never get married. That when I'm forty and sitting alone at a conference, a little wrinkly around the eyes, a little plump around the thighs, people will call me "sweetie" and ask me to work another shift in the nursery because heaven knows I can't do what normal women do! I can't mingle and giggle and talk about how silly my husband is! I can't chat about honors students and bottle-feeding! I am going to be a weirdo all my life because this day in 2013 I have diagnosed myself with SINGLENESS!
That, my friends, is why we hate being single. That is why we have to write books and articles to be ointments on the wounds of those who have been fatefully stricken down. Those who were born into their twenties deformed and missing the critical part of "the other half." That is why we have our own Sunday School class and our own small group and our own blogs and magazines, because we've bought into the lie that there are normal, healthy Christians and then there are those who just didn't quite make the mark.
I know singleness can stink. Chances are, I'll know that even better as the years pass. I know that it can hurt to see your friends move into a sphere of marriage and leave you behind. I know it feels like not getting picked for the dodge-ball game on the playground. I know you have desires that don't go away by reading your Bible and putting yourself into your work. I know you feel like you don't belong anywhere, but that's not true.
Our society is one of shunning, worse than that of the Amish, I'd say. We shun the oddballs with a sweet smile because, obviously, they wouldn't fit in with us. I worry that if I'm still single when I'm fifty, I'll be seen as creepy and parents won't let their kids around me. I get that. But that's society. Since when have we trusted societal norms as a lens for reality?
Just because you're single, doesn't mean there's anything wrong with you. Maybe it means that, unlike much of society, you don't base your worth on what other people say about you. Maybe you didn't jump for the first guy who gave you a second glance, because you were waiting for someone else. Maybe you gave up dating because it was distracting you from things that mattered more to you. Maybe you broke it off with a really great guy out of pure obedience. And maybe it still hurts. Maybe he thought you would make an awesome wife, but you chose a different path. If that makes you a freak, then wear that badge with pride! Because to me, that makes you a hero. A woman who has a heart, but knows how to use her mind. A woman who listens to God and looks at reality through a clear lens, rather than basing her entire life on a sitcom lifestyle.
I haven't seen the end of my story or yours. I don't know what's going to happen in one, five or fifteen years. But I do know this — there is nothing more satisfying than loving your decisions. Don't do anything now that you wouldn't want to tell your husband about when y'all are side-by-side in the nursing home. Don't do anything now that won't contribute to the Kingdom. You're not sick; you're alive. You're single, but you're not alone. Carry on!