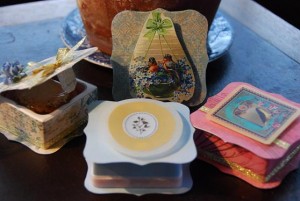 originally written February 2007
As I sit here planning a candlelight Valentine's dinner with my love, I think back on the conversation I had a few days ago with my single sister-in-law. Her Bible school class on marriage has given her a lot to think about.
I couldn't tell her the teacher was wrong. I couldn't tell her marriage was easy. It's not. She and I both know her brother is pretty close to perfect. But he still hurts my feelings sometimes. She and I both know housekeeping isn't easy. I often fall short of my husband's expectations. We all know that there are emotional days when nothing goes right. Sometimes, the bowl of potato salad breaks all over the clean kitchen floor and you don't go to the potluck.
Marriage is not easy. But life is not easy.
No marriage can be perfect. For no person can be perfect.
Such is reality, I assured my sister-in-law Marlys. Yet so is the reality that I am living my happiest dreams. Life at the side of my husband is more wonderful than I ever imagined. Merritt steadies me, balances me, completes me. I am even more emotionally stable since our marriage, he says. (And as the chief shoulder upon which I cry, I guess he should know.) Truly, we are as happy as can be.
But it's time for Valentine's Day once again. The day I so often mourned my solitary state. The day I was in raptures at his phone call and Valentine. The day I agreed to marry him.
So on this day of unrealistic hopes and overwhelming longings, I encourage my sister-in-law and other singles like her to enjoy February 14. Don't ruin a perfectly good Wednesday with self-pity. Offer free babysitting so a couple can have a much needed dinner date. Pray for someone who is spending their first Valentine's alone after the death of their beloved. Make your parents a candlelight dinner then slip away with your siblings. Bake some cookies for some special older people in your life. Be so busy giving love you won't have time to miss it.
On this day for lovers, I smile as I think of the newly-engaged couples I know. If they were listening (ah, but they have eyes and ears only for each other), I would tell them to savor the sweetness, the fresh newness of their love and happiness together. For I know that yet another Valentine's Day will find them reliving the memories, even more joy-filled and content than they ever imagined.
And to my love, my husband, I whisper words but few:
"Grow old along with me, the best is yet to be!"