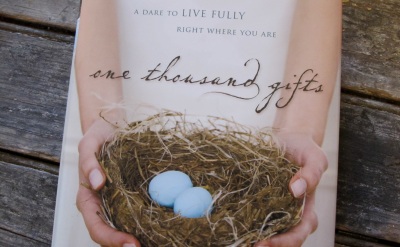 I'm really not one for "inspirational" books. Too many of them seem fluffy, unsubstantial, or fake, written by people who seem to not realize that life is actually really hard sometimes.
When I first heard of One Thousand Gifts: A Dare to Live Fully Right Where You Are by Ann Voskamp, I wasn't even planning on reading it. While I enjoyed occasionally reading Ann's blog, A Holy Experience, I knew she was also a writer with DaySpring — and in my book, that equals "inspirational", too.
But then I started seeing little snippets on Facebook about how much someone was looking forward to getting their copy of the book, or how good the book was, from people who I didn't necessarily think would go for an "inspirational" book. I started looking into what the book was actually about and it intrigued me. The concept of recognizing little things throughout the day as gifts from God is something that I've done sporadically over the past years and I always enjoyed when I did it. So when I acquired some free Amazon credit, I decided to use it for One Thousand Gifts…
From the very first chapter, One Thousand Gifts did not meet my expectations for an "inspirational" book. It was anything but fluffy and it dealt head-on with the nitty-gritty of life. How do you be thankful when your children die? Or life gets crazy and chaotic? How do you really know that God is good when life sometimes looks so horrible? Hard questions, to be sure, but ones that Ann confronts and is brutally honest with.
In each chapter, Ann shares specific incidences in her life that were stepping-stones in her journey of learning "eucharisteo" — thanksgiving — in all circumstances. In her unique, lyrical style of writing, we are shown how learning to practice this discipline can be a key to living the abundant, full life that Jesus promises us (John 10:10).
The poignancy of this book brought me to tears several times. Granted, that may have a lot to do with the fact that I'm currently very pregnant and very hormonal, but that doesn't lessen the fact that so much of One Thousand Gifts seemed to tear away layers of my heart and say exactly what I'd been feeling for so long. This is definitely one of those books that I'll read again, and I'm sure that I'll get even more out of it the second (or third or sixth) time around.
Click here to read Gretchen's review and be sure to see Chantel's thoughts on counting gifts.
YLCF is giving away a copy of One Thousand Gifts!
To enter the drawing, leave a comment sharing one of the "gifts" you are thankful for.
Drawing ended Monday, March 21, at midnight.
Congratulations to Esther for winning a copy of One Thousand Gifts!