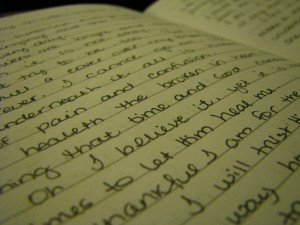 It was a simple, hard backed journal of greens with the words "each day has a miracle inside of it" printed on the front, and a note inside that reminds me of the great grandpa who owned it before me, and how short and frail life can be. It is a little worn on the edges, and together we've traveled through states and provinces and through life and the pages are filled with the moments, and the mountains and with living. I've filled in the last page, and traded this green journal for a fuzzy purple one that reminds me of faith and hope, and just as its predecessor, it too, has traveled and page after page records our days and His goodness. These are my Ebenezers. These are my memorials of where I've been, and my reminders of where I am going. These contain the testimony of great faithfulness, of answered prayers, of healing for broken hearts, and unexpected blessings that only He who gives good gifts could bestow.
Reading back over the pages is like taking a journey through the past six years of my life. There have been a lot of tears to stain, and a lot of unknown valleys have been traveled, but in looking back, it is clear that "hitherto has the LORD helped" me.
Ancient Israel put up stones to remind them of the great things that God did for them, and so that when their children and strangers would ask the meaning of these monuments, they could recount God's provision, and how He had led them in the past. These were their Ebenezers.
These reminders weren't just for the strangers. It is the principle of life that the kinds of things we keep before us today will influence how we may choose to face tomorrow. Those memorials to God's faithfulness caused them to remember the blessings of the past so they could count the gifts of the present and not forget the God that they served.
Where they had the rocks, I have my journals for my memorials. I'm grateful for those pages, and for the days past that have proven to me time and time again that He does not forget His promises, and the reminder of what He has been doing all along the journey to prepare me for the uncertainties of today. It reminds me of the ways He has blessed, the ways He has provided, the ways that He has been so faithful and so true. They remind me that all things "work together for good", and that the future only comes one day at a time.
When life is difficult, or when I start to feel afraid or confused, I have often pulled out my journal and spent some time turning the pages, reading again my Ebenezer monuments and remembering that He doesn't change; just as He provided for our needs yesterday, so He shall do today. Just as He has comforted and dried the tears of the past, He will comfort and heal today. It is proof that He does give strength for today, and hope for tomorrow. It is a record that I'm not here because of anything that I did, but because of God, and God alone. And this record is what gives me courage to keep looking for those hidden miracles in every day that speak of His love and attention to even the little things in our lives.
It isn't always easy to remember. And Sometimes counting those gifts in disguise and recounting the ways that He has led are hard. Yet in remembering, I find the courage I need to keep on keeping on, and life with its challenges feels less daunting when I keep fresh in mind what He has done for us.
Do you keep your Ebenezers fresh in your mind? Do you keep a record of what God is doing in your life? If you don't, start now to treasure up the blessings so you don't forget. Start counting the gifts He gives and recording the ways that He provides and the prayers that He has answered. Life may never be easy. There'll always be some bumps along the way, and a little rain mixed in with the sunshine. But as long as we keep counting our blessings, and keeping our Ebenezers close to remind us of where we've been before, we'll find that there is always a song to sing, always something to be thankful for.