Greetings from the Sparrow's Nest! That's what Evan and I call our cozy little apartment. While I dearly love living in this tiny "playhouse" of a place, making things fit can be a challenge at times. I'm sure I'm not the only one facing this challenge, so I thought I'd share a few ideas that are working for us.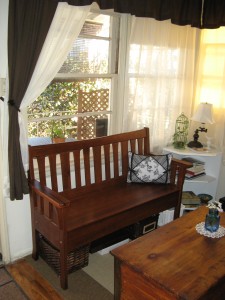 Double Duty A classic example of this is, of course, the pull-out couch, or hide-a-bed. We don't have one because there isn't room to pull one out! But we use the principle. Our coffee table is a wooden chest, hiding our winter gear. The bench has storage under the seat. Our bed, with the addition of risers and a bedskirt, houses plastic bins of off-season clothes and shoes (another good option would be a "captain's bed" with drawers underneath).
Hide the Clutter Reducing the clutter is the first step — we try to keep "stuff" pared down a minimum. But there seems to be a certain amount you can't get rid of, especially if you have a home office space. One solution for me has been baskets. They're attractive and work well in bookcases. I've been finding some at thrift stores, but Michaels is a great place for baskets, as well. Another option is decorative boxes (Michaels has a great selection, like these — also check Target and HomeGoods). Clutter makes small spaces look more crowded.
Think Vertical The Sparrow's Nest is a mere 400 sq. feet, but that's only counting floor space! Evan and I quickly realized we could do more to take advantage of the walls: replacing a four-foot tall bookcase with an eight-footer doubled our storage space. We didn't have room for an end table in the living room, so we used a shelf to hold a lamp. The bathroom presented one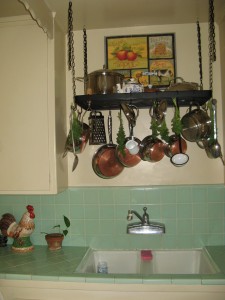 of the biggest challenges. Because of the placement of the fixtures, a space saver wasn't an option (I love this one, though!). Instead, the combination of a small cabinet and over-the-door hooks have served us well. We also found that putting storage "cubes" under the hanging clothes redeemed otherwise wasted space in the closet. Another option would be adding a second closet rod under the top one. And we even utilize ceiling space! The pot rack is the best feature of our kitchen. They can be quite expensive — we priced them at Bed, Bath, and Beyond, but thought we could do better than $130. Sure enough, IKEA had one for $25!
So those are a few ideas that have worked for us. Do you have any suggestions? Leave a comment and share your tips!