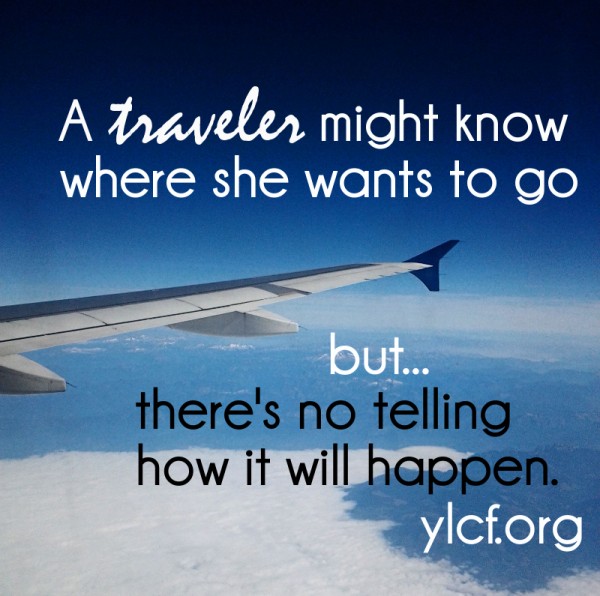 Her yellow crocs with tan hosiery under the calf-length brown skirt were the most noticeable at first, until I saw that his fashion hero was The Man With the Yellow Hat and realized both splashes of yellow matched her very vibrant vest. He leaned heavily on his cane, clinging to his boarding passes and glancing down regularly to make sure his passport holder still dangled around his neck. Her fanny pack was cinched extra tight; she took care to make it so she would notice the pressure release the minute anyone might try to sneak it off her body.
He paused to lean against the railing of the moving walkway, then jolted away once he realized it was moving even though he wasn't.
She needed a bathroom break, he was too nervous to leave the already-in-progress boarding process. She shuffled away, those yellow crocs keeping her aging feet as comfortable as is possible during a long day at the airport.
I watched, waiting for an opportunity to help. My twenty-something self was weary from yet another cross country trek, and I couldn't imagine how their 75-year-old bones were handling the day.
Airports are a microcosm of the world we live in. Strangers pass each other, blind to struggles and challenges. Acquaintances forget about conversations as soon as they end. People are hurting and need a smile, but no one takes the time to share one. Babies cry and make the businessmen mad. Food is overpriced and lacks nutrition. Travelers are apt to be lonely, even surrounded by so many others.
Life is an airport.
A traveler might know where she wants to go, but there's no telling how it will happen. On a recent trip, I was booked to fly from Chicago to Seattle. I knew where I would end up, but in a flurry of remarkable events, I ended up on a flight to Denver before finally catching a connection to Seattle. As I propped open my eyelids and didn't even try to carry on conversation with my seatmate, I marveled at the detour.
"As for God, his way is perfect; the word of the Lord is flawlwess. He is a shield for all who take refuge in Him." (2 Samuel 22:31)
How often do I fail to see how good God's detours are? Even though I didn't like getting to Seattle several hours later than planned (I was more than exhausted), God had a better plan. Although He is not limited to money, I did get to see God's provision when the airline paid for my next cross-country trip as compensation for messing up my day's flight.
As a traveler on earth (and in an airplane), I might know where I am headed, but I don't often know when it will happen. Whether that applies to education or marriage or missions or parenting, if God has created us for a purpose, He will be the one to make it happen — even if the timing isn't how we'd like it. On another trip, I was trying to make it from Phoenix to Vancouver as a standby passenger. The 10:30am flight left without me, the 8:30pm flight left without me, and it wasn't until twenty-four hours later that I finally boarded an airplane toward my toothbrush and the rest of my checked luggage. Even though I didn't want to have that extra time in Phoenix and quite desperately wanted my toothbrush (it had already landed in Vancouver), my God knew that I needed a day of rest and rejuvenation with a dear friend in a sunny desert. (Besides, Wal-Mart sells toothbrushes.)
I think of Samuel and the monumental ministry God had for him in Israel. His mother, Hannah, spent "year after year" enduring the shame of barrenness (1 Samuel 1:7), but in perfect timing and divine appointment, Samuel was ready for service in the temple at exactly the point when God needed him. It may be cliche, but God's timing is the best timing.
An airport gives a powerfully unique opportunity for ministry, even hospitality. I was on the final flight in my transcontinental trek from Kampala, Uganda to home in Charlotte, North Carolina after living for two months without electricity, running water, or reliable communication with home. After twenty-four hours of travel, I was exhausted, emotional, and overwhelmed. My seat mate and I had been fellowshipping during the flight and had shared God stories along the way. As we started our descent, I began to cry with the emotion of finally being home. She leaned over, prayed with me, and then whispered: "Welcome home." I don't even remember her name, but she ministered to my heart that day with her spirit of love and hospitality (Hebrews 12:9 – 13).
In that crowded airport, I was still watching the yellow couple. The lady in the yellow crocs had been gone quite a long time. Boarding had started, people were crowding down to the plane. By the time she came back to the gate (she moved slowly), her husband had moved, positioning himself nearer to the gangway. The boarding pass was still clutched between feeble fingers and he was ready to go as soon as it was his turn. She panicked. The yellow hat wasn't big enough to stand out among the other passengers jockeying for their spot in line, and her voice wasn't loud enough to compete with the gate agents.
I waved her toward him, helping them find each other, watched their blissful reunion in slow motion (because it was, indeed, slow motion), and turned to board my flight.
That'll be me one day. Whether I'm aged in an airport or simply aged through life. I just hope I've been willing to learn the lessons the years and the travels will bring.
"Show me your ways, O Lord, teach me your paths; guide me in your truth and teach me, for you are God my Savior, and my hope is in you all day long." (Psalm 25:4)