4 Lessons in Wedding Planning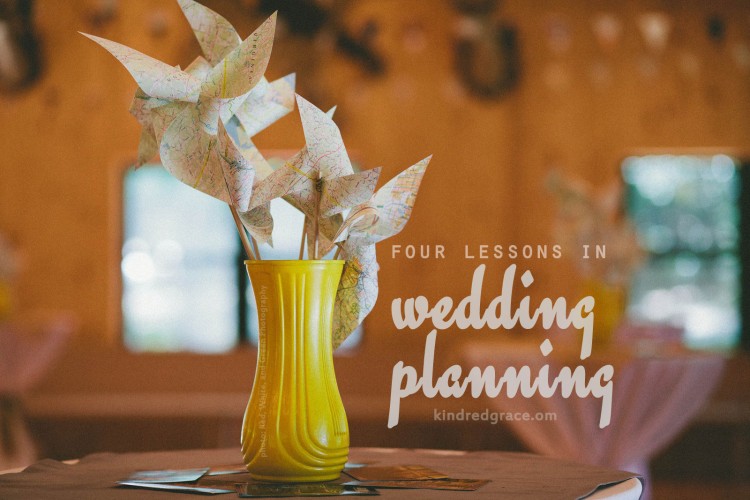 As one of the last to get married among my groups of friends, I had been to my share of weddings. I had been in my share of weddings. I had spent my share of Ben & Jerry's nights convinced my own wedding would never happen. So when it came time to have a wedding, I knew I needed it to be me and I knew that might mean it would be different. And different, it was.
My husband and I met in Uganda, a North Carolinian and a Canadian on the shores of Lake Victoria. Since we couldn't get married in Uganda (we did try), we chose the second best location: at the Bible Camp my grandparents directed for almost fifty years, where I spent most of my summers as a child. Our ceremony took place at the campfire circle on rough hewn log benches a half mile walk from the parking lot, in my "cathedral in the woods" surrounded by towering trees. Our reception took place on the ball field with games, homemade ice cream, fresh popcorn, and a 1970s National Geographic decor theme as a nod to our international relationship. The wedding and ceremony were unlike anything I had ever attended and even my own Mom couldn't quite catch the vision until wedding day go-time. During the process of engaged-to-married, I learned four primary lessons in wedding planning that will define my advice to newly engaged friends.
1. Be yourself as you wedding plan.
Many of our first dates revolved around ice cream; we had homemade ice cream as the central focus of our reception menu. We met in Uganda and navigated an international relationship; I flew our flags, decorated with old maps, and celebrated our spirit of adventure. I refused to incorporate "traditional" wedding motifs that I didn't agree with (have you ever researched the origination of some of the more common elements of a western wedding?). I kept the whole wedding in a very tight budget less than 1/3 of the "industry average" (half of which went to my dream photographer).
My one regret in wedding planning, though, was not incorporating more color into my day. I love color, love unique color pairings, and love wearing color. Why didn't I put more color into my wedding? At the time, it was the logical decision to let the natural beauty of the woods take the front seat; in retrospect, I would've loved just a little more color as an extension of me.
2. Plan a wedding with the guests in mind.
My wedding ceremony and reception took place at the Bible camp I grew up attending every summer; I wanted my guests to walk away with a tiny understanding of the joy I experienced at Mountain View Bible Camp. Ultimately, I had a vision of a all my guests descending for a weekend at the camp: swimming, hiking, playing. The bunk bed accommodations limited that vision, but my guest-centric wedding paid off when a dear friend confided: "I usually hate weddings. Any of my friends will confirm that. But guess what? I actually really liked yours…AND I had a lot of fun!"
We played games, we ate comfort food, we tried not to be anything we aren't. I had a horse-and-buggy to transport guests from the parking lot out to the ceremony site. I made sure to provide activities alongside the food for during the reception.
Looking back, I probably would've spent a little more time adding activities and guest-focused fun instead of quite so much effort on decor. But the proof is in the positive feed back: guests had fun.
3. In the hustle and bustle, don't be afraid to lock yourself into a quiet room and watch reality TV shows on Hulu.
I'm not telling which show I watched, but I definitely locked myself in a quiet room and IM'd a far-away friend while watching reality TV. Did I just admit that?! TV and IM on my wedding day?!?! Yes. Thankfully. Proudly. Gladly.
My wedding day was one of the more challenging days of my life — it has taken all 730 of the days since my wedding for me to be able to see the joy in my day and not just the fear and sadness that dominated the end of my life in North Carolina and the start of my life as a wife in Canada. I envy the girls who can immediately look back on their wedding with joy and gush about the excitement and love of the day; that wasn't my story. Even though I knew the decision was right and good, I needed coping mechanisms to make it through the challenges. For me, that was mind-numbing television shows to help me rest before going down to start the party.
4. DIY weddings are good for bonding girl-time before moving across the country.
Planning a DIY wedding was the best possible decision I could've made. In preparation for leaving my friends behind, we spent hours upon hours crafting and giggling and talking and bonding. I quickly lost count of the girl's nights in my apartment, putting together burlap roses and making pinwheels. I cherish those evenings and the laughing memories we made while burning our fingers on hot glue guns (sorry, Kami!), playing finger paint with Mod Podge and string, and painting picture frames.
Friendships are so important during the season of transition that defines engagement and wedding and marriage. Even if crafting isn't your thing, be sure to focus on friendships throughout the engagement season and continue to cherish your girl-time even through all the newness that defines marriage.
Wedding Photos by Jenna of Red, White, and Green Photography in Charlotte, NC