Seven Ways I Keep My Kitchen Simple
My kitchen is a busy place. I have two small children and a husband who works odd (and long) shifts, lots of ministry opportunities, and we love to share meals with friends despite our busyness. I need to stay flexible and not be tied to the kitchen in this season of life, so I currently cook in a way that reflects that. It's not a season for cooking seven course meals, but it doesn't have to be mac and cheese every night, either.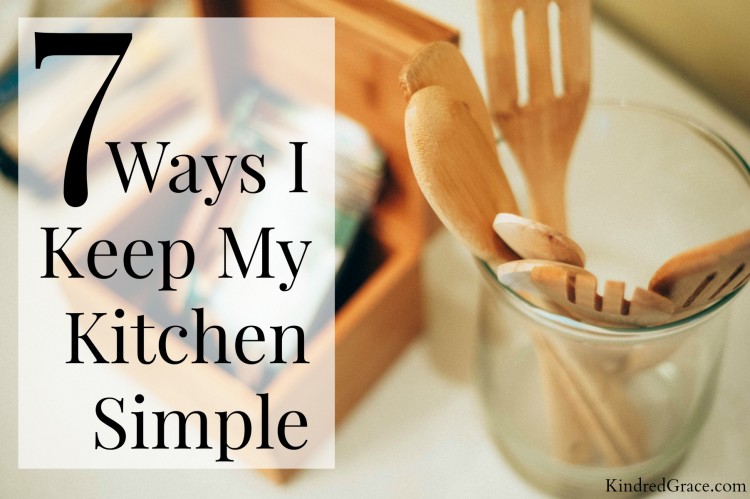 Here are a few ways I keep my kitchen simple, while still using real ingredients.
1. Rotating Menus
I'm still working on using rotating menus. But the idea is, once I get a good menu inventory built up, I won't have to make them weekly anymore. I'm even putting a shopping list on the back of each week's menu, to expedite grocery-list-making. Occasionally, when life is just too overwhelming, I'll use someone else's meal plan, like this one.
2. Crockpot
My crockpot is my best friend. Seriously, a slow cooker is almost like having a servant! Almost. It's surprisingly versatile, and I use mine for everything, from the obvious soups and pot roasts to pork carnitas and even lasagna. (Did you know you can make baked potatoes in a crockpot?)
3. Wonderpots
Wonderpots are wonderful. This was a bit of a Pinterest sensation awhile back: recipes that cook in one pot and generally contain the elements of a full meal. While the fad may have been short-lived, it's still easy to find recipes, and I use them frequently. Our favorite is chicken lo mein.
4. Keep a List of Meals We Like
A list of favorite meals is super helpful when trying to make the week's menu with Monday brain, but it's also helpful if I haven't planned anything in advance and need to come up with something for dinner on the fly. I have several different categories, including a list of super-simple meals for days that are overwhelming (sick kids, teething babies, unexpected ministry opportunities, etc).
5. Freezer Meals!
My favorite freezer meals are the ones that can be cooked in a crockpot when needed. That's basically zero work after the initial prep, when I will assemble and freeze a dozen or so meals in a few hours. Another way to build a freezer stash is to double whatever meal you are making and freeze the second one.
6. Variations on a Theme
Meals based on variations around one theme work especially well with a large cut of meat or a whole chicken. With a chicken, for example, I'll roast it in the crockpot with celery, onions, and carrots for the first dinner. Leftovers become the base for chicken noodle soup the next day. If there is a little more chicken than I need for soup, it becomes chicken quesadillas with bacon and cheddar for the third day! Since a whole chicken is around $5-6 at Aldi, this is very economical for us.
7. Choose Elements Carefully
I can't make multiple time-consuming dishes at the same meal right now. This means that some combinations are simply not seen at our house: fried chicken with mashed potatoes and gravy, for example. I'll make mashed potatoes with a roasted chicken, or fried chicken with baked potatoes. You know what? It's still delicious!

If you, too, are in a season where you need to keep your kitchen simple, I hope this has been helpful. Leave your best tips in the comments! And if you ever end up at my table, I hope you will enjoy the food and the fellowship.
Photo by JenniMarie Photography