Finding Victory in Defeat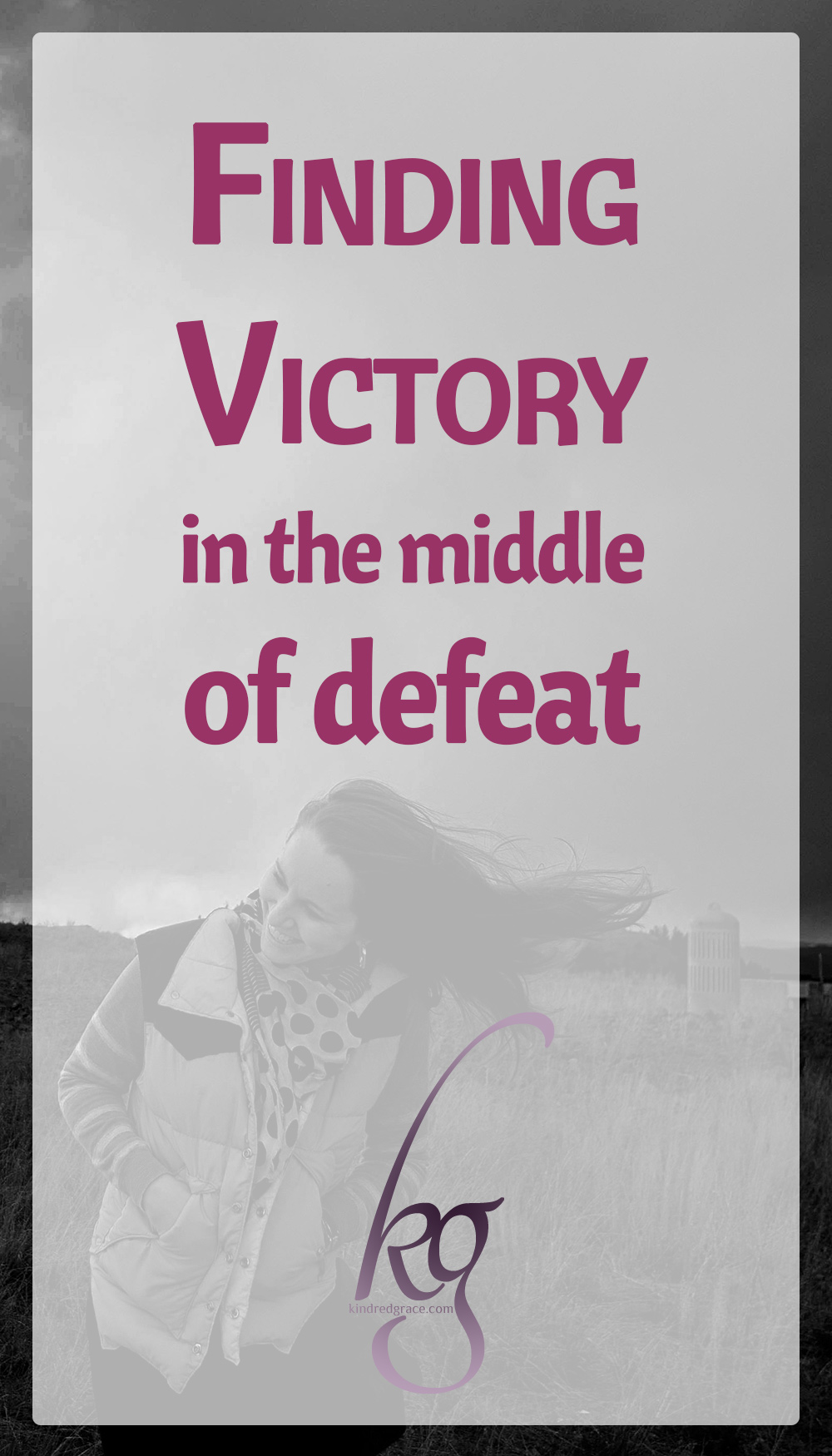 When all strength drained from my limbs and I crumbled into a heap on my kitchen floor, a puddle of tears cowering against the cabinets and hunkered down on the cool tile faced with the most painful betrayal I could imagine, I wasn't feeling very victorious. When I pulled out of my parents' driveway for the last time, beginning my move across the continent, I waved goodbye through the tears and didn't feel very victorious. When I sobbed in a doctor's office facing the diagnosis I had dreaded and hoped for (answers are better than question marks), victory wasn't on my mind.
"In all these things we are more than conquerors through him who loved us. For I am sure that neither death nor life, nor angels nor rulers, nor things present nor things to come, nor powers, nor height nor depth, nor anything else in all creation, will be able to separate us from the love of God in Christ Jesus our Lord."
(Romans 8:37-39)
My life has been short, but full. My years have been few, but – like everyone's years – they have been polka dotted with heartache and trouble. It's life: we can't avoid it, we can't ignore it. But I am already victorious in Christ because "I am not ashamed, for I know whom I have believed, and I am convinced that he is able to guard until that Day what has been entrusted to me" (1 Timothy 1:12). And we are more than conquerors through Him who loved us.
I often forget my victory. I often victory the Ultimate Victory that Christ won on the Cross. I too often wallow in my own fears and inadequacies instead of relishing His might and power and finding the beautiful victory in the midst of the defeat I face. So how do I remember? How do I focus on the victory in the midst of the defeat?
1. How will my story help someone else?
"Those who are happiest are those who do the most for others," said Booker T. Washington. If anyone has felt the pain of defeat along the path to victory, it is Booker. He was born a slave in Virginia, was freed by President Lincoln's Emancipation Proclamation in 1863 but then Booker faced was ostracized, belittled, hindered during his pursuit of higher education. He stood up against segregation and disenfranchisement of blacks despite the risks involved. He knew what defeat looked like and he reached out to other freed slaves to help them in their need.
When I faced betrayal from the man I was supposed to marry, walking a path of broken engagement was the last thing in the world I wanted to face. Answering questions and emails and canceling wedding plans and tending a broken heart was not the story I wanted to have. But if my story of pain and betrayal can be a blessing to a younger girl or a reminder of God's grace and kindness to a peer, then my story has victory in the defeat.
2. How will this defeat bring my sanctification?
"We know that for those who love God all things work together for good, for those who are called according to his purpose." (Romans 8:28)
I don't believe this means that all things will be good now, but that it's going to be good because of the sanctification that comes when we walk the hard paths and lean into God. Sometimes that might mean a specific lesson out of a troubling time, sometimes that means a reminding of an attribute of God, sometimes that means eventually seeing God's protection despite the pain.
By facing the gut-wrenching disengagement, I was forced to deeply trust my Jesus when I felt my world cave in around me, when all my hopes and dreams were dashed against the rocks, when the whole course of my life shifted dramatically. I even was able to eventually see how God spared me from bigger problems after disengagement (in this case, betrayal is much preferred during engagement instead of after marriage). I clearly saw God's fingerprints on my life during that season of defeat but eventually saw the lessons and sanctification that turned the defeat into victory.
3. How does my story change because of this defeat?
"Be strong and courageous. Do not be afraid; do not be discouraged, for the Lord your God will be with you wherever you go." (Joshua 1:9)
After an overwhelming defeat, moving forward in victory is hard. Very hard. Fear cripples, pain returns, trust scatters. But after reaching past the defeat to help others, after learning lessons from the defeat, it's time to embrace the victory and move forward with a new story and all the victories in the new path.
Walking into a long distance relationship after disengagement, I was skittish and jumpy and fearful and cynical. Watching my now-husband care for me with kindness and compassion and gentleness reminded me that not every man would betray me, not every relationship would end in anguish. My husband waited patiently, he walked cautiously, and he lived with an integrity and truth that I had never seen before. His godly character spoke louder than any words he had to say, his patient heart proved his love for me, and his love drew me out of my fear and into a brand new story that is beautiful despite the defeat that brought me to this point.
"But he said to me, 'My grace is sufficient for you, for my power is made perfect in weakness.' Therefore I will boast all the more gladly of my weaknesses, so that the power of Christ may rest upon me. 10 For the sake of Christ, then, I am content with weaknesses, insults, hardships, persecutions, and calamities. For when I am weak, then I am strong."
(2 Corinthians 12:9 -10)
Defeat isn't always as dramatic as a broken engagement and the victory isn't always as spectacular as a beautiful marriage. But no matter the defeat, God is bigger. No matter the trial, God is stronger. No matter the battle, God will overcome.