From Fact to Fiction: the best retellings of biblical narratives
Disclosure: This post contains affiliate links which won't change your price.
My introduction to the Bible began with flannel graphs in Sunday school and bedtime stories read by my mom out of an illustrated children's Bible. I began to memorize individual verses while in the AWANA program and learned about different Bible characters at church and at home. I got my own Bible with papery thin pages and small print — one that I could read and highlight like a grown-up — when I was in junior high. Those little pieces of the Bible started to fit together, forming a big picture, and a better understanding of the God I had put my faith in, as I grew older.
As I gained understanding and maturity, the Bible and its stories grew in depth and importance. Since my faith journey began at a young age, my familiarity with the Bible was fairly advanced by the time I was in college and on my own. Sometimes it was difficult to read or listen to one of those well-known stories and not be distracted by the familiarity. The living and active Word just felt stagnant sometimes, felt like there was nothing fresh to offer someone who could recite the story by heart.
Have you been there? If you've been a Christian for some time, Bible stories can become stale. If you're new to the Bible, it can be overwhelming to jump in to so many stories and teachings. When I get in this type of rut, I try to, 1) pray for God to reveal new things as I read a familiar story and, 2) get a different perspective. One of my favorite ways to accomplish the latter is to read fictionalized retellings of Bible stories.
Thought it's important to remember that these are fictional takes on the facts presented in the Bible, I find the added emotion and narrative brings me deeper into the heart of the story. I'm always compelled to revisit the original text after reading one of these novels. Here's a list of my favorite authors and series that successfully offer a fictional take on biblical story-lines.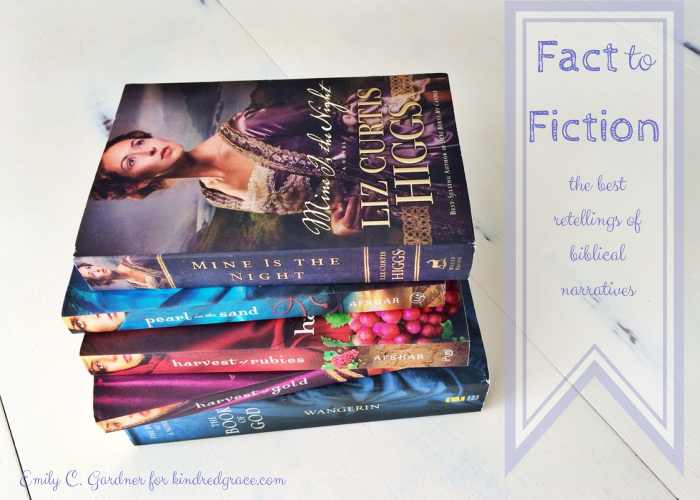 Francine Rivers
Francine Rivers is a talented author. Her work is compelling, poignant, thought-provoking, and among my favorite Christian fiction. In the Lineage of Grace series (now compiled into one book), Rivers chronicles the five women mentioned in the lineage of Jesus: Tamar, Rahab, Ruth, Bathsheba, and Mary. I particularly appreciated understanding more about the cultural practices surrounding Tamar's story. As a woman, I also loved getting a more emotion-driven insight into each story.
Tessa Afshar
I discovered Afshar last year and then devoured all three of her books. Pearl in the Sand is a standalone about Rahab that focuses more on her life post-Jericho, which I had never really considered. Harvest of Rubies and Harvest of Gold follow Sara, a talented scribe in the Persian court. Her story has romance, mystery, and redemption. Nehemiah and the rebuilding of Jerusalem weaves into the engaging plot. Afshar's fourth novel, Field of Grace (based on the life of Ruth), releases July 2014.
Lynn Austin
The Old Testament is heavy on the history and can be a bit dry if that isn't your cup of tea. Austin's Chronicles of The Kings is a five book series that breathes life into the genealogy of the kings of Ancient Israel and Judah found in Kings and Chronicles. This series kept me interested through battles and political strife, effortlessly highlighting God's plan for His chosen people.
Liz Curtis Higgs
Higgs expertly adapts various biblical plots to fit a different culture and setting. The Lowlands of Scotland series is the perfect example of her ability to tell the story of well-known characters — in this case Jacob, Leah, Rachel, and Dinah — in a fresh way. She reveals truth without being preachy. I was captivated by Higgs intentional deviations from the original story in Grace in Thine Eyes which are thoughtfully explained in the author's note.
Walter Wangerin
In The Book of God, Wangerin retells the story of the Bible from beginning to end in novel form. The page count may be intimidating, but Wangerin is an engaging story teller. Similar to translations like The Message, The Book of God makes the Bible flow for an easier read. I like to read this in tandem with my traditional Bible.
How do you avoid Bible burnout? Do you have any favorites in the Biblical Fiction genre?
We'd love to share a few Biblical fiction and related titles with you! Comment and then click the Rafflecopter forms to be entered to win (you can enter either or both!):