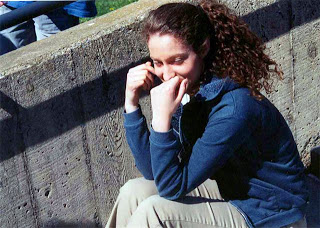 I believe in doorsteps.
Some of you might already know what I mean by that, particularly those who were there when it was coined. I'm afraid I can't take credit for the saying and I can't remember who was the first to start saying it, but among a small group of single girls that phrase is significant.
I believe in doorsteps. I believe that God can create miracles in a place that is barren. I believe that God is powerful and if it is His will, the right man could show up on my doorstep.
So many times I have heard people admonishing singles to get out! Get looking! Stop sitting around and waiting! And I agree, to an extent.
We shouldn't just sit around, twiddling our thumbs. We should do what we can with what we have, where we are, whether it be folding laundry and helping out at home, working in an office, or going to school. Neither should we turn up our noses at opportunities to make friends with guys or avoid social events where young men might be. However, to be quite honest, I have to say that I believe it to be a rare few girls who actually do that.
Some of us are living in places where there are no eligible young men. Maybe all the good ones are taken. Maybe none share the same convictions as we do. Maybe none are old enough or ready for marriage. And maybe some are just not paying attention to all the young women who are waiting to be asked.
It's hard during a dry period, where you feel hemmed in and without hope on the horizon. It's hard to hear people tell you that if you just did A, B, and/or C, you'll meet a guy, because that doesn't always happen and sometimes A, B, and C aren't possible. It's hard to hang onto hope.
And that's where believing in doorsteps comes in.
Believing in doorsteps means opening the door – to hope. God is a God of hope and miracles and He would never have us lose hope. He would never have us doubt His abilities, never believe that anything is too impossible for Him. Even granting a single girl a husband, when she has been waiting so long.
I don't expect my Dym – as I have begun to call that man who I have yet to meet, but hope to marry someday – to necessarily show up on my doorstep. I don't expect a husband to fall into my living room while I wait in my own little corner.
I live life. I work. I laugh. I dance. I sing. I live. I don't pin my hopes on every man that crosses my path because…I believe in doorsteps. I believe that God is in control and He knows which man may be my Dym. I don't have to worry. I don't have to wait twiddling my thumbs or go out on an epic mission searching for a man. God has the master plan and that's enough for me.
And so, I hope. I hope, I live, I work, I pray, I wait…and believe in doorsteps.