Food makes me excited. I get giddy about cooking and trying new recipes in the same way that some women do about shoe shopping. When I have free time, I begin scrolling my multiple Pinterest food boards and planning my next adventure. I begin thinking of the way sauces can be used on pasta or how to use my favorite cheese (by the way, it's provolone).
The next step is to begin shopping. My meal plan almost always involves ingredients that I have in my pantry, but then there are ingredients that I have never tried. This is part of the fun, until I start realizing that these items are going to push my budget. This is the point where I have to count the cost.
Counting the cost is necessary in cooking and in planning life goals. Excitement and passion are great motivators, but they must be pointed in the right direction. Here are three things I've learned about knowing the cost and making it worth it, in our lives.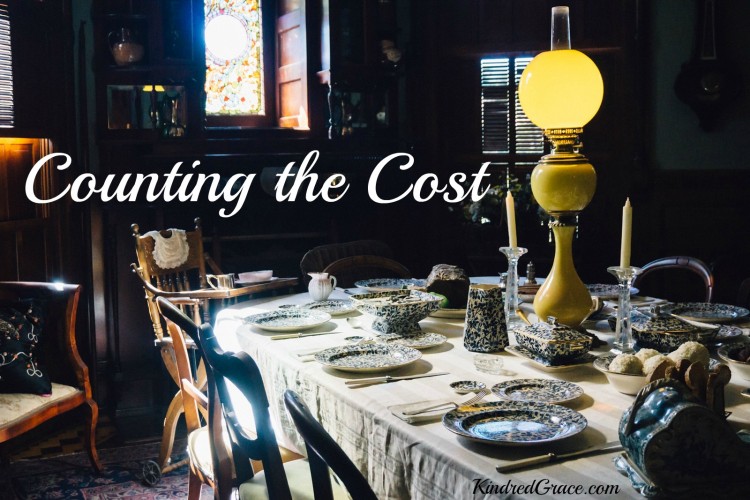 1. Perception
In a recipe, the ingredients can be clearly seen on the counter in front of me. I can control the cost and how to reuse the ingredients but, when it comes to planning my life, there is more of a permanent cost. In life, only our Savior truly knows what is coming, so trying to plan it on our own leads to the cost of unnecessary stress and confusion.
"Unless the Lord builds the house, those who build it labor in vain."
-Psalm 127:1 (ESV)
There is always a battle for surrender. Sometimes it is pride and sometimes it is fear. Our Savior is the only one with the real plan and the answers that make it worth it.
2. Plan
"Your Word is a lamp to our feet and a light to our path."
-Psalm 119:105
In a recipe, there is an order that works best. When to stir, when to butter, and when to pour–there's a correct time for each that makes the food that much better.
In my own life, I would love to know the entire plan and steps, but that would only increase my pride, not my faith. He shows me just enough to make me trust Him and want to follow Him more.
In the beginning, I chose to follow because of His finished work at Calvary. I continue to follow Him because of my love for Him and the fruit that comes of that relationship.
3. Product
In many recipes, there is room for creative license. It is fun to take a recipe and learn how to personalize it to my taste. However, in my life as a follower of Christ, it is not about me. It is about letting God direct my life so that, "they may see my good works and glorify my Father, who is in heaven (Matthew 5:16)." I want to live in such a way that people want to learn about my Jesus. Fruit is only produced when we let God have His way.
"I am the vine; you are the branches. Whoever abides in me and I in him, he it is that bears much fruit, for apart from me you can do nothing."
-John 15:5
This growing process has both rough spots and easy areas; there is a cost either way. And only in our Savior can be found the knowledge and the fruit that makes following Him worth the cost.
Photo by JenniMarie Photography