Disclosure: This post contains affiliate links which won't change your price.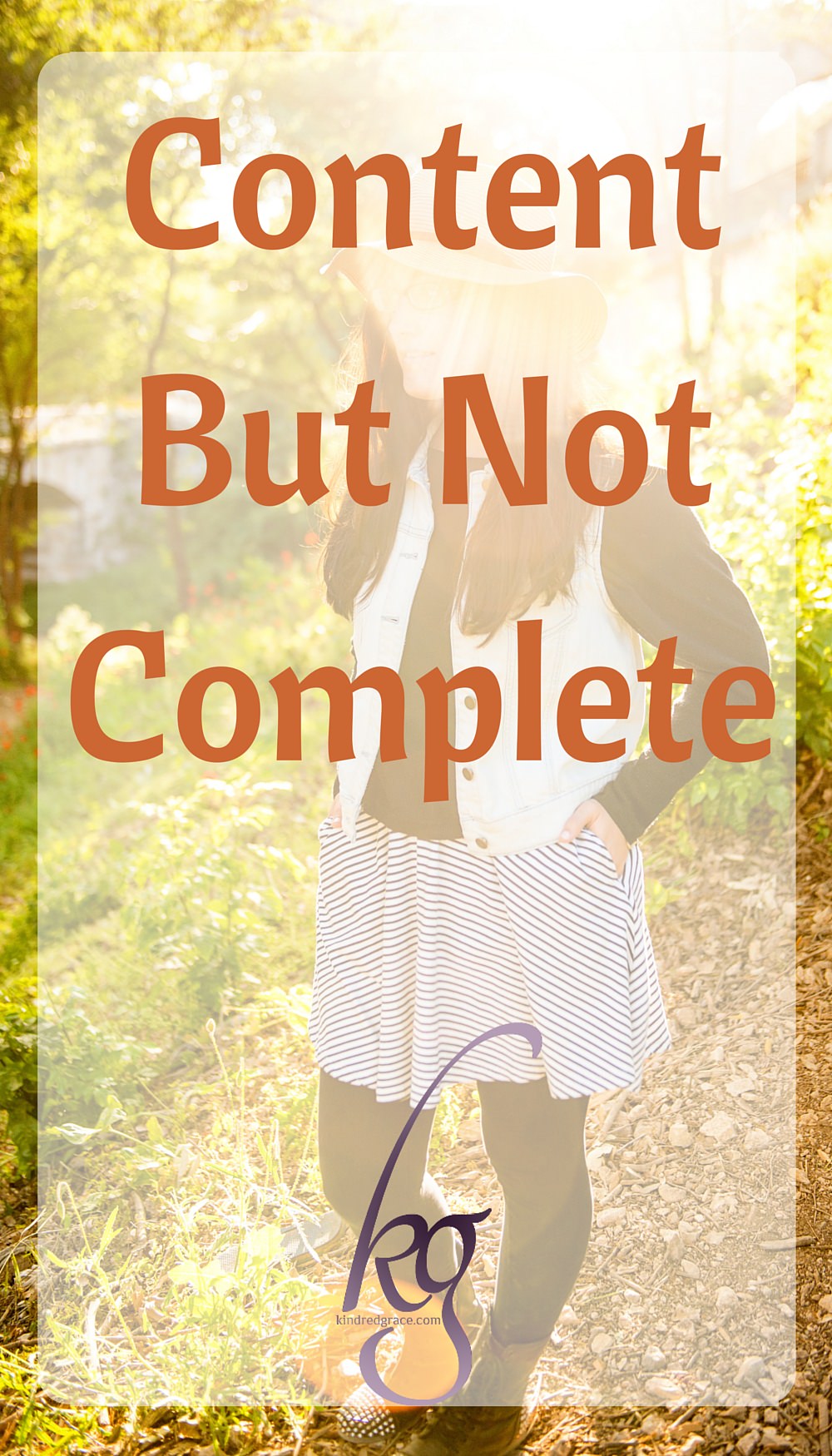 How do you feel about singleness? More importantly, how do you feel about marriage? If you are getting a little older, you may also be getting a little discouraged. Perhaps you've experienced a broken dream or relationship. Probably many of your friends are married and having children. We single girls can get caught in the middle. On one hand, we have the intense (and growing!) desire to get married and have children ourselves, but nothing is happening. On the other hand, we're constantly told to relinquish those desires and embrace the gift of singleness. We try so hard to let go, to turn away from our deep desires, and yet they remain. We think, "Surely there are other aspects to life" – but marriage remains our focal point and the setting of our most intense struggles.
What is wrong? Why the endless struggle? I believe part of the problem stems from our attitude about marriage. Although nearly all of us long for a husband, few of us dare to admit how much. Within our Christian-homeschooling-courtship subculture, honestly expressing the depth of that desire has become somewhat taboo. Instead, singleness has been elevated and marriage regulated to dreams of "someday," even for those of us in our mid to late twenties. And we single girls have done our part, insisting that we're capable of being perfectly content and fulfilled right where we are (this may be in part a defense mechanism). "If God wants me to stay here in Dad's home, and serve my family for the rest of my life, that's fine with me!" we say glibly – then wonder why that wedding invitation gave us such a pang.
I'd like to offer an alternative to the way we've been looking at the whole issue of marriage and singleness, at least from a single's perspective. Let me say right up front that this radical idea did not originate with me. I've run across bits and pieces of it in many diverse places, woven like threads of light through books and articles. What I hope to do in this article is to pull those threads together into a banner of hope for all my struggling single sisters.
Called To Be Single
I've heard many girls say, "Well, maybe I'm just called to be single." When no boyfriend is appearing on the scene (especially once you pass the early twenties), it's tempting to say that! I'll admit I've said it more than a few times myself. But I think we need to examine that phrase a little more closely – after all, "called" is a word with a lot of meaning to a Christian.
So what do we mean by "called to be single"? When you say that lightly to a girlfriend, are you saying the following? "I believe God has a special calling on my life. I am prepared to live a life of celibacy, never experiencing the emotional and physical intimacy of marriage, never having children, and serving God in an unusual way." As Boundless writer Alex Chediak has pointed out, that kind of calling is fairly rare. God does not call many of His children to that kind of service. If that is your calling, He will give you assurance of that and the grace you need to fulfill it. But for the vast majority of us, that's simply not what He's asking for. Often when He doesn't move as fast as we think He should, we don't have the patience for Him to guide us to His will. Instead, we throw up our hands and say, "Fine! I guess I'll just be single!" – perhaps in doing so, turning aside (even temporarily) from the pursuit of our true calling.
But I'm not married today. So today I am called to be single. Today my responsibility is to glorify God through my willing acceptance of my singleness. We need to learn to embrace the temporary as temporary, neither fretting at our current state nor stubbornly deciding it will never change. Because it probably will change, putting us in the place God designed for women from our creation – by a man's side.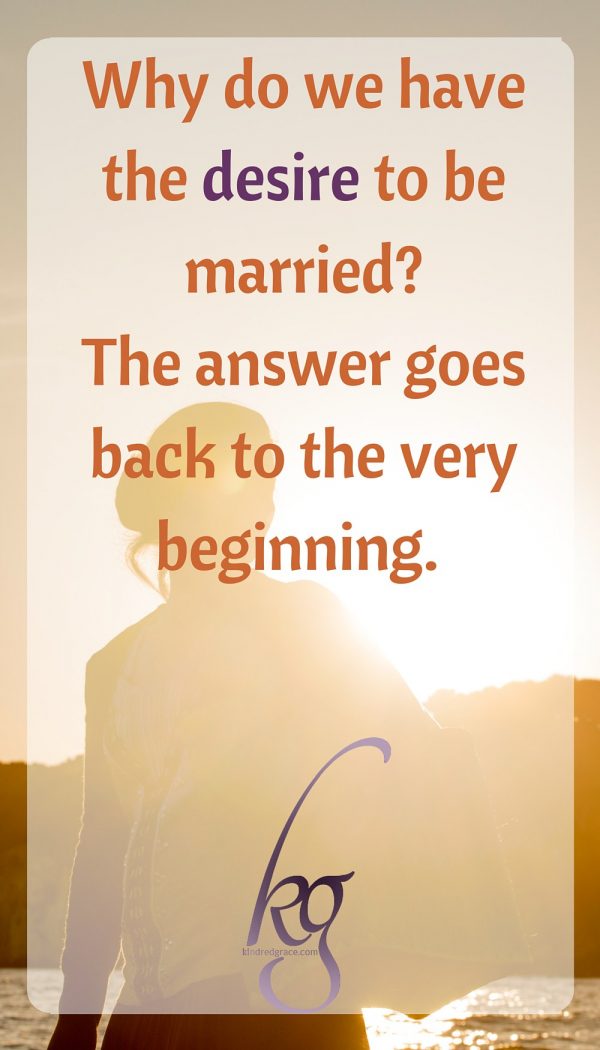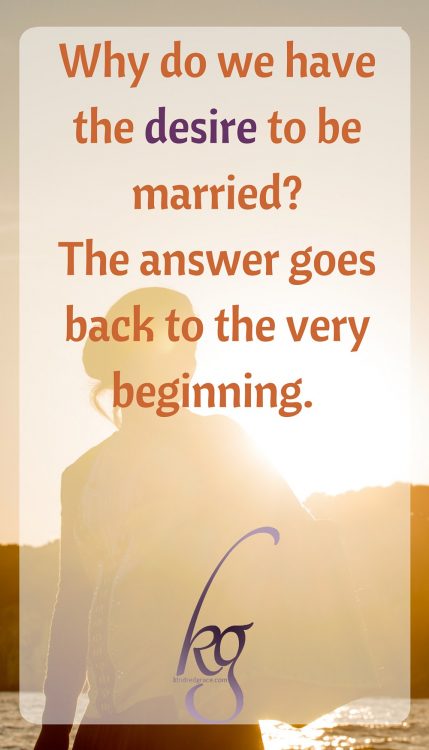 Created For Marriage
Why do we have the desire to be married? The answer goes back to the very beginning, to Genesis 2:18-24:
And the LORD God said, It is not good that the man should be alone; I will make him an help meet for him. And out of the ground the LORD God formed every beast of the field, and every fowl of the air; and brought them unto Adam to see what he would call them: and whatsoever Adam called every living creature, that was the name thereof. And Adam gave names to all cattle, and to the fowl of the air, and to every beast of the field; but for Adam there was not found an help meet for him. And the LORD God caused a deep sleep to fall upon Adam, and he slept: and he took one of his ribs, and closed up the flesh instead thereof; And the rib, which the LORD God had taken from man, made he a woman, and brought her unto the man. And Adam said, This is now bone of my bones, and flesh of my flesh: she shall be called Woman, because she was taken out of Man. Therefore shall a man leave his father and his mother, and shall cleave unto his wife: and they shall be one flesh.
The reason God gives for creating woman in the first place is to be a helper for man. We are the completer of the man – his "other half." That's so much more than a cute phrase! It really gets to the root of why we want to be married. We want to be joined to our other half! It's not okay to desire marriage. It's more than okay – it's good and right and pleasing to God. He is glorified when His creatures fill the places for which He created them. When you long for marriage, part of that desire is the longing to fill your appointed place in the universe. Rejoice that you have that desire!
Jesus Or A Husband?
Have you ever heard or read something along these lines? "You need to just take all the love that you would give a husband and transfer it to Jesus. He is the only one worthy of your love anyway, and He can fulfill all your longings. If you love Him, you don't even need a husband."
This kind of thinking is misleading. Yes, Jesus is to have our hearts. Loving Him is the most important thing in our lives! But He's not your boyfriend or husband. God has chosen to give us several different kinds of love. Our love for God is not the same kind of love that we would give a husband. When God looked on all His creation in the garden of Eden, He said, "It is not good that the man should be alone" (Gen.2:18). Remember that Adam had perfect fellowship with God at this point – there had been no sin. He could communicate with God more fully and completely than any of us have been able to since! And yet God said he was alone. God created mankind with the need for other humans – and more specifically, with a need for a spouse. He didn't say, "The man is alone so I will bring him another man to be his friend." It pleased Him to create a woman, and to institute marriage right from the beginning! So to say that we can just love Jesus is obviously missing part of what God intended. Loving Jesus is different than loving a husband.
Substituting Jesus for a "significant other" is not the answer. If we could see Him in all His kingly glory, the idea would be unthinkable.
And I saw heaven opened, and behold a white horse; and he that sat upon him was called Faithful and True, and in righteousness he doth judge and make war. His eyes were as a flame of fire, and on his head were many crowns; and he had a name written, that no man knew, but he himself. And he was clothed with a vesture dipped in blood: and his name is called The Word of God. And the armies which were in heaven followed him upon white horses, clothed in fine linen, white and clean. And out of his mouth goeth a sharp sword, that with it he should smite the nations: and he shall rule them with a rod of iron: and he treadeth the winepress of the fierceness and wrath of Almighty God. And he hath on his vesture and on his thigh a name written, KING OF KINGS, AND LORD OF LORDS (Revelation 19:11-16).
Your boyfriend? I don't think so.
The Gift of Singleness
If I had a dollar for every time I've heard or read that singleness is a gift and a blessing, I'd be able to buy all the books on my wish list – and believe me, it's long! It seems like it's usually married people who speak of the gift of singleness. [Note: I am not referring to the calling to remain single, but the gift of the single season.] When I was in my early teens, it was easy to think of singleness as a special season to be welcomed and enjoyed. Ten-plus years later, it doesn't seem so special. I'm getting quite tired of it, in fact. Is singleness really a gift?The answer is both yes and no. We'll do "yes" first. Singleness is a gift in the sense that every circumstance in our lives is a gift. It's a means by which our infinitely wise and loving Father reveals His care for us. To our human eyes, some gifts appear better than others – being supplied with a new car might look more like a gift than totaling your only vehicle – but we know from Scripture that ". . . all things work together for good to them that love God, to them who are the called according to his purpose" (Romans 8:28). Unwanted singleness is indeed a gift, and if it has lost its shine over the years, we can still be grateful for it as a "gift of suffering" that helps sanctify us.But in some ways, singleness is not a gift – at least not one that we want to keep indefinitely. For most of us, it's a temporary time of preparation for our destiny, marriage. Historically, singleness has not been viewed as desirable – rather, it was seen as a stage of life that should not be unduly prolonged. Boundless writers Danielle Crittenden and Debbie Maken have both written excellent articles on this subject, and I highly recommend reading them. The gift of singleness is a little like the gift of a toothache – something given to us by God for a time to refine us, but not something to hold forever.
Yearning For Marriage
Before I go any further, let's balance the equation. Is it possible to long for marriage too much? Absolutely! A healthy desire for marriage is good, but if our desires start turning into rejection of God's current plans for our lives, it can become idolatry.Keep in mind 2 Corinthians 10:5: "Casting down imaginations, and every high thing that exalteth itself against the knowledge of God, and bringing into captivity every thought to the obedience of Christ." We can't put anything, including our God-given desires, ahead of obedience to God's immediate will for us. We need to cultivate a healthy view of marriage, neither rejecting it in bitterness or elevating it to the point of idolatry. The little book Believing God for His Best by Bill Thrasher does a great job of promoting such an attitude.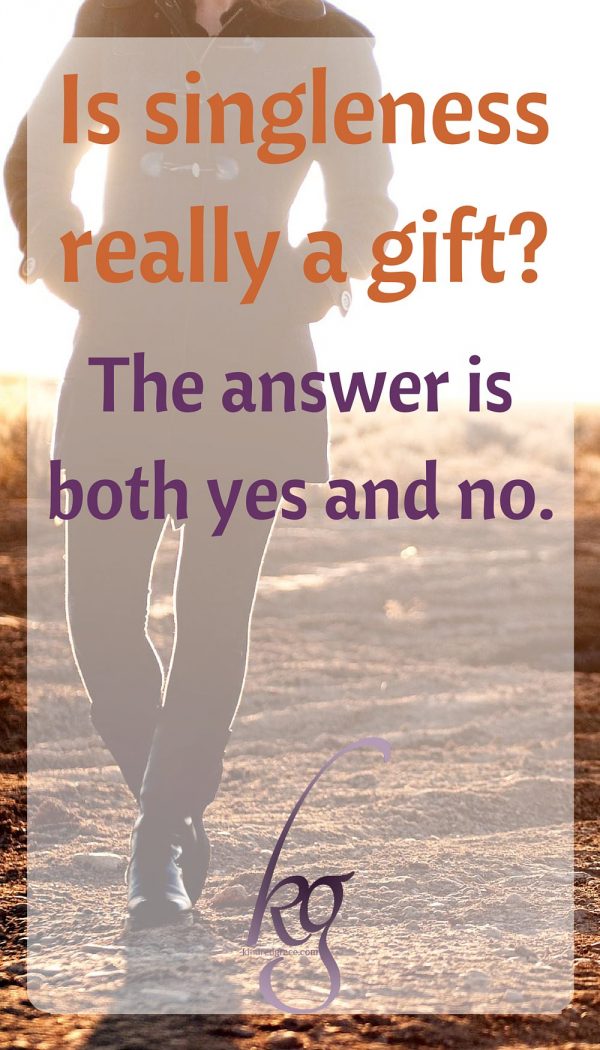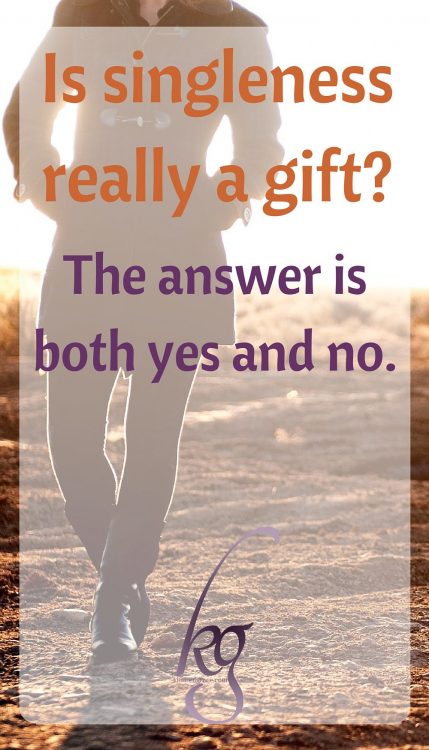 Contentment While Single
Yes, it is possible! Not easy, but possible. Of course, the biggest reason we singles struggle with contentment is the same reason everyone does: it's our sin nature. We all want things we don't have. This is apparently true for married people, too! Everyone has the ability, through Christ's strength, to be content (Philippians 4:11: ". . . for I have learned, in whatsoever state I am, therewith to be content."). It does seem especially hard to be content while waiting for marriage, however.I think one problem is that we fail to understand the difference between contentment and completeness. In some senses, we will never be complete until we reach Heaven. But we singles have a special kind of "incompleteness" because half of us – our spouse – is missing. And when we fail to recognize that and separate the two ideas, we get frustrated because contentment seems to elude us. We still feel that something is missing. My personal analogy for this idea is a man who is blind. This man, through God's grace, can be content, and can learn to live without sight. Other senses can compensate to a great extent – yet none of us would try to tell him that he is physically complete. It's obvious that he is missing something he should have!
Singleness is a similar form of incompleteness. We were created to complement each other, and to become one flesh (Matt.19:4-6). If it is God's will for us to remain single, He will give us the grace to live with that "incompleteness," but we shouldn't pretend it isn't there. I believe that a single person is complete spiritually. It is not necessary for us to be married in order to be saved, sanctified, or blessed by God. But in some way – perhaps emotionally? I don't know – we are incomplete until marriage. It seems to me that God's original plan, now spoiled by sin, was for every man and woman to have a mate.
It's okay to want what you were meant to have, but we must also live joyfully and contentedly in the present reality. This contentment while still reaching for something better is one of the paradoxes of the Christian life that is hard to grasp. But it is vital for us to learn to be content while waiting in order to live the way God has called us to. As Jim Elliot wrote to his future bride, "Let not our longing slay the appetite of our living" (Passion and Purity, pg. 160).
Praying Boldly
So how do we get from singleness to marriage? The number one answer is, "Pray for a husband!" I've been convicted over the past year that I don't pray boldly enough. The tenor of my prayers is usually, "Help me to be content, to wait patiently, and to trust You. I accept Your will even if it means a life of singleness." Sound like a good prayer? My real request is missing! I'm not asking for a husband. Philippians 4:6 says ". . . in every thing by prayer and supplication with thanksgiving let your requests be made known unto God."
And Matthew 7:7-11 is even more specific: "Ask, and it shall be given you; seek, and ye shall find; knock, and it shall be opened unto you: For every one that asketh receiveth; and he that seeketh findeth; and to him that knocketh it shall be opened. Or what man is there of you, whom if his son ask bread, will he give him a stone? Or if he ask a fish, will he give him a serpent? If ye then, being evil, know how to give good gifts unto your children, how much more shall your Father which is in heaven give good things to them that ask him?"
God wants to hear our heart's desires. We have to say "Thy will be done," but don't stop there! Pray boldly and with faith, believing that He is abundantly able to bring you a mate. The request for a husband is a godly one. Don't be ashamed to pray specifically!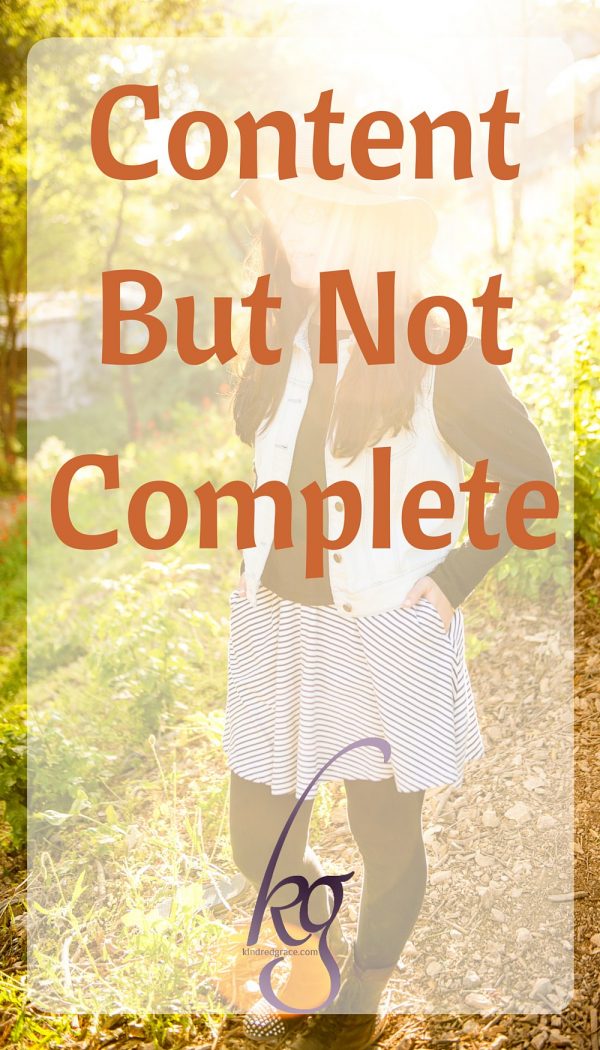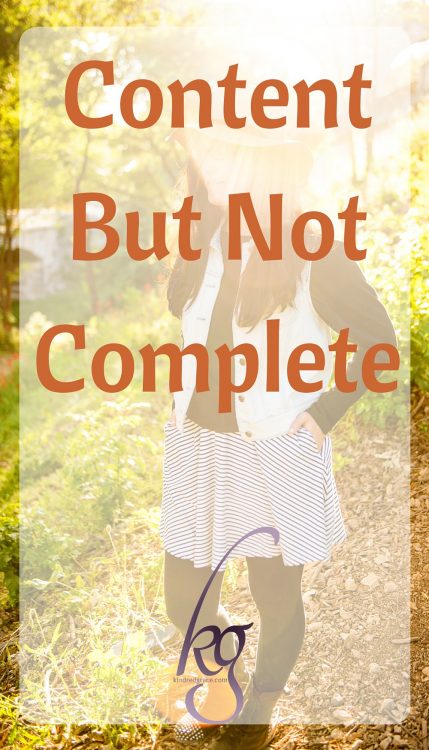 Finally, My Sisters. . .
. . . Be of good courage. It's all too easy to become cynical about marriage as time continues to pass with no changes in our single state. But despising marriage or exalting singleness beyond its place is not the answer. Instead, let's strive for contentment now, with hope for the future. Singleness can be a means by which we are drawn into increasing fellowship with our Lord as we learn to take up our cross daily and follow Him.
I hope this series of articles has been encouraging to you. It may have opened up some new ways of thinking about marriage in general, or you may have disagreed with things I have said. I don't claim to have all the answers, or even most of them! My goal is just to encourage you, and I'd be happy to have you contact me if you have questions or comments. If there is a lot of interest, I may follow up with more articles. May God bless you as you continue to serve Him in marriage or singleness!
Photography: JenniMarie Photography