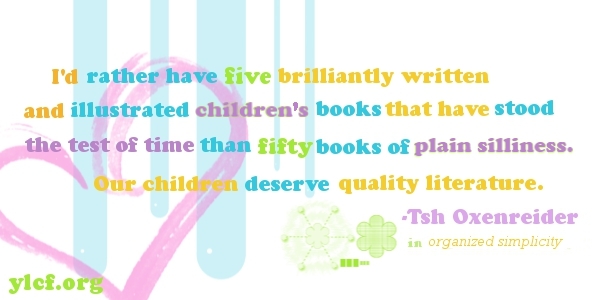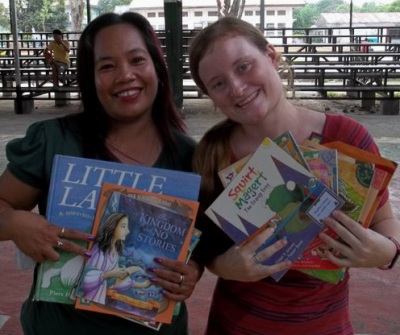 I love children's books. Especially antique children's books. And so does my husband. We know better than to venture to the children's section of a vintage bookstore, unless we have lots of time and money!
The lone bookshelf in our children's bedroom doesn't even contain all their books any more. The ones meant for older grades have overflowed out here to the living room bookshelves, challenging my love of library-like categorized shelves!
Thus, I was glad to see Tsh Oxenreider dedicate ample portions of her chapters in Organized Simplicity to talking about books — it's an area that's sometimes hard to simplify! I loved the suggestion of keeping a basket near the children's bookshelf, so that the kids could put the books back in the basket and mom or dad could put the books back on the shelf so that they could actually be found once again! But her quote about children's books that have stood the test of time (see graphic above)? Priceless advice to remember — especially when caught in the children's book aisle!
I must admit, I do love a bit of silliness on occasion. And "twaddle" or no, we have a special affection for Dr. Seuss books in this household, because my husband's grandfather built bookshelves for Dr. Seuss himself. But our affinity for vintage children's books has as much to do with their quality as it does with their cuteness. After all, even wordless picture books have authors. The right picture book can transcend both age and language!
If you could only pick "five brilliantly written and illustrated children's books" to keep on your bookshelf, what would you choose? We'd love to have you share your ideas in the comments — and all of your children's book reviews in the link-up! Each comment and link will be entered in the giveaway for a $10 Amazon gift card — to support that habit of collecting children's books, of course. Congratulations to Bethany for winning the $10 gift card!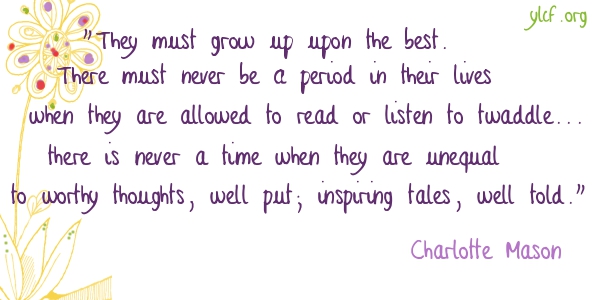 More Children's Book Lists: