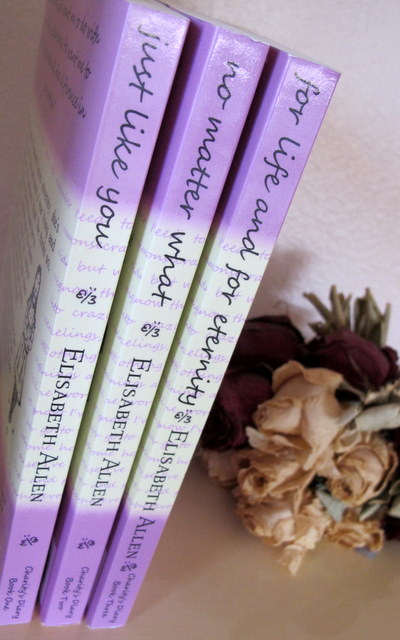 I'm not sure when I've read a series I've enjoyed so much. Probably not since my first encounter with Sabina in The Secret of The Rose series. Perhaps even when I met Anne or Laura, heroines of the all-time favorites series of my childhood.
In Charity Wentworth, I found a true kindred spirit, in every sense of the word. A sister whose diaries oft echoed the feelings of this big sister of yesteryear. A girl whose heart cries made the tears stream from my own eyes, as I re-lived those days of wondering, waiting, trusting. A student graduated, yet not always sure she knew what plans God had for her, as in my post-high-school years.
Perhaps the reason is because the author of Charity's Diary has lived those things, has loved her family, has waited on her God—perhaps that is why Elisabeth Allen can write so poignantly of what I, too, have known. So poignantly that I could barely see through my tears to read the pages of Charity's Diary!
Snippets and drawings from Charity's fictional yet personal diary are interwoven with the dialogue and story of her day-to-day life as a University graduate who's gone back home to live with her family until she goes to India as a missionary—or so she thinks. The Bible says God knows the plans He has for her, but Charity isn't always so sure she understood His will correctly. Nor does life make sense when everything she'd hoped and dreamed of crumbles to pieces around her.
As an American, I especially enjoyed the peek into English life—and spelling! As a married woman, I found myself instantly back in my teen years, reliving every emotion, every fear. As a mom, I empathized with Charity's mother and yet felt just as keenly Charity's struggles for patience and forbearance with her siblings (not much changes from sisterhood to motherhood in that department!).
Yet, while I felt every hope and heartbreak along with Charity, and despite the fact that her story hit every emotional nerve, it was the lessons she learned, the truths she kept going back to, that made the series truly beautiful to me. It's the furthest thing from your normal teen "chick lit"—in fact, the author has strong convictions against typical romance novels. Which is why I could hand the books over to my 15-year-old sister and 16-year-old cousin with the highest of recommendations. They aren't a fiction series that will encourage them in boy craziness. Neither are they a set of books that will make them feel like they have failed if they've ever had a crush on a guy. They are real, honest, down-to-earth stories about a normal girl in a typical homeschooling family. They are as easy to read and page-turning as they are encouraging and inspiring.
I loved the three Charity books! The author, Elisabeth Allen, is a personal friend of mine and her genuine sweetness, humor and love for the Lord shine clearly in her writing. Her main character, Charity Wentworth, is a conservative young woman with every day struggles, joys and questions. In the quest for life after college, Charity has dreams of becoming a missionary in India. God takes her on a challenging path of faith and trust that reminded me a lot of my own life – one much different than ever imagined, yet full of adventure and lessons. I love the down-to-earth approach Elisabeth takes in her descriptions, and how real she makes her characters. The trilogy is one I think any young women would enjoy – laughing and crying along with Charity – and come away with the challenge to truly embrace His dream for their lives.
-Jana (Baldridge) Tingom
Put them on your Christmas wish list—or shopping list, if you have a sister, daughter, or granddaughter in her teens or twenties!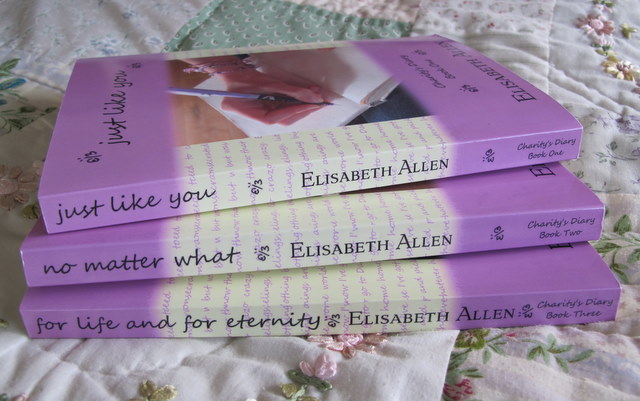 From the time that Elisabeth Allen, the authoress of the Charity trilogy, shared with me about the series and her hopes to publish the books someday, something about the story line, but mostly the sincerity of her heart and motives, caught my attention. I decided that if perhaps she ever published her books, this would be some fiction worth reading. I little guessed how beautiful and fitting the story would really be! Charity's Diaries were such a beautiful testimony of our God who does all things well, and who works all things for good–even our disappointments and the apparent death of our dreams. Often I read the pages with tears in my eyes as I caught glimpses of my own heart's struggles and victories through the life of Charity and her family.
–Chantel Brankshire
photos by Jessica Elisabeth