when fear and anxiety produce tunnel vision
Disclosure: This post contains affiliate links which won't change your price.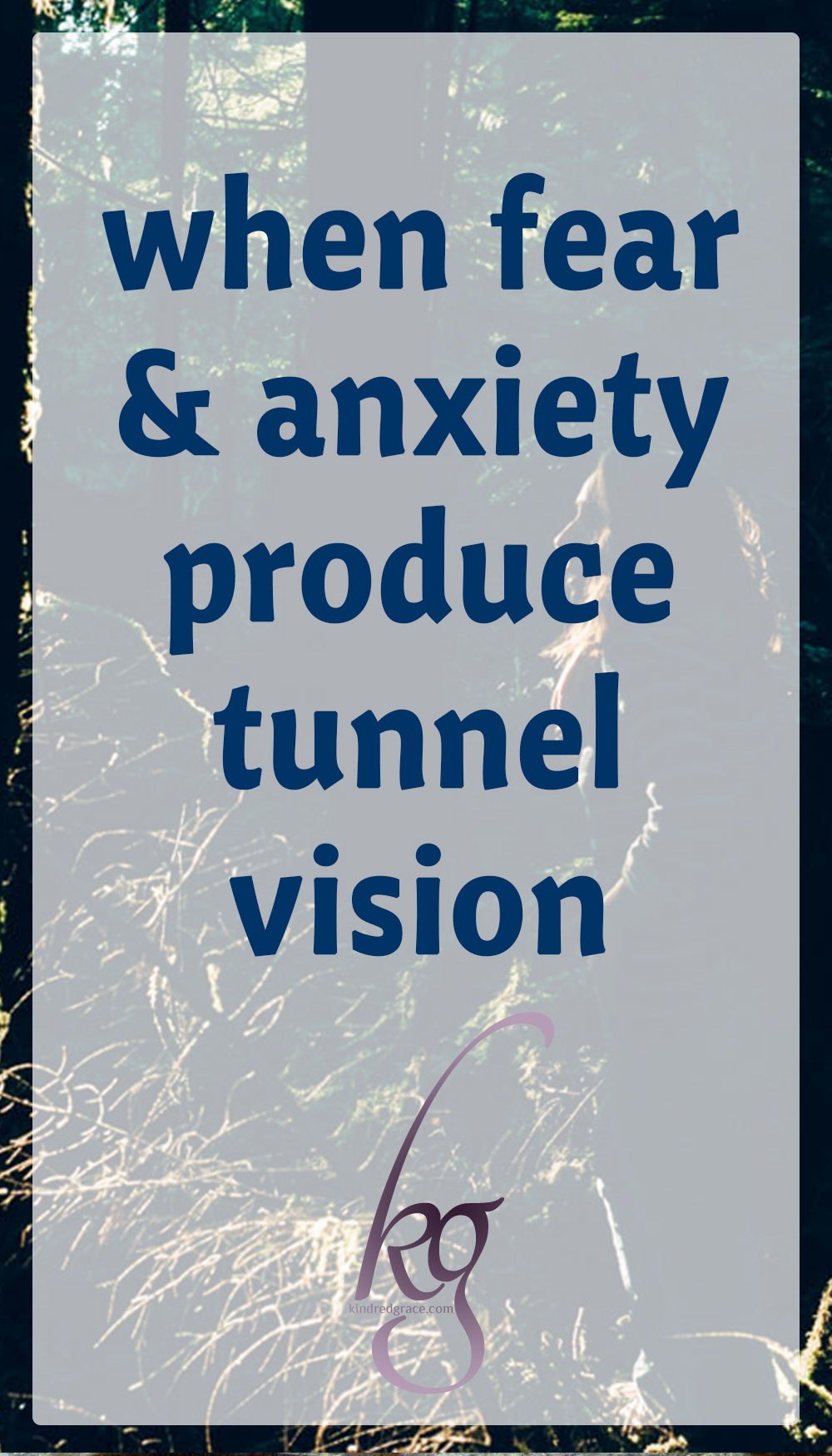 I like to imagine myself in a Jane Austen novel–engaging in witty banter with a handsome member of the landed gentry, whirling around a ballroom into the wee hours of the morning and taking trips to Bath. But if I'm honest, I find myself identifying less with an Austen heroine and more with one of her other characters: Mr. Woodhouse.
In the first chapter of Emma, Austen describes Mr. Woodhouse as "everywhere beloved for his friendliness and amiable temper," but having been a valetudinarian all his life "was a much older man in ways than years." I get Mr. Woodhouse and his life-long anxiety about his health.
Just like Mr. Woodhouse, my proclivities toward fear and anxiety are most evident when it comes to medical things. Countless times I have turned a minor complaint into a terminal condition in the time it takes me to Google my symptoms.
My rabbit trails of anxiety are distracting and unproductive and not limited to medical things. At the dawn of my thirties I'm finally beginning to recognize the root of my fear and anxiety before it fully manifests Mr. Woodhouse style. Several helpful books have guided my progress in this area (and a hefty dose of God's grace).
I am in no way qualified to advise about clinical anxiety except to point toward a counselor or medical professional. But if you also suffer from the distracting thought life of fear and worry, let me point you toward four books that have helped me not to be as much of a Mr. Woodhouse.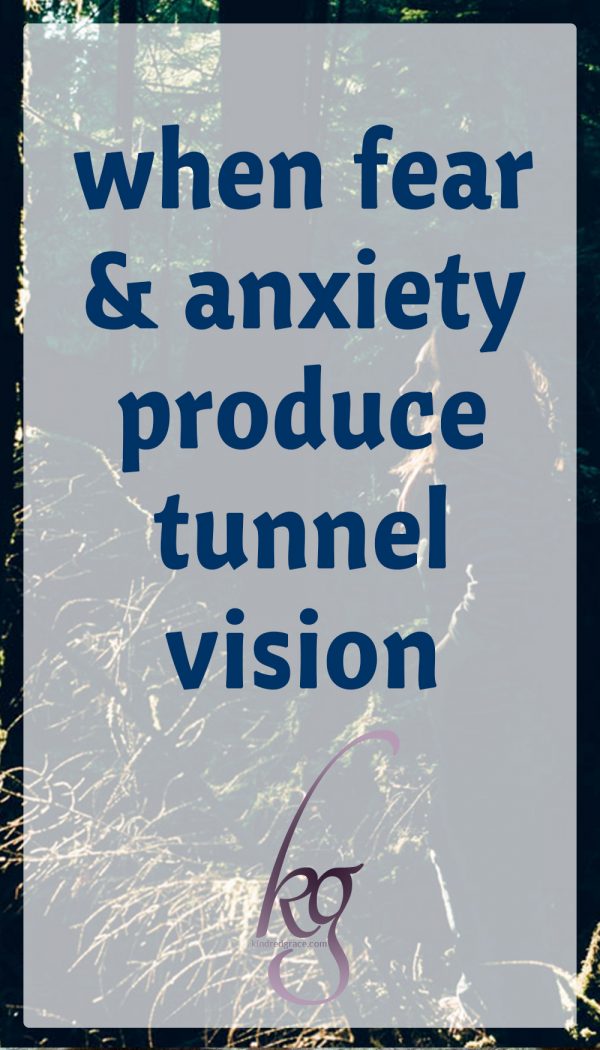 "It is God's exquisite mercy that asks us to drink the cup of suffering. As we drink, with only our present circumstances in view, God is right there, faithful and at work, with all eternity in view." (84)
Written by the co-founders of She Reads Truth, a community of women in the Word of God every day, the book alternates between the two women's stories. Though not specifically about anxiety, She Reads Truth addresses the root of fear (at least the root for me) — misplaced hope. Fear blooms when hope is placed in things that are temporary, even if they are good things like health and safety. Raechel and Amanda have encountered some of my deepest fears/sources of anxiety — loss of children, a parent, the security of a job. Seeing how they leaned into the permanence of God's Word was an excellent and always needed reminder that "God's faithfulness is independent of and unaffected by our present circumstances."
My anxiety produces tunnel vision. I see only what I fear and obsess about outcomes. The only thing that consistently pulls me out of that single-sightedness is gratitude. Recognizing and naming what is good and lovely in my life, big and small, widens my lens a little closer to God's perspective. One Thousand Gifts was instrumental to my seeing how gratitude breeds humility, releases control and produces a joy that can replace fear and worry.
Ann's lyrical writing style takes a little getting used to, but the beauty that gratitude can produce in your life is worthy of poetic language. "Thanks is what multiplies the joy and makes any life large," she says. One Thousand Gifts is and invitation to develop the spiritual discipline of chronicling God's gifts.
It wasn't until I had kids that I felt the urgent need to be safe at all times. I remember showering my week-old son in tears as I nursed just thinking about the possibility of something bad ever happening to him. Now as that same boy nears kindergarten and his little sister seems to be catapulting into girlhood alarmingly fast the tragedies around the world are suffocating as I grasp for any sense of control and certainty. I have asked the same question that Susie Davis poses, "Could I love my life with my face up, hands outstretched to a God who is loving but mysterious? A Father Who is holy and perfect but allows His children to live in an unsafe world?"
At thirteen, Susie witnessed a classmate walk into her classroom and kill her teacher. That experience left her paralyzed with fear and distrust of God. In Unafraid, Susie shares her story and the wisdom she gained from wrestling with "What if?" Her book isn't a how-to on letting go of fear, but offers insights on how we can trust God in the midst of fear of very real things.
In my household, Angie Smith is best known as the author of Audrey Bunny, a beloved kid's book I can't read without crying. Angie doesn't just write moving children's books. What Women Fear is part memoir and part deep-dive into what the Bible says about fear. For someone who acknowledges that her inner dialogue is a little weird, it was comforting to learn about Angie's history with fear (she was treated for an anxiety disorder as a child) and her current struggles.
I like that this book talks about fear in general, not a specific cause. Like Unafraid, Angie doesn't give a formula for eradicating fear. She points to Biblical truths and uses many men and women in the Bible as examples to illustrate how fear functions. I also appreciated her humor sprinkled throughout the narrative.
Each of these books approaches fear a little differently, much like you and I probably approach fear and anxiety differently. But I keep returning to the universal truth found in each book and in my own life, that "for every fear, there's an empty grave, for the risen One has overcome."
What helps you when you are faced with fear and anxiety?
Photography: JenniMarie Photography